Maserati Ghibli Car Leasing & Contract Hire

Why Lease The Ghibli?
The third-generation Maserati Ghibli is a luxurious five-door sedan making a triumphant return after an absence of nearly 20 years. Proclaiming itself to be "a masterpiece of design", with one glance at that sleek and graceful exterior, it's hard to disagree. And with a choice of powerful V6 petrol and diesel engines, its performance and ride might even outshine its appearance.
After making a thrilling world debut at the 2013 Shanghai Autoshow, anticipation has been running high for the return of this iconic Italian sports car. Now the wait is over, and Nationwide Vehicle Contracts has some exciting leasing offers on the Maserati Ghibli at our usual competitive car lease prices.
Maserati Ghibli Key Features
• Third generation of an icon of Italian style and luxury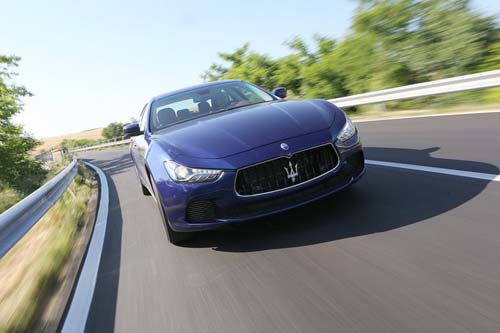 • Strong yet graceful exterior guaranteed to turn heads
• Comfortable hi-tech interior, one of the most spacious in its category
• Five Star Euro NCAP award for safety
• Choice of powerful V6 petrol and diesel engines
Power & Performance
The Maserati Ghibli is available with a choice of powerful petrol and diesel engines. At entry level is the 3.0 litre 330HP Twin Turbo V6. Better still is the 3.0 litre V6 in the Ghibli S and S Q4 models, which has an output of 410HP and is capable of achieving 0-62mph in as little as 5.0 seconds. The most powerful engine in the range, this is the obvious choice for those who want to make the most of the sporty potential of the Maserati Ghibli.
The Maserati Ghibli Diesel is the first ever diesel-powered car produced by the Italian marque, and as if to make up for lost time, its engine is truly state-of-the-art. The 3.0 litre V6 unit produces 275HP and can achieve 0-62mph in just 6.3 seconds.
All engines are fitted with eight-speed automatic transmission as standard, which features a Sport setting. Activated at the touch of a button, this overboost function increases the amount of torque available at higher speeds to as much as 550Nm. Meanwhile, sophisticated double wishbone/multilink suspension means that, despite having the longest wheelbase in its class, the Maserati Ghibli handles like a dream.
Luxurious Interior
With its three metre wheelbase, the Maserati Ghibli has one of the most spacious interiors of any sports sedan. With more room for everyone, the Maserati Ghibli is a fantastic car for those who wish to balance the practical demands of everyday driving with the considerable thrill that only a sports car can provide. The seats, leather as standard, have a wraparound form and contribute to the overall sporty experience whilst also serving to significantly enhance comfort on long journeys.
With its smooth lines, aluminium details and traditional Maserati clock, the dashboard simply exudes sophistication. Mounted in the middle is the large 8.4" Maserati Touch Control display, offering intuitive control of many of the car's key systems.
Optional extras include a Bowers & Wilkins 15 speaker premium 1,280 Watt HiFi, which claims to deliver a level of sound quality never before heard in a car thanks to its Quantum Logic Surround system. Combine this with the attractive roar of the engine and the Maserati Ghibli will offer a complete package – the very finest in sound, style, performance and comfort.
Leasing vs Buying
With our competitively low UK car lease prices, our lower initial deposits and our flexible mileage terms and contract durations, leasing a Maserati Ghibli from Nationwide Vehicle Contracts can be a more affordable alternative to buying. And with our fixed monthly payments and inclusive tax and breakdown recovery, it can be more convenient, too.
If you're looking for a car that offers a combination of luxurious comfort and thrilling performance, we also have some exciting leasing offers on the Audi A6, the BMW 5 Series and the Mercedes-Benz E-Class.