Mercedes-Benz CLS Shooting Brake Car Leasing & Contract Hire

Why Lease The CLS Shooting Brake?
The 5-door Mercedes-Benz CLS Shooting Brake draws inspiration from the classic custom-built Shooting Brake coupe estate of the 60s and 70s to create a truly premium feel that redefines what's to be expected from a family car. Incredibly dynamic style, spacious everyday practicality and unprecedented sporty performance make the Mercedes-Benz CLS Shooting Brake a unique family estate that offers the very best of every possible world.
Nationwide Vehicle Contracts have some astounding leasing offers on the Mercedes-Benz CLS Shooting Brake at fantastic UK car lease prices.
Mercedes CLS Shooting Brake Key Features
• Classic style with a dynamic contemporary twist;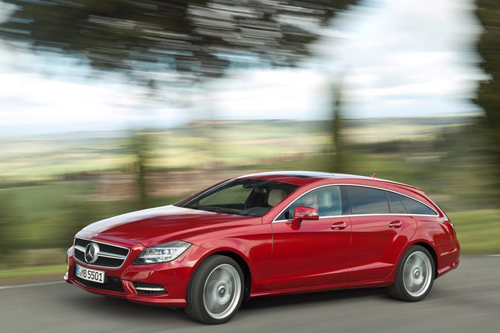 • Everyday practicality combined with irresistibly sporty performance;
• Up to 1,550 litres storage space;
• Refined, sophisticated and luxurious interior;
• Choice of powerful and efficient diesel engines
Power & Performance
With a choice of powerful yet efficient diesel engines, the Mercedes-Benz CLS Shooting Brake delivers a deliciously smooth, sporty and responsive ride. Advanced features such as ECO start/stop, refined aerodynamics and the standard 7G-Tronic Plus 7-speed automatic transmission with drive select serve to ensure that not a single drop of fuel ever goes to waste.
There's a choice of two diesel engines the CLS 250 CDI and the CLS 350 CDI. The 350 offers more power but the 250 heightened efficiency – making the Mercedes-Benz CLS Shooting Brake capable of up to 53.3mpg with CO2 emissions as low as 139g/km. For those who wish to push the CLS Shooting Brake to its limits, there's also the 8-cylinder CLS 63 AMG engine, which is capable of achieving 0-62mph in as little as 4.3 seconds.
The Mercedes-Benz CLS Shooting Brake is engineered to deliver a beautifully dynamic driving experience no matter what powertrain you choose. A lightweight construction keeps the weight down with no compromise on strength and rigidity. Also, in addition to the advanced transmission, other standard features include air suspension and Electric Power Steering (EPS) for a guaranteed smooth and agile ride.
Shooting Brake
The term 'shooting brake' comes to us via the carriage-like 'brakes' used to break in wild-horses, by way of a number of early motor vehicles designed to carry hunting parties and their equipment. It's therefore a name that suggests practicality with a touch of elegance and luxury, and on this front the Mercedes-Benz CLS Shooting Brake does not disappoint.
With up to 1,550 litres of storage space, the CLS Shooting Brake certainly delivers on the versatile practicality front. For an extra lavish touch, you can choose an open-pore American Cherry wood finish for the load compartment floor with smoked oak inlays and aluminium rails.
The choice of high quality materials and trims also extends to the cabin, where a range of advanced technology serves to make your ride easier, more comfortable and more enjoyable. The range includes hard disk based satellite navigation with high-res maps and a Traffic Message Channel, an integrated intuitive Media Interface with USB, MP3 and Bluetooth connectivity and a DAB digital radio.
Leasing vs Buying
With a lower initial deposit and flexible contracts and mileage terms, leasing the Mercedes-Benz CLS Shooting Brake from Nationwide Vehicle Contracts is a streamlined and surprisingly affordable experience.
For added ease, we also combine the vehicle lease, road tax and breakdown recovery into a single fixed monthly payment. All told, it makes you wonder – why buy when it's so easy to lease?