Mercedes-Benz E Class Cabriolet Car Leasing & Contract Hire

Why Lease The E Class Cabriolet?
The Mercedes E-Class Cabriolet is a popular car to lease – hardly surprising when you consider the fact that it is one of very few four-seat drop tops that is as comfortable to drive with the roof down as it is with the hood closed.
To look at, the Mercedes E-Class Cabriolet is dynamically styled, boasting an arrow-shaped front end and muscular haunches. Whilst state of the art materials and technology are aplenty; classic Cabriolet styling is retained through the incorporation of a fabric soft-top.
Inside, ergonomics are spot-on and driving position can be adjusted to perfection.
Mercedes designed this car with versatility and practicality in mind. Whilst the E-Class Cabriolet is enjoyable to drive in the summer months with the roof down, its high-quality fabric roof ensures that driving in less pleasant conditions is kept far from a chore. Roof-up, the cabriolet boasts refinement on par with its coupe sister. Unlike many 'four-seat' convertibles, this model comfortably seats four adults. Luggage capacity is generous also.
There is a wide choice of manual and automatic transmissions on this model.
Mercedes E Class Cabriolet Key Features
• Advanced safety system;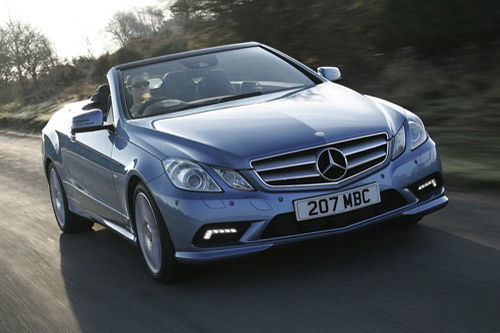 • Comprehensively specified;
• Dynamically styled;
• Highly versatile;
• Wide choice of trims, engines, transmissions etc
Power & Performance
Mercedes certainly haven't skimped when it come to choice of engine on this model. Whilst petrol engines range in size from 1.8 litres – 5.5 litres; diesel options are available with capacities between 2.2litres and 3.0litres. All deliver superior performance, and even the more modest options deliver impressive power outputs.
Despite its fabric roof, the E-Class Cabriolet is free of clatters and squeaks – even when faced with undesirable road conditions. Handling is guaranteed to be sublime thanks to an innovative Agility Control suspension system that uses selective damping to continuously adapt shock absorption to suit the road surface.
Leasing vs Buying
Leasing offers a fantastic alternative to buying a brand new car, guaranteeing fixed monthly instalments, a low initial payment and flexible mileage terms. Nationwide Vehicle Contracts offer competitive lease prices on a wide range of vehicles – available to lease on 2, 3 and 4 year contracts. All vehicles leased through Nationwide come with inclusive road tax and breakdown assistance.