Mitsubishi Mirage Car Leasing & Contract Hire

Why Lease The Mirage?
The new Mitsubishi Mirage is a compact 5-door hatchback that's been specifically designed to be as efficient as possible. Its fuel economy is the best in its class, and no matter what engine you choose, CO2 emissions never exceed 100g/km. As a result, the Mitsubishi Mirage is the only small car available in the UK that's exempt from road tax and the congestion charge across the whole range.
Mitsubishi Mirage Key Features
• The lightest, most aerodynamic and most fuel efficient car in its class;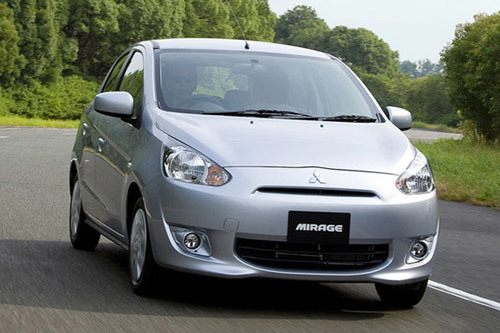 • Up to 68.9mpg with CO2 emissions never exceeding 100g/km;
• Exempt from road tax and congestion charge;
• High-spec equipment and technology including keyless entry, climate control and automatic lights and wipers;
• Choice of two advanced petrol engines
Power & Performance
Everything about the Mitsubishi Mirage has been designed to reduce emissions and enhance efficiency. At 845kg, it's the lightest car in its class, and it also leads the pack in aerodynamics. These perfect proportions work in harmony with the advanced petrol engines to deliver class-leading fuel efficiency, with ultra-low emissions across the range.
The Mitsubishi Mirage can be fitted with a choice of two Mivec I3 petrol engines – a 1.0 litre 3A90 or a 1.2 litre 3A92. Transmission is available either as 5-speed manual or as a CVT automatic gearbox. Both engines emit between 95-100g/km CO2, making the Mitsubishi Mirage the only small car available in the UK that's exempt from road tax and the congestion charge across its range.
That's not all. The Mitsubishi Mirage also happens to boast the best turning circle in its class. Zippy and effortlessly manoeuvrable, the compact size and low-running costs make the Mitsubishi Mirage ideally suited for city driving.
Low Emissions, High-Spec
Despite its compact size, the interior of the Mitsubishi Mirage is surprisingly spacious, with enough room to comfortably seat five grown adults. In addition, its 235 litre boot can be increased to an impressive 600 litres when you fold the rear seats, meaning that you're unlikely to ever have a problem with storage.
The interior of the Mitsubishi Mirage was designed on the principles of being simple and clean, spacious and comfortable, pleasant yet efficient. Nothing is there that doesn't need to be there, and everything you'll need is found exactly where you'd expect to find it.
Alloy wheels give a touch of style whilst contributing to the car's superior fuel efficiency, whilst such technological features as the keyless entry system, the front and rear parking sensors, the rain and dusk sensors and the electric power steering simply serve to make life that little bit easier.
Leasing vs Buying
As it's exempt from road tax and unrivalled in its fuel efficiency, the Mitsubishi Mirage is a remarkably inexpensive car to run. Yet you can make things even more affordable if you choose to lease instead of buy.
When you lease a Mitsubishi Mirage from Nationwide Vehicle Contracts, you can expect inclusive breakdown recovery, fixed monthly payments and flexible mileage terms and contract duration. You'll find the process to be so streamlined and convenient that you'll wonder why anyone chooses the comparative headaches of buying.