Peugeot 3008 Crossover Car Leasing & Contract Hire

Why Lease The 3008 Crossover?
The Peugeot 3008 is a spacious, practical and stylish SUV/MPV crossover. Expertly designed with your family in mind, it delivers a safe, comfortable and enjoyable ride. The Peugeot 3008 can be depended upon for all adventures, be they at home or abroad, ordinary or extraordinary.
Nationwide Vehicle Contracts have some excellent leasing offers on the Peugeot 3008. There are three models across the range – Access, Active and Allure – with a wide choice of engines, equipment and technology.
Peugeot 3008 Key Features
• SUV performance meets MPV comfort and practicality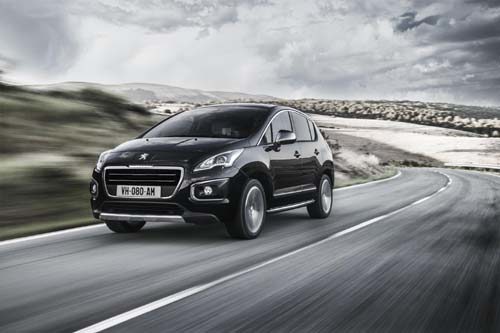 • Family-focused with highly adaptable spacious multi-flex interior
• Raised driving position with commanding view and convenient Head-Up display
• Optional panoramic cielo glass roof
• Choice of powerful engines across three trim levels
Power & Performance
The Peugeot 3008 can be powered by a wide choice of powerful engines. Available across the range, the entry-level 120bhp 1.6 litre VTi is adequate enough, but if you want more power, choose instead the 156bhp 1.6 litre THP, or the 163bhp 2.0 litre HDi as found in the Peugeot 3008 Allure.
It's also possible to strike an impressive balance between power and efficiency. The 1.6 litre e-HDi available for the Peugeot 3008 Active produces a solid 115bhp, yet produces CO2 emissions as low as 110g/km. This is thanks in part to the Diesel Particulate Filter (FAP), and the advanced e-HDi technology, which produces more efficient performance with no compromises on power.
There's almost as much choice in transmission as there is in engine. Most engines come with five or six-speed manual gearboxes as standard, but there's also a six-speed automatic option. Finally, EGC combines the convenience of automatic with the responsiveness of manual, giving you the best of both worlds.
Designed With Your Family In Mind
In delivering this perfect balance of SUV performance and MPV comfort, practicality and safety, the Peugeot 3008 presents itself as the ideal choice for adventurous drivers seeking a reliable yet exciting family car.
The interior is immensely spacious and adaptable thanks to the innovative multi-flex seating system. Depending on your requirements, you can quickly and easily fold seats to create a flat loading area with up to 1,640 litres storage space. There's a choice of premium trims and materials (including the luxurious Iramontane black leather), whilst the optional panoramic cielo glass roof creates a wonderfully bright and airy interior environment, giving everyone a fantastic view.
But just because the Peugeot 3008 is family-focused, it doesn't mean they've skimped on ensuring that the driver, too, enjoys the ride. The raised driving position is designed to bring the dashboard into perfect alignment, which combined with the Head-Up display, means that you need never take your eyes from the road. All essential driving information is displayed at eye-level, whilst the Peugeot Connect system places control of almost all infotainment systems directly at your fingertips.
Leasing vs Buying
Lease a Peugeot 3008 from Nationwide Vehicle Contracts and you'll immediately benefit from lower initial deposit and our flexible mileage terms. We also combine the vehicle lease, road tax and breakdown recovery into a single fixed monthly payment.