Porsche Panamera Hatchback Car Leasing & Contract Hire

Why Lease The Panamera Hatchback?
With distinguishing 18" Panamera wheels, black brake callipers and twin single-tube tailpipes, the Porsche Panamera stands out from the crowd, boasting a confident road presence.
Once drawn in by Porche's distinctive exterior design, you can enjoy a ride in something a little bit different. Boasting an elevated central console and four individually supportive sports seats, the Panamera's cabin takes a distinctive form, with little compromise on function. It is more than just a four seat sports car, with ample space in terms of luggage capacity. Not only are you able to travel in superior comfort, you can do so in style also.
As standard, the Porsche Panamera features a 6-speed manual gearbox. A 7-speed Porsche Doppelkupplung (PDK) transmission is also available – enabling fast gear changes with no interruption to the flow of power.
Porsche Panamera: Key Features
• Distinctive Porsche styling;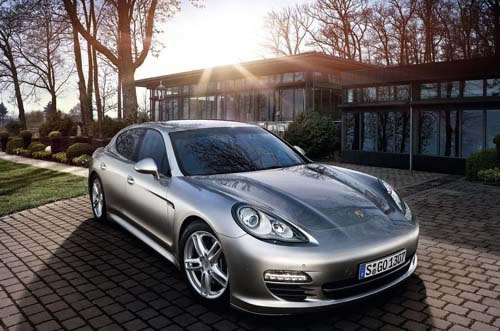 • Spacious & stylish interior design;
• Comprehensive safety system as standard;
• Lightweight construction resulting in great performance credentials and low emissions;


Power & Performance
The Panamera is equipped with an efficient and lightweight 3.6 litre V6 engine that is based on the V8 engine. Direct Fuel Injection results in an impressive power output that enables the rear wheel drive Panamera to reach 0-100km/h in just 6.8 seconds!
Steering on this model is precise and direct, meaning that behind the wheel of the Panamera, you will feel fully in control. A low centre of gravity connects you to the road whilst retaining an impressive degree of agility. A supple suspension system improves handling drastically, effectively swallowing up bumps in the road.
Leasing vs Buying
Leasing holds many advantages over buying a brand new car – with a low initial deposit, fixed monthly instalments and flexible contract terms. Nationwide Vehicle Contracts offer competitive lease rates across a huge range of vehicles – all of which come with inclusive road tax and fixed monthly instalments.