Volkswagen CC Car Leasing & Contract Hire

Why Lease The CC?
The all-new 5-door Volkswagen CC, with its distinctive coupé styling and alloy wheels, is a car designed for those who wish to impress. Technological brilliance works closely with reliable Volkswagen ingenuity to make for a refined, luxurious and, above all, safe ride for driver and passenger alike.
Volkswagen CC Key Features
• Coupé style and alloy wheels;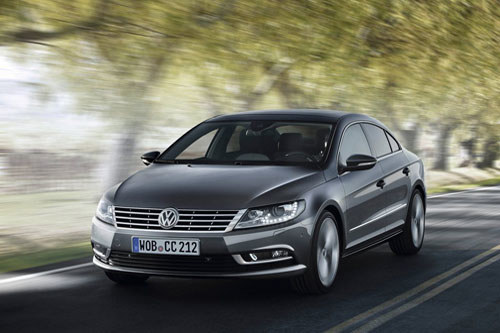 • Bi-Xenon headlights and LED rear lights;
• Spacious, luxurious interior;
• XDS, ESP and Driver Warning System for dependable safety at all times;
• Choice of TDI and TSI engines combine high performance with excellent economy
Power & Performance
The Volkswagen CC comes with a choice of refined TSI and TDI engines. However, given that even the entry level 1.8 TSI is capable of 160PS, no matter what's beneath the hood, you can be sure that the CC will perform every bit as good as it looks.
Top of the range is the incredible 2.0 TDI 170PS with advanced Bluemotion Technology. It can achieve a top speed of up to 141mph, yet can still manage 64.2mpg on a combined cycle. With the Volkswagen CC, it's no longer a choice between performance and economy. Why not enjoy the best of both worlds?
The transmission options are just as varied. Depending on the engine, you can have six speed manual or automatic DSG with six or seven gears.
Safety & Stability
With such power in your hands, its reassuring to know that you can depend upon maximum stability and control at all times. XDS technology allows you to enjoy all the thrills of high-performance sporty driving in complete safety. Meanwhile, the Electronic Stabilisation Programme (ESP) monitors the road ahead of you and is capable of detecting potential hazards; intuitively taking action to allow you to maintain control. With LED rear lights and powerful bi-xenon headlights, you will always be able to see and to be seen. And this is exactly the sort of car in which you want to be seen.
Leasing vs Buying
Nationwide Vehicle Contracts has some fantastic car leasing offers available on the Volkswagen CC at competitive UK car lease prices.
With flexible contract duration, mileage terms and inclusive road tax, there are many benefits to leasing the Volkswagen CC.