Volvo S60 Car Leasing & Contract Hire

Why Lease The S60?
The Volvo S60 is a 5-door compact executive car that's been given a substantial facelift for 2013, to the point that it just might be Volvo's most dynamic and versatile car yet. Its spacious and refined interior makes even the longest of journeys a pleasant and comfortable ride, and advancements in fuel-efficiency make the Volvo S60 an impressively cost-effective choice.
Available in four trim levels and with a choice of petrol and diesel engines, Nationwide Vehicle Contracts have some excellent leasing offers on the Volvo S60 at competitive UK car lease prices.
Volvo S60 Key Features
• Revamped for 2013 to offer more dynamic performance;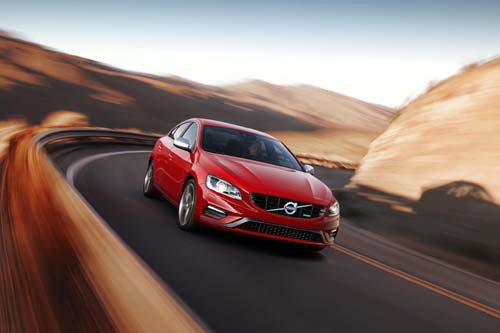 • Choice of three chassis – Dynamic, R-Design Sport and Four-C;
• Spacious & refined interior with comfortable and supportive seats;
• Responsive handling and a smooth ride on any surface;
• Extensive choice of efficient petrol and diesel engines
Power & Performance
The new Volvo S60 is available with a choice of three meticulously balanced chassis, each one designed to appeal to a different driving style. The best all-rounder is the Dynamic Chassis, from which you can expect the smooth and reliable handling for which Volvo is famed.
For a more viscerally thrilling performance, choose the lowered R-Design Sport Chassis. Finally, the advanced Four-C Chassis is electronically controlled, making some 500 calculations each second to deliver the best ride possible, at all times.
There's a choice of two petrol and five diesel engines, many of which have been expertly refined to deliver superior fuel economy with no compromises on performance. The petrol range includes the 150hp T3 and the 304hp T6 AWD. The extensive diesel range starts with the frugal 115hp D2 and stretches to the 215hp D5. Transmission is available as 6-speed manual or 6-speed automatic depending on the engine.
Features & Equipment
With its calm, relaxed and refined atmosphere, you'll savour every moment in the spacious interior of the Volvo S60. The supportive ergonomically designed seats offer unrivalled comfort, particularly on longer journeys, and the well-crafted, high-quality materials add a touch of luxury. The uncluttered console draws from the elegant principles of Swedish design, whilst the optional Winter Illumination exudes a soothing soft white glow.
The dashboard integrated Sensus ConnectedTouch system incorporates numerous infotainment features and is also compatible with such web applications as Spotify. Being voice-activated, it's therefore possible to name a song – any song – and the Volvo S60 will track it down and start playing it.
In all, the new Volvo S60 is available in four trim levels, with the features and equipment varying across the range. Advanced systems such as full climate control come as standard, whilst at the top of the range you can expect to find leather trims, satellite navigation and a DAB radio.
Leasing vs Buying
Buying a car can be an expensive headache, yet many are unaware that leasing provides a convenient and cost-effective alternative. When you lease a Volvo S60 from Nationwide Vehicle Contracts, benefits include lower initial deposits, fixed monthly payments, inclusive road tax and breakdown recovery and flexible contracts and mileage terms.