You might think leasing is all about the bread and butter – finding something cost effective and sensible to while away the hours in. And we'd agree.. up to a point. One of the advantages of leasing a car is the peace of mind that comes from knowing your monthly motoring spend is fixed – excluding fuel and insurance of course. But that doesn't mean you can't put some jam on your bread and live a little....

NVC can help you get your hands on an exotic motor, from boulevard bruisers like the Ferrari California, to barn-storming super saloons like the Mercedes E63 AMG, and one of the advantages of leasing is letting someone else take on the capital risk – the cost of purchase and depreciation. And when you've got your eye on something a bit tasty, that might be a savvy financial move.
So, here's the top ten NVC lease cars with a bit of lead in their pencils. Starting with the priciest picks:
10. Audi R8 V8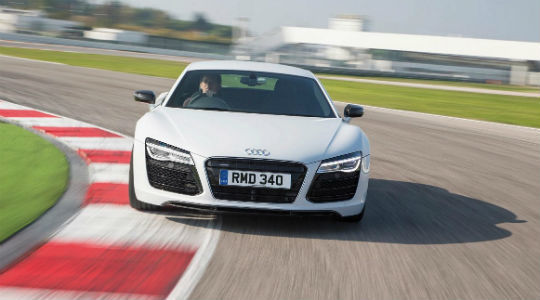 Isn't the Audi R8 a bit long in the tooth now? Possibly, but it still looks and feels genuinely exotic seven years from launch. The combination of a mid-engined layout, Quattro four-wheel drive and a naturally aspirated 4.2-litre V8 with 430bhp – one of the world's best engines – makes us want to sell a kidney to get one. As luck would have it, you can lease one via NVC so there's no need.
Audi R8 V8 list price: £93,710

Audi R8 V8 lease price: £1,310.95 + VAT per month
9. Mercedes E63 AMG

There's no particular reason for a car like the Mercedes E63 AMG to exist. In fact we can't believe a pressure group somewhere isn't trying to ban it. After all, who needs a sober-suited saloon car with a 5.5-litre Biturbo V8 and 557bhp? Well we do, and if you're in the market for a super-saloon so do you.
Mercedes E63 AMG list price: £74,115

Mercedes E63 AMG lease price: from £993.95 + VAT per month
8. Porsche Macan Turbo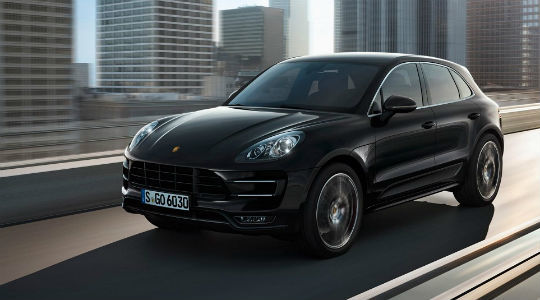 Here's the new kid on the block. The Porsche Macan hasn't been on sale for five minutes but already it's been lauded by the critics as a hit for the Stuttgart brand. It's a fun-sized Cayenne with all the same plus points: incredible dynamic poise – not just for an SUV but full stop – married to SUV practicality and the cachet of that Porsche badge on the nose.
The bells and whistles Macan Turbo, with a 3.6-litre 394bhp powerplant, easily makes the list: at 4.6 seconds to 62mph it's indecently fast.
Porsche Macan Turbo PDK list price: £59,300

Porsche Macan Turbo PDK lease price: £800.95 + VAT per month
7. BMW M4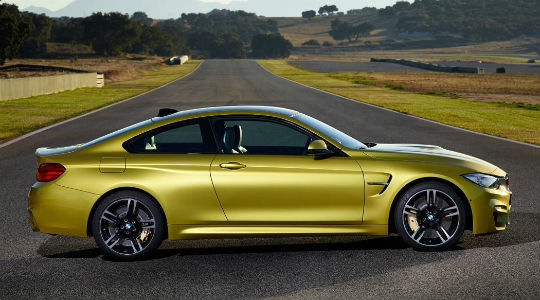 Put aside for one moment BMW's penchant for naming its more desirable wares after some of the worst parts of the UK motorway network. What matters here is the fifth generation of BMW's revered M3 dynasty (yes it's called an M4 we know, but stick with us) has moved things in a whole new direction.
Out goes the high-revving naturally aspirated V8 of the E90 generation M3 and in comes a bruising twin-turbo motor – all 425bhp of it. BMW claims the stratospherically torquey straight-six will blast the new M4 to 62mph in 4.3 seconds and we've no reason to doubt it. Grab one whilst you can because these are going to sell like warmed-up pastries.
BMW M4 list price: £56,650

BMW M4 lease price: from £641.95 per month +VAT
6. Jaguar F-Type

It's cool to drive a Jag again. Granted, it's taken a few decades to find a successor worthy of blowing away the pipe and slippers image since the original E-Type wowed the crowds at Geneva, but the F-Type has cracked it. The entry-level 3.0-litre V6 supercharged model has 340bhp and will breeze to 60mph in 5.1 seconds – more than ample to blow the cobwebs off your quiff.
Jaguar F-Type 3.0 V6 list price: £51,250

Jaguar F-Type lease price: £623.95 + VAT per month
5. Maserati Ghibli V6 Diesel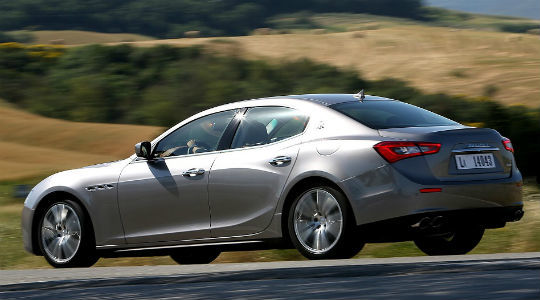 'Let's take the Maserati'. We'll wager you might have wanted to say that if you've got an ounce of petrol running through your veins (please call a doctor if you do). This one actually drinks from the black pump – yes, a Maserati diesel – but does so with a grunty 275bhp V6 turbo-diesel. That qualifies it for our Power for Peanuts list and if you want something different from the ranks of 'me too' German exec saloons, you'd do well to take a look at the new Maser.
Maserati Ghibli V6d list price: £48,830

Maserati Ghibli V6d lease price: from £541.95 per month
4. Mercedes A45 AMG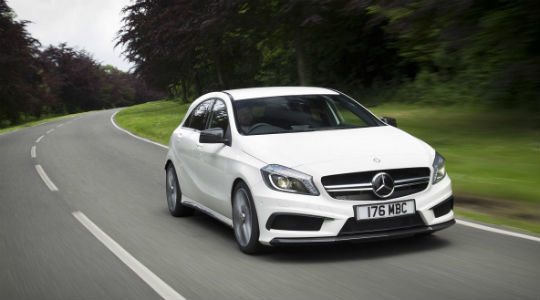 At sub-£500, we're almost in bargain territory with this Mercedes A45 AMG. There's no doubt that the 'big power, small car' thing isn't a hard sell. Mercedes' special ops division might be better known for squeezing monster horsepower out of big, V8-engined rear-wheel drive cars, but that hasn't stopped AMG jumping on the uber-hatch bandwagon with this, the M135i-rivalling A45 AMG. The important bits are these: 355bhp, four-wheel drive and 0-60mph in 4.3 seconds. All slightly un-hinged, but we like it.
Mercedes A45 AMG list price: £38,195

Mercedes A45 AMG lease price: £462.95 + VAT per month
3. BMW M235i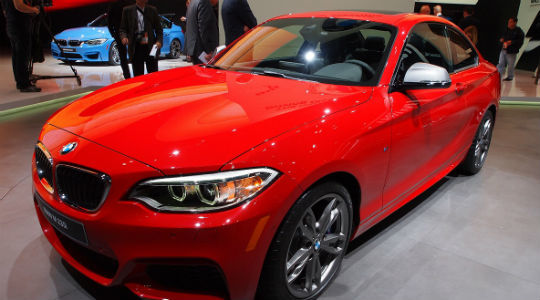 The ultimate driving machine? Not all of BMW's current range can do that Beemer strapline justice, but the new M235i makes a good stab at it. No, it's not a full-fat M-division job, but like its slightly ungainly M135i hatchback cousin, the 2-series version majors on searing performance and surprisingly good economy. Whilst looking a little less gawky than the 1-er, to our eyes.
With the same 326bhp twin-turbo six cylinder engine and rear-wheel drive, 62mph arrives in 5 seconds and if the claimed 34.9mpg is to be believed, you'll be visiting the pumps less often than a grown up M-car. We'd have one.
BMW M235i list price: £34,260

BMW M235i lease price: £353.95 + VAT per month
2. Volkswagen Golf 2.0 TSI R

Remember when the Mk4 Golf R32 came out and 237bhp seemed like a silly power figure for a humble vee-dub hatchback? Well, things have moved since then and the hot hatch has been usurped by the uber-hatch, a new breed of steroidal shopping cars capable of embarrassing stuff with much bigger price tags.
For the fourth generation Golf R, there's a 296bhp 2.0-litre turbo unit sat under that unassuming nose and Haldex four-wheel drive helping it to 60mph in under five seconds. It's a Golf GTI with brass knobs on and we like it. A lot.
Volkswagen Golf 2.0 TSI R list price: £29,900 (manual 3dr)

Volkswagen Golf 2.0 TSI R 5dr lease price: 2 year lease deal from £242.95 + VAT a month
1. Fiesta 1.6 ST

Sometimes unpretentious, cheap fun is the best kind (calm down at the back please). Ford's excellent Fiesta ST makes it into top spot because it provides driving fun on a budget, and we love a bargain at NVC. The revvy 1.6-litre ecoboost turbo engine serves up 182bhp, firing the effervescent little blighter to 60mph in 6.9 seconds. The ST is good, clean, dynamically polished fun. If you care about driving and haven't driven one, do it.
Ford Fiesta ST list price: £17,250

Ford Fiesta ST lease price: £164.95 + VAT per month
So that's our top ten lease cars you'll love to drive. Check them out now!