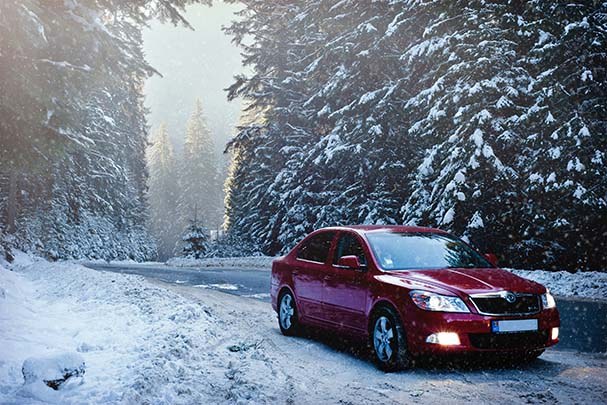 Nationwide Vehicle Contracts shows you the ten winter essentials you need in your car.
There's no doubt that winter is the worst season for driving. You have to battle the elements of rain, wind, and snow on the road, and even the most experienced drivers can struggle.
Like with anything in life, preparation is key. If you ensure that your car is in the best condition to tackle harsh winter conditions, you'll likely have a better time on the road.
To make the process easier for you, car leasing experts Nationwide Vehicle Contracts have compiled a list of the essentials you need to get through to spring.

1. Find your car's manual
In winter, your car and its key components are tested to the limit. It's worth having your manual to hand just in case anything goes wrong.
Also, it would be a good idea to test the car's key components such as the heater, demister, wipers, headlights, and fog lights before winter comes. If you're unsure how to use them, look in your manual and all will be revealed.
2. Ice scraper/de-icer
It's the first sub-zero night of the year, and you've just realised you don't have an ice scraper or de-icer to hand. You either risk it and drive off, but this is illegal, or you pour boiling water over your windows, which could cause them to crack.
Save yourself a lot of time and effort in the mornings by buying a good ice scraper and de-icer. They can be bought for as little as £2 each from Halfords, and they will last most of the winter.
3. Gloves and winter clothing
Having gloves in your car will keep your hands warm when de-icing the car in the morning, meaning that your hands will be warm and won't affect your driving.
Also, breaking down any time of the year with a dead battery is tough, but winter exacerbates this. Make sure you and your passengers remain warm by packing coats, jackets, and blankets for the whole family.
4. Large torch and spare batteries
If you break down, you don't want to be stranded in a dark area with no light source. Having a large torch with spare batteries can help you assess your engine or guide you to your nearest telephone box.
However, ensure that you avoid shining the torch in the direction of other motorists to avoid dazzling them.
5. High-vis jacket
As well as the torch, a high-vis jacket is essential if you break down in the winter.
It will keep you safe from any traffic and keep other road users safe as they'll be able to spot you on the side of the road. Make sure you have enough in the car for every passenger.
6. Jump leads
We've all experienced our car taking longer to start in cold temperatures. This is because sub-zero temperatures slow the process of a car battery starting and, sometimes, even prevent it.
To counter this, it's worth having some jump leads stored in your boot to get your car started as quickly as possible.
7. Paper road atlas
Younger folk reading this may have never used a paper atlas in their life, but it's worth buying one for the winter.
In the event that your battery dies and you can't use your sat nav, a paper atlas will help you find out where you are and where you need to go.
8. Snow shovel
On the odd occasion when it snows heavily in the UK, a snow shovel will come into its own.
Your car will likely get stuck if you live in a rural setting and drive down untreated roads. A shovel will help you dig your car out and get you back driving.
They're also great as some can fold up and fit easily in the boot.
9. First aid kit
A first aid kit in your car is essential at any time of the year, but it's more likely to be called into action in the winter.
A first aid kit should feature plasters, dressings, scissors, sterile cleansing wipes, nitrile powder-free gloves and a Revive-Aid resuscitation face shield.
There's a national standard for first aid provision in cars set out by the British Standards Institution.
10. Sunglasses
Yes, this is on the correct list. With the sun dipping lower in the winter and more rain and snow for it to reflect off, many drivers can have their vision impaired.
It's worth having a set of sunglasses in your car when visibility decreases because of the bright light.
Looking for more motoring tips and tricks? Here at Nationwide Vehicle Contracts, we produce a range of blogs and guides to suit your motoring queries. We've recently produced blogs on How To Keep Your Car Safe At Home and How To Save Money On Car Running Costs.
We also are one of the leading car leasing brokers in the UK and have a range of leasing deals available to fit all driving styles. For more information, check out our website or call one of our experts on 0345 811 9595.