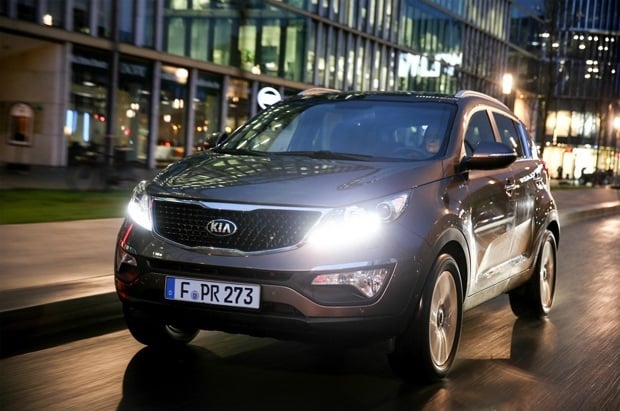 Originally launched back in 2010, the Kia Sportage has held its very own in a competitive crossover sector, selling over 20,800 models in 2013 and 47,064 since its launch in the UK. And now there is the 2014 version to whet the appetite of its adoring public as the Sportage continues to hold its place as Kia's best-selling model in the UK with 25% of Kia's UK sales.
As Ian Mathews, Head of Product Planning, Kia Motors UK Ltd, said about the 2014 Sportage model: "We looked carefully at what changes to make to the line-up... listened to our dealers and customers and [added] more engine options at the entry and top-of-the-range as well as incorporating new technologies."
But it can't just be that that is making people choose this car as the one for them?
Nationwide Vehicle Contracts Kia Sportage video review
When choosing a car, we understand that reading details off a specification sheet isn't the very best way to decide - but seeing is very much believing. That's why we've created our very own video review – to give you a quick overview of the key things you need to know about the Kia Sportage, and why it might be the perfect new car for you.
Why choose a Kia Sportage - key points
Stylish, well-equipped and surprisingly affordable
Refreshed exterior style for 2014
Plenty of internal space
Great standard features including air conditioning, cruise control, electric windows and Bluetooth
Plenty of boot space
Wide range of diesel and petrol engines
Overall star rating: 5/5
Check out our latest Kia Sportage leasing offers for both personal drivers and business customers.

A polished appearance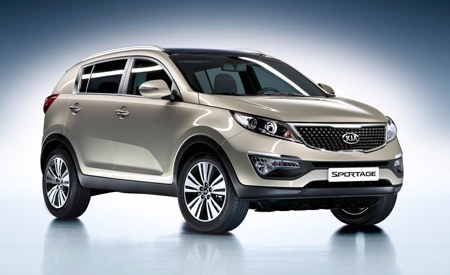 Right from the very start of its life, the appearance of the Kia Sportage has won it many plaudits - and even more friends.
And the 2014 model is enhanced with Kia's 'tiger-nosed' grille right across the range, chrome surrounds, a new central radiator mesh style design, LED lighting and new-style 16", 17" and 18"alloy wheels (model specific) along with a full-size spare wheel as standard.
Accomplished inside
The interior sees a new soft 'nano' paint finish added to the dashboard and centre console with centre console illumination and soft-touch upper door trims.
There is a heated steering wheel and a 6-way power adjustable driver's seat added to top spec models with new folding keys and a smart key added to specifications too.
Superior instrumentation and audio
A 4.2" TFT LCD supervision cluster is available on selected grades and includes trip information, outdoor temperature, and a Parallel Park Assist functionality amongst other features.
Other models have a new 4.3" TFT LCD colour touch-screen audio system with an integrated rear-view camera display to aid reversing or parking, with Sat nav versions offering a 7" colour touch-screen with mapping for 44 European countries, full UK postcode recognition, traffic messaging with a detour function, motorway junction views, lane guidance, speed limit warnings and multi-route planning fitted as standard.
All this and an Infinity premium audio system with seven speakers and a sub-woofer mounted in the right-hand rear of the cabin.
Engines – no change but more choice
The Kia Sportage is available with a choice of four smooth, powerful – yet frugal – engines. The two petrol engines (1.6L & 2.0L) pack out plenty of punch; whilst diesel engines (ranging in size from 1.7L – 2.2L and featuring a diesel particulate filter) deliver fantastic fuel economy and low emissions. The Sportage's ecological friendliness is further helped along where Kia's innovative ISA (Idle Stop & Go) technology is in place.
Similar cars to the Kia Sportage:
Customer video review of the Kia Sportage
So that you can see just what a customer of ours thinks of the Kia Sportage, we asked Gary for his opinion - and why he loves it unreservedly.
Gary's favourite features of the Sportage

The stunning appearance
The fact that it is a very economical car
Fantastic all-round vision
The Panoramic sunroof (on his particular model)
Lots of room for 5 people
As Gary says: "What is it we don't like about the Kia Sportage? Absolutely nothing. we love it!"
Find out more about leasing a new Kia Sportage with Nationwide Vehicle Contracts, including our latest prices, and more great reasons to lease a Sportage.