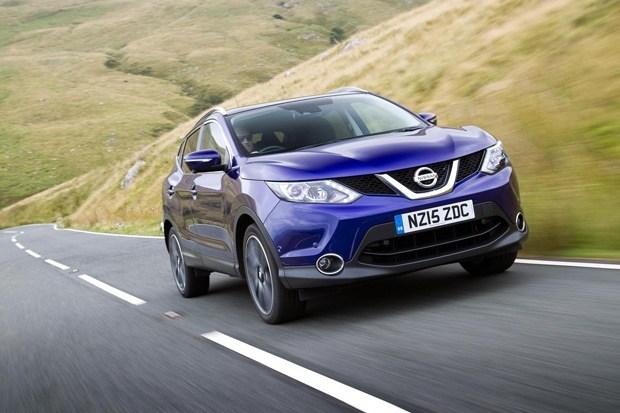 As the 7th best-selling new car in the UK (in 2014), the award-winning Nissan Qashqai is undoubtedly a popular choice with UK drivers, with 300,000 of the model being sold in the UK since its launch in 2007.
And with 45 different offers available on the plethora of Qashqai models, you'll find that leasing a Nissan Qashqai from Nationwide Vehicle Contracts can be a lot more affordable than you think.
So, why is the Nissan Qashqai such a hit with UK drivers?
Nationwide Vehicle Contracts Nissan Qashqai video review
We believe that when you want to look at a car, seeing is very much believing. With this in mind, Nationwide Vehicle Contracts create their very own video review with a presenter giving a quick overview of the all the main points that you need to know about the Nissan Qashqai to help you decide whether or not it is the perfect new car for you.
Why choose a Nissan Qashqai? – key points
2014 version of the Qashqai was developed in the UK and designed to cope with British roads
Stylish, spacious and great to drive
4 x 4 looks, hatchback running costs
Family-friendly practicality with a refined, luxurious interior
Choice of powerful yet efficient turbo diesel and petrol engines
Ideal lease choice for growing families and buyers on a budget
Check out our latest Nissan Qashqai leasing offers, for both personal drivers and business customers.
Styling
Re-designed in 2014 in Sunderland, with a particular focus on the UK market and the UK road surfaces (and the state of them), the new Nissan Qashqai features an enhanced exterior style and design that now includes some excellent additions including LED running lights.
Interior
Inside the Nissan Qashqai you'll find plenty of refinement and design, as well as an excellent choice of technology; even at the entry level. And there is plenty of space in there for both drivers and passengers' heads and feet; as well as you would expect in the boot area.
Technology
The new Nissan Qashqai is fitted with advanced Nissan Safety Shield technology that includes , amongst other things to keep you safe, Blind Spot Warning, Lane Departure Warning and Autonomous Emergency Braking.
There is also a 360° Around View Monitor (AVM) and motion sensor to not only give a panoramic look all around your Nissan Qashqai, but also to help the Park Assist feature accurately assess whether there's enough room in a space, before automatically taking the complicated steering manoeuvres out of your hands if you so wish.
Engine specifications and fuel economy
Under the bonnet, a wide range of petrol and diesel engines are available on the Nissan Qashqai with the entry-level turbocharged 1.2 litre petrol engine ideal for dynamic city driving. For longer journeys there's the 1.4 litre petrol option and the 1.6 litre diesel, with the 1.5 litre diesel unit offering the best combination of power and efficiency with fuel economy as high as just over 70mpg and CO2 emissions as low as 99g/km.
Similar cars
Customer video review of the Nissan Qashqai
You don't need to just take our word for it either. We've asked one of our customers to share why they love their Nissan Qashqai – and leasing it through us – as well.
Find out how Nationwide Vehicle Contracts' customer Mark has been getting on with his new lease car below.
Mark's favourite features of the Qashqai
Touch-screen multi-media system just one of the outstanding features
Parking System makes 'parking a breeze', says Mark
Easy to read Sat-Nav System
Plenty of safety features
A great car and thoroughly recommended for a family
Find out more about leasing a new Nissan Qashqai by reading a full written review from Honest John, and then check out the latest offers and prices from Nationwide Vehicle Contracts here.
We'll be publishing more video reviews of some of our other most popular lease cars in the near future too, so keep an eye out!