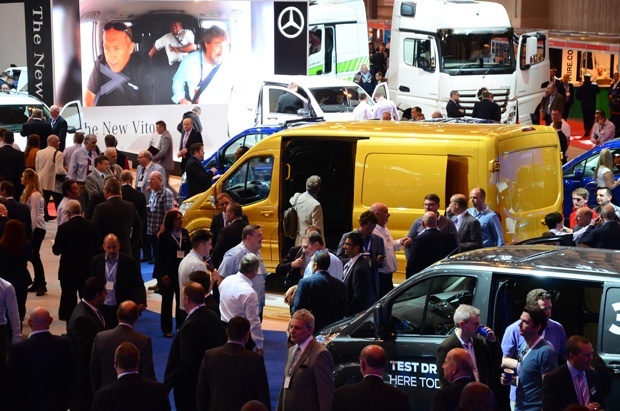 At the 2015 Commercial Vehicle Show that took place at the NEC Birmingham, around 19,000 business visitors made sure that the largest and most comprehensive road freight transport event staged in Britain was well attended.

There are already more and more commercial vehicles on the road (the SMMT recently announced a rise in new commercial vehicle sales) thanks mainly to a rise in online shopping and the need for delivery of the items. And with the astounding choices on show for operators proving to be greater than any other exhibition serving the commercial vehicle industry - and for leasing companies and would-be-leasers the choice of up-and-coming vehicles outstanding - the future of the commercial vehicle industry is bright (if not necessarily orange!)
With BVRLA (British Vehicle Rental and Leasing Association) data showing that, in 2014, 1 in every 6 vans on the UK roads is supplied by a BVRLA member (including us here at Nationwide Vehicle Contracts), advancement in both vehicles and technology is a pulse that fingers need to be kept on - and the 2015 Commercial Vehicle Show was just the place to do it.
As always at the Commercial Vehicle Show, meeting were had, contacts were made and alliances formed as the commercial vehicle industry's fleet owners, senior managers, engineers, leasing managers and 'plain old' vehicle drivers and business owners chewed the cud over what was on show. Whether it was in the famed Workshop Area where the emphasis was on the service, repair and maintenance of vehicles from heavy trucks and large vans to light vans and passenger cars, or in the Cool Area where the concentration is on refrigerated transport and cold chain equipment, a chance to chat to suppliers, competitors and friends was an opportunity not to be missed - but for many, the real stars of the show were the new goods on offer from some of the world's biggest and best commercial vehicle manufacturers; new and old.
Dacia shows off its first ever Duster van
Manufacturers such as Dacia who were showing off their first ever Duster van with a little help from TV celebrity Rachel Riley of Countdown fame.
The Duster van is Dacia's first factory-built van. It boasts up to 1,150 litres of load space with a 550kg payload, and is available as a 4×4 version alongside the standard front-wheel drive model.
Famed 'sum-stress' Rachel was on hand to do any sums that were required when it comes to value - although it doesn't take a mathematical genius to work out that a van that uses Renault's tried and trusted 110hp 1.5-litre dCi turbodiesel engine to achieve up to 56.5mpg fuel economy in front-wheel drive guise (54mpg in 4x4) and to accelerate from 0-62mph in 12.2 seconds will create a formula for success.
Andy Heiron, Dacia brand manager, explained more: "With the Dacia brand now established as part of the UK motoring landscape following two very successful years of growth, we now feel the time is right to launch a Duster product in the commercial vehicle sector.
It won't even be sold in paired-back base trim: model choices are either Ambiance or Laureate, with all offering electric windows, Bluetooth, USB socket, stability control and fancy chrome interior highlights. The cargo deck is fully lined with tough plastic, and is nearly 1.4 metres long and more than a metre wide."
Citroen reveals new Berlingo
And then there was Citroen, who revealed its new Berlingo with a host of new powerplants.
The new Berlingo is the first Citroën LCV to be offered with Euro-6 compliant BlueHDi diesel engines that help it to reduce its CO2 emissions to 109g/km. Add in the fact that it offers combined cycle fuel economy figures of up to 68.9mpg, and the result is good news throughout. In fact, Citroën will be extending these low-emission, fuel-efficient BlueHDi engines across their LCV line-up over the next year or so.
With a choice of Euro-6 VTi 95 petrol, Euro-5 HDi 75, HDi 90 , Euro-6 BlueHDi 100 and BlueHDi 120 diesel engines (all with stop/start technology and a choice of manual 5 or 6-speed gearboxes or Citroën's ETG6 automated manual transmission), two panel van lengths, three trim levels, an electric option, an XTR+ enhanced traction option, a Crew Van and a platform cab for special bodywork, the new Berlingo offers up options to suit pretty much any business.
If you add in standard specifications such as Teletrac Smartnav satellite navigation and Trackstar stolen vehicle tracking along with options that include LED daytime running lights, cruise control and speed limiter, front parking sensors, a reversing camera and a colour touchscreen with audio streaming, the new Berlingo from Citroën will be a van to look out for when it arrives on July 1. Citroen hope that they will be able to add to the 5,207 Berlingo vans that they sold in Jan-Mar this year.
The Berlingo is one of 5 Citroen vans available for leasing from Nationwide Vehicle Contracts. Visit our Citroen van leasing page to see our current deals.
Ford celebrates 50th anniversary of the Transit van
The Commercial Vehicle Show wouldn't be the Commercial Vehicle Show without an appearance from the ever-popular (and best UK seller) Ford Transit van, which is celebrating its 50th anniversary this year.

Selling 12,627 in the first quarter of 2015 is a good start to the year for the Ford Transit, with Ford revealing that "if all the Transits sold in the last 50 years were lined up end-to-end, they would circle the globe, with a new model bought every 180 seconds during its lifetime."
And that line is likely to be made longer with the latest expanded Transit line-up featuring four new models – Transit, Transit Custom, Transit Connect and Transit Courier - all of which were on display at the Commercial Vehicle Show, with Transit production over the 50 years scheduled to top nine million during 2015.
After the CV show closed, a convoy of gold-coloured Transits that includes the Transit Courier, Connect, Custom and two-tonne Transit models set off to tour dealerships, events and other shows in an ongoing display set to celebrate the milestone birthday on the weekend of Aug 8/9.
Mark Ovenden, chairman and managing director, Ford of Britain, is proud of his grown-up child: "The Ford Transit has touched the lives of most of us," he said. "From house moves to moving people, the Ford Transit is an essential tool to get the job done. It has become a mobile office or workshop for some – and loved by us all."
With the latest Transit models having added state-of-the-art technologies like Adaptive Cruise Control and Lane Keeping Aid, it's likely that Ford will be keeping their leadership for a while, as Mark Ovenden says: "Ford's Transit family continues to lead the way in innovation. With 50 years of van sales leadership in the UK under its belt, the new four-van Transit range is looking forward to its next half century."
Looking for a new Ford van? Choose between 9 van models and 54 size options through Nationwide Vehicle Contracts. Browse our full range of Ford vans available for lease.
Vauxhall unveils new Corsavan and full Vivaro line up
And finally Vauxhall debuted their new Corsavan alongside a full-line up of Vivaro vans.
With Vauxhall being the only volume van maker producing in Britain, they've taken a great opportunity at the Commercial Vehicle Show to show off not only the Corsavan (which attracted a lot of attention) with its larger payload of up to 571kg, fuel economy of up to 86mpg, emissions as low as 87/km and host of safety technical equipment, but also the existing Movano and Vivaro; the latter being the second biggest UK seller in the first quarter of 2015 with sales of 7,449.
Check out our current deals on Vauxhall vans here.
Alongside all these at the Commercial Vehicle Show there was Isuzu's new Euro VI 'Forward' 12 tonner and the new Mercedes-Benz Vito, alongside exhibitions, products and technology from the likes of Thermo King, Bailey Morris, Handsfree and OBS Logistics, amongst many others; all combining to make this year's Commercial Vehicle Show one of the best ever.
Roll on 2016!