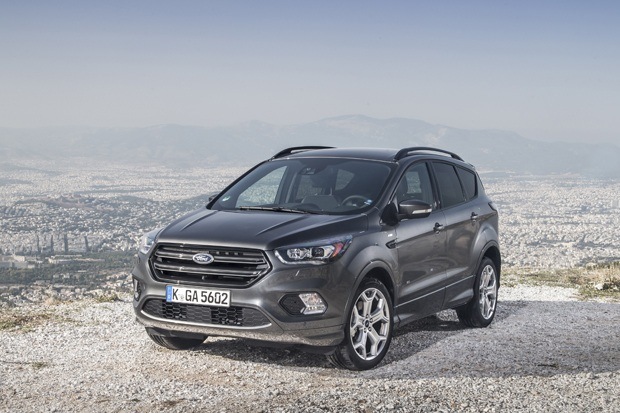 "New Kuga offers cutting-edge new features and technologies that will help drivers stay connected, comfortable, safe and stylish on the road," said Joe Bakaj, vice president, Product Development, Ford of Europe. "The sophisticated redesign has given Kuga a fresh and modern feel, while SYNC 3 enables drivers to communicate with their vehicle and connected devices in seamless ways that would have seemed impossible just a few years ago."
So the new Ford Kuga sports utility vehicle (SUV) promises an even more technologically advanced, refined, safer and more enjoyable experience for SUV customers in the UK; but does it deliver?
Let's take a look at what has changed to make one of Ford's newer cars something to consider when you are looking to lease a car from Nationwide Vehicle Contracts.
SYNC 3
One of the more trumpeted advancements when it comes to the new Ford Kuga is the addition of Ford's new SYNC 3 connectivity system to the list of technological advances available, enabling drivers to control audio and navigation functions AND connected smartphones via simple, more conversational voice commands.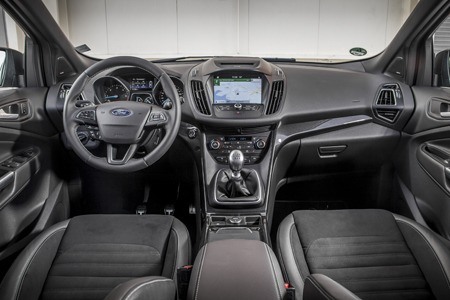 Having listened to comments from more than 22,000 customers who have used SYNC in its previous incarnations, and using insights gained from research clinics and surveys, Ford has refined the system to make sure that it is "the most customer centric system to date."
Available now with 5 additional languages, faster performance, and simplified commands, simply by pushing a button and saying "I need a coffee," "I need petrol," and "I need to park," drivers can locate nearby cafés, petrol stations or car parks, and find train stations, airports, and hotels.
SYNC 3 is operated via an 8" touch screen in the same way as a smartphone is used, featuring larger, easier to operate buttons and pinch and swipe gesture abilities for the first time, and is compatible with both Apple and Android systems. It also delivers SYNC AppLink, allowing activation via voice commands of a range of smartphone apps that include Glympse, Aupeo, Spotify, MyBoxMan, HearMeOut, AccuWeather, and Los 40 Principales.
As Christof Kellerwessel, chief engineer, Electronic and Electrical Systems Engineering at Ford of Europe says: "[SYNC 3 is] designed to complement modern smartphones, understands more natural speech, is faster, and offers an easier-to-read graphical interface."
Technology for stress-free parking, driving, travelling.....
The new Ford Kuga makes driving and parking simpler for customers via use of even more sophisticated Ford driver assistance technologies than ever before. This includes:
The new Perpendicular Parking function that enhances the semi-autonomous Active Park Assist technology previous available (and well-used) by around 50% of the previous Kuga customers last year.
Cross Traffic Alert which warns drivers reversing out of a parking space if it detects a vehicle approaching from either side
Park-Out Assist that helps drivers as they exit a parallel parking space.
An enhanced version of Ford's Active City Stop collision avoidance system, which now operates at speeds of up to 31 mph, increased from 19 mph.
Ford MyKey technology that allows new Kuga owners to programme a key for younger drivers that restricts incoming phone calls; top speed; deactivation of driver assistance and safety features; maximum volume on the audio system; and even disables the audio system altogether if occupants are not using safety belts.
The Style
The new Kuga is yet another recipient of Ford's latest design programme by now featuring a bold and sporty look that is shared with the EcoSport and the new Ford Edge.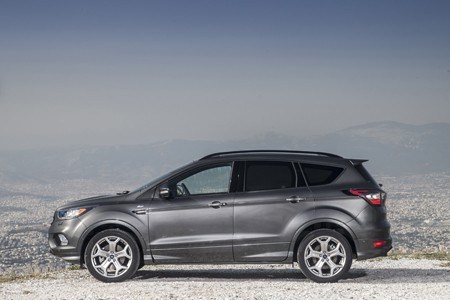 This means that the new car has a large upper trapezoidal grille and a smaller lower grille flanked by sleek new headlamps that incorporate LED daytime running lights and stylish fog lamps.
At the back the new Kuga sports restyled taillights complete the sporty look, and the whole car is now framed by a new range of 17", 18" and 19" alloy wheel designs also in variety of finishes including Luster Nickel.
Add to all this two new available car colours (Guard Grey and Copper Pulse) along with a power-operated retractable tow bar, and the external sporty look of the new Kuga is complete.
Inside sees a refined and meticulously crafted interior that now offers a "more ergonomic, stylish and comfortable experience for occupants."
There are fewer and more easily distinguishable buttons and switches, making the controls easier to recognise and navigate, and the steering wheel is also offered with heated leather (to improve comfort in cold weather) and, on automatic models, paddle-shift controls to enable gear selection manually while keeping hands on the wheel.
Other features include:
Air-conditioning
An electronic parking brake
Centre console storage area
USB connection point
Door lock indicator
Hands-Free Liftgate that can be opened or closed using a kicking motion beneath the rear bumper.
Model Options
The new Ford Kuga is available as both the ST-line and the luxurious new Kuga Vignale; for the first time ever, and both offering customers greater choice of styling and specification as part of the most comprehensive Kuga line-up ever.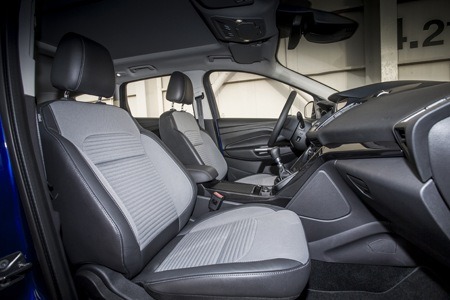 The Kuga ST-Line delivers bold exterior and interior styling including unique alloy wheels and sport seat designs, and joins the Fiesta ST-Line, Focus ST-Line and Mondeo ST-Line as part of Ford's new range of ST-Line models, as well as offering sporty driving dynamics thanks to optimised suspension and steering.
The upscale Kuga Vignale is available with the expected exclusive specification that includes the unique Vignale pearlescent Milano Grigio exterior colour, and unique hexagonal-quilted Windsor leather with prominent tuxedo-style stitching for the seats and door interiors. The Kuga Vignale follows the Ford Mondeo Vignale, S-MAX Vignale and Edge Vignale in Europe.
Powerful and fuel-efficient engines
The new Kuga not only features all these technology and style changes, but also now benefits from Ford's latest TDCi diesel and EcoBoost petrol engines to ensure optimised performance alongside low CO2 emissions and reduced running costs.
For example, Ford's 120PS 1.5-litre TDCi diesel engine with six-speed manual gearbox and front-wheel drive (FWD) delivers a 5 per cent fuel efficiency improvement compared with the outgoing 120PS 2.0-litre TDCi , offering 64.2 mpg and 115g/km CO2.
Other diesel powertrains available include:
120PS 1.5-litre TDCi 6-speed PowerShift FWD (58.8 mpg and 124g/km CO2)
150PS 2.0-litre TDCi 6-speed manual FWD (offering 60.1 mpg and 122g/km CO2)
150PS 2.0-litre TDCi 6-speed manual AWD (54.3 mpg and 135g/km CO2)
150PS 2.0-litre TDCi 6-speed PowerShift AWD (54.3 mpg and 134g/km CO2)
180PS 2.0-litre TDCi 6-speed manual AWD offering 54.3 mpg and 135g/km CO2
180PS 2.0-litre TDCi 6-speed PowerShift AWD offering 54.3 mpg and 134g/km CO2
All 1.5-litre and 2.0-litre TDCi engines feature advanced new diesel engine technologies such as a lean NOX trap for cleaner exhaust emissions, components with a special Diamond Like Coating that reduces friction, and a sophisticated Variable Nozzle Turbocharger for enhanced engine breathing, while all turbocharged EcoBoost petrol engines feature advanced technologies including high-pressure direct fuel injection and Twin-independent Variable Cam Timing.
In the case of the new Ford Kuga, models that feature the EcoBoost powertrain include:
120PS and 150PS 1.5-litre EcoBoost 6-speed manual FWD offering 44.8 mpg and 145g/km CO2
182PS 1.5-litre EcoBoost 6-speed automatic AWD offering 37.7 mpg and 173g/km CO2
Other fuel-saving technologies offered right across the range include Auto-Start-Stop and Smart Regenerative Charging.
Visibility and safety
The latest Ford technologies and changes to the body styling and engineering on the new Ford Kuga have also been developed to help drivers see more clearly and enhance safety on the road for both new Kuga occupants and other road users.
Adaptive Front Lighting System is available for the first time on Kuga. This system automatically optimises visibility during times of ambient light conditions and adjusts the beam angle of the new bi-xenon headlights to one of seven settings depending on the vehicle's speed, steering angle and distance to an object in front.
Weather-Dependent Lighting mode (in the Adaptive Front Lighting System) that automatically adjusts headlights to help drivers spot roadside hazards in extreme heavy rain.
Ford Intelligent All Wheel Drive
Curve Control
Torque Vectoring Control
Joe Bakaj can finish off this seemingly never-ending list of refinements when it comes to the new Ford Kuga: "Sophisticated technologies like our Intelligent All Wheel Drive enhance safety and confidence for our customers. Intelligent All Wheel Drive measures how the car's wheels are gripping the road surface and can make adjustments in less than 20 milliseconds – 20 times quicker than it takes to blink."
The new Ford Kuga is now available to order. To Register your interest or find out more about the great deals we have on the Ford Kuga Contact one of our Customer Service Representatives. Grab your very own Ford Kuga, and join the ever growing SUV market today.