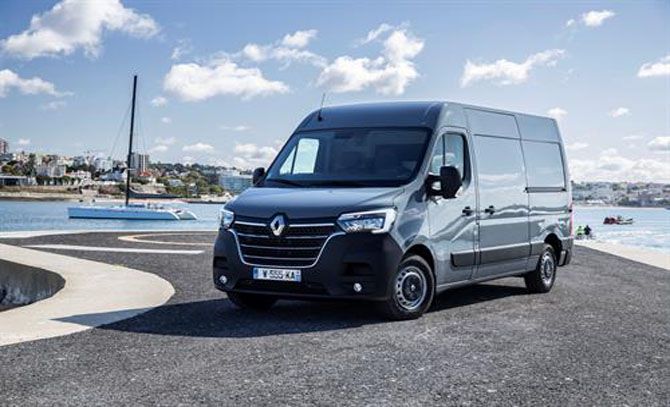 Continuing with Renault's 2018 success, the manufacture is ready to establish itself as a permanent figure in the LCV sector with the new Renault Trafic and Master.
At the very heart of the Renault Master it's efficient and practical and this is what makes it one of the most popular vans on the road. The deliveries of the award winning 2019 Renault Master are expected to be September 2019, so in preparation Nationwide Vehicle Contracts has summed up its best bits.
Just like the Renault Trafic, the Master is instantly recognisable thanks to the C-shaped lighting signature and the updated front-end design. The 2019 model also features an elevated bonnet line, vertical front grille and 'Urban grey' colour.
What makes this Master different is it offers the best of both worlds, its comfortable and practical. It's not just the outside that's had an update, the interior has also been spruced up. The seats have been fitted with long lasting upholstery, perfect for all the day to day wear and tear, so now the cab looks a lot sleeker. The centre section now has a MediaNav Evolution multimedia system navigation screen – compatible with Android Auto and Apple CarPlay – as well as a docking station for digital tablets, and the chrome accents on both air vents and air conditioning buttons.

To make your life that little bit easier, the 2019 Renault Master has an abundance of sensible storage options for the driver and any passengers – long gone are the days of juggling your morning breakfast sandwich and coffee. There's also unrivalled load space for all your equipment and tools, so much so there's a load volume of up to 17-m3, and to make the loading and offloading process even easier there's also large open or closed storage areas.

To keep you safe while you're on the road, the Master is jam packed with safety features – from lane departure warning to blind spot warning and the optional Advanced Emergency Braking System (AEBS). Not to forget the additional ADAS functions that are available, they not only increase safety but also maneuverability. To help you move around tight corners, park in awkward spaces and carefully navigate around building sites the Master has an abundance of driver convivences that include front parking assistance that operates both in urban environments and on motorways. There's also rear-view assist – a first for the market segment – it's a rear-view camera that works by enhancing rear visibility via a display on the upper part of the windscreen, as well as rear parking assistance.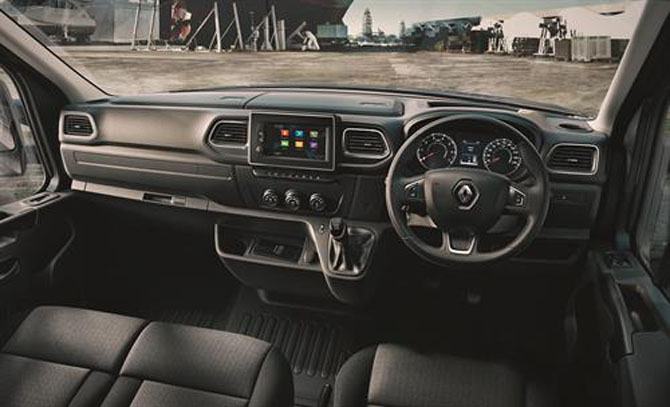 Additionally, to keep you safe during strong winds there's Side Wind Assist. It provides stability assistance in the event of side winds and is activated over 45-mph and can correct up to 50-% of the vehicle's lateral deflection in extreme conditions. There's also a wide view mirror positioned in the centre of the passenger's sun visor to increase the drivers rear visibility. Last but not least, the Master has hill start assist to help you on steep slope starts, brake pressure is automatically maintained for two seconds, helping you set off swiftly and safely.

The Master has been designed with an advanced 2.3-litre dCi engine – complete with twin turbo technology – so it provides increased power and a maximum torque of 180-hp and 400-Nm. However, depending on the version, fuel consumption is reduced up to 1 L/100-km (NEDC back-translated values). Pair this with either a six-speed manual gearbox or six-speed automatic gearbox and a fuel economy of up to 40.4-mpg is achieved – helping you spend less on fuel. Finally, for your complete peace of mind, the engines comply with Euro 6d-TEMP/Euro VI standards.

Whatever your budget and your needs there's a Master for you, in fact there's an incredible 99 different versions in total. Depending on the version, the Masters can be split into two trim levels, Business and Business+ – offering a plethora of vans varying in a choice of lengths and engines.

If you're thinking of going green, the New Master Z.E. is the one for you. It's an all-electric, zero-emissions-in-use version offering a 75-mile driving range, ideally suited for city-centre journeys. Full charge can be achieved in six hours with the WallBox 32A/ 7.4-kW charging station. In regards to payload, the 2019 Master Z.E. provides a respectable 1,100-kg ensuring your day to day operations aren't compromised.

If you want to find out more about the Renault Master contact our sales team today.