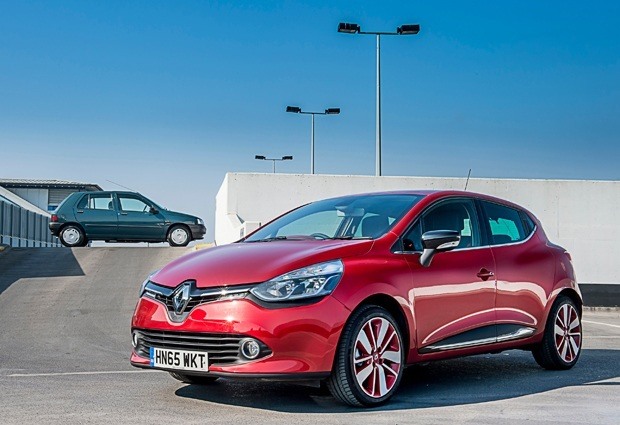 It's 25 years since Renault launched its all-new supermini for the 1990s, the Renault Clio, and Nationwide Vehicle Contracts have some excellent leasing offers at competitive UK car lease prices on the car for which the phrase Va Va Voom was said to be created for.
Having been originally launched in the UK on 29th March 1991, the Clio is now in its 4th incarnation, having sold over 13,000,000 models since then, 1.2 million of them in the UK. It was the first car to win European Car of the Year twice and through four successive generations, it has become one of the world's best-loved small cars.
So settle back as we take a walk down memory lane at 25 years of the Renault Clio, and see what you remember.
Clio 1: A new 'big' little car
It all began at The Paris Motor Show in October 1990 when Renault introduced a new model for the supermini class called the Clio. With a name taken from a Greek word meaning 'made or to make famous', the all-new car took as an inspiration and base the much-loved Renault 5 - and improved it to 'create big-car refinement in a small car.'
Already having picked up the prestigious European Car of the Year award, the Clio I arrived in the UK on 29th March 1991 with new 'Energy' engines of 1.2- and 1.4-litre capacity, and a high level of interior specification for the time that included front electric windows, remote central locking and a stereo radio/cassette.
The initial launch model was added to by the 1.8-litre 16v hot hatch and the 1.9-litre diesel model, with small changes being made in 1994 and 1996 to improve design and safety, and by the time it was decided to introduce Clio 2, 300,000 had been sold in the UK.
Sales of the car had been helped by a soon-to-be iconic TV advertisement that featured a young French woman, Nicole, her father, 'Papa', a Provençal Chateau, and a gleaming red Clio 16v. 8 'episodes' of the advert, Nicole, played by actress Estelle Skornik, at one stage judged the second most recognisable person in the UK, ahead of the then-serving Prime Minister John Major, Chris Evans and Bob Hoskins. The final episode was aired in May 1998 for the launch of Clio II, with comedian Vic Reeves spurned by Nicole at the altar in preference to Bob Mortimer, in the process becoming one of the most watched TV adverts ever.
Clio II: The Clio matures, growing stronger and more sophisticated
With the Renault Clio firmly established in the customers' psyche, and in the UK top 10 sellers chart for the previous five years in a row, the Clio II had a tough act to follow, but follow it it did with an all-new, curvier (and lighter) bodywork, longer wheelbase for more interior space, polycarbonate headlamp covers, composite front wings, an aluminium bonnet (on some models), ABS and front airbags.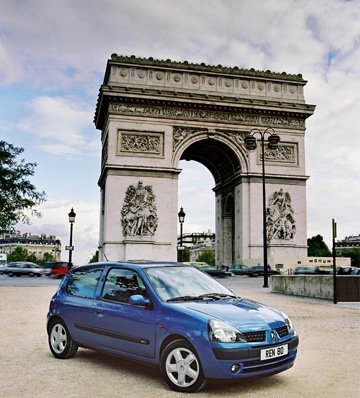 There was also fingertip control for the sound system and power steering, along with improved fuel consumption and emissions - an increasing priority for customers back then - and new 16-valve engines.
There were 4 trim levels available at launch, and these would find themselves improved with a class-leading four-star Euro NCAP rating in 2000, and a phase 2 model in 2001 with sharper frontal styling, even better interior quality and a standout new engine: the 1.5-litre common rail injection turbo diesel.
Phase 3 of the Clio II arrived in 2004 with grey headlamp bezels instead of black, and digital fuel and water temperature gauges in the cockpit, along with an unforgettable TV campaign that featured France and Arsenal footballer Thierry Henry and the question : "What is Va Va Voom?". Once again, the Clio worked its way into the nation's consciousness and affections, with the phrase 'Va Va Voom' entering the Oxford English Dictionary in 2004.
Clio III: new levels of safety and luxury for the supermini class
The Clio III made its debut at the 2005 Frankfurt Motor Show, and moved the Renault Clio on even further by not only being even bigger but also by being the first car in its market segment to be awarded a five-star Euro NCAP rating. The use of soft-touch materials on higher spec versions brought new levels of quality and sophistication to the supermini class, and the 'big car' statement was enhanced with a tyre pressure monitoring system and Renault's 'hands free' card, instead of a traditional key.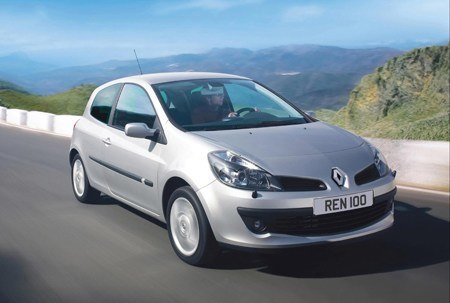 Was it successful? The title of European Car of the Year 2006 suggests that it was, especially as it made the Clio the first car to win the coveted prize twice.
At launch, the Clio III was available only as a three-door model, with the five-door version arriving early in 2007, and could be specified in four trim levels – Extreme, Expression, Dynamique and Dynamique S. And it came with a new engine range that was designed to reflect the increase in demand for small diesel cars by offering an equal number of petrol and diesel options: three 16v petrol engines of 1.2-, 1.4- and 1.6-litres were complimented by the 1.5 dCi engine in 68hp, 86hp and 106hp variants.
'Phase 2' arrived in 2009 with significantly altered frontal styling, and further improved interior quality and specification, along with a sporty GT model, and a new ad campaign that continued the launch campaign starring new characters 'Ben' and 'Sophie' discussing the merits of the UK versus France with the theme of 'French Car, British Designers'.
Following this, in 2011, the 'Va Va Voom' theme returned in a new advert starring American model, Dita von Teese.
Clio IV: "simple, sensuous and warm", with cutting edge technology
The new Renault Clio, available to lease from Nationwide Vehicle Contracts, is advertised using the theme 'Be Moved. Not Driven,' and is a 5-door supermini that is considered to be the best Clio yet.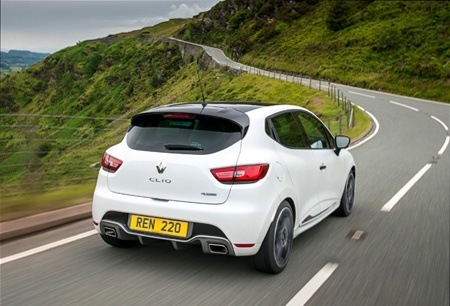 Still offering Va Va Voom, whatever that is, the Clio IV offers multiple engine configurations with ample choice for both diesel and petrol lovers.
The pick of the petrol bunch is the 3-cylinder, 900 cc turbo Energy TCe 90 engine, capable of 62.7mpg, with CO2 emissions at just 104g/km, and 90 horsepower (hp) – just right for sprightly urban motoring; and for dieselheads the options include the Energy dCi 90 diesel engine that uses advanced systems as Stop & Start, Energy Smart Management (ESM), Thermomanagement and active air shutters to make for truly remarkable efficiency figures of 88.3mpg fuel efficiency with CO2 emissions as low as 83g/km.
The latest Renault Clio alos comes with Renault R-Link that gives you full and complete control not just of your Clio's infotainment features, but also of your life outside of the car. Think of it as a dashboard mounted tablet through which you can access your music, messages and even internet applications using a combination of a touchscreen interface, steering wheel controls and intuitive voice recognition technology, and you will realise that the Renault Clio is truly a car you can make your own.
As Renault themselves say, the Clio really did, and is still redefining the small car segment:
"The Clio certainly had a lot to live up to, following as it did in the tyre tracks of the classic Renault 4 and Renault 5 models. Both had made a major contribution to the development of the modern supermini, but it's a testament to the enduring appeal of this 'big' little car that it has outgrown even them in the affections of the car-buying public. After 25 years and many millions of sales, the Clio is still redefining the small car segment through technology, refinement and style."