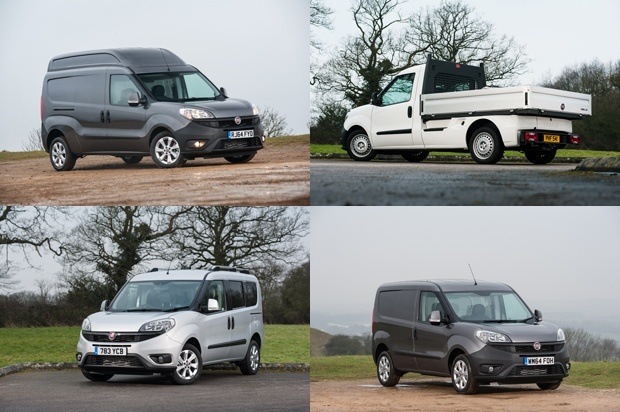 With Fiat launching their Fiat Professional branding on all their commercial vehicles this year, the first vehicle to feature the logo is the new FIAT Doblò with its fresh exterior design, improved engine performance for key models and new "EcoJet" version designed and engineered to lower fuel consumption and reduce running costs even further.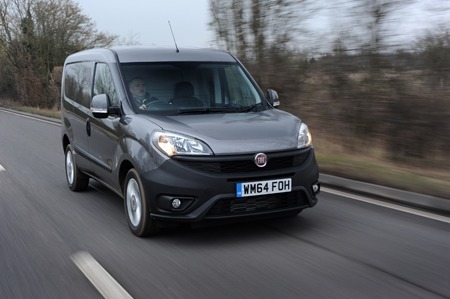 Throughout its career, the Doblò has been a success, selling over 1.4 million in its lifetime and picking up numerous awards (including International Van of the Year in 2006 and 2011), and great things are expected of this 4th generation version that keeps all those "class-leading traits that have defined its critical and commercial success" like the excellent dynamics, comfort and best-in-class load and volume capacities. But Fiat has not rested on its Doblò laurels because the 2015 version adds to these attributes with significant improvements; primarily in the 1.3-litre and 1.6-litre turbo-diesel engines where responsiveness has been enhanced with more torque from lower revs, and efficiency improved by anything up to 12%. (to give an example, the responsiveness of the 1.3-litre MultiJet II engine has increased by approximately 40% in comparison to the outgoing model - which means greater flexibility, a more relaxed and efficient drive, and a livelier performance when circumstances demand.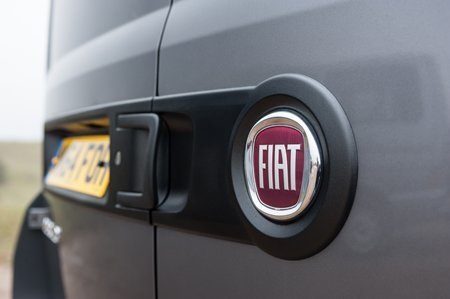 The existing 90hp 1.3 MultiJet II and 105hp 1.6 MultiJet II engines are now available in new "EcoJet" versions; meaning a further reduction in fuel consumption and emissions levels thanks to the use of Start&Stop.
Add in low rolling-resistance tyres, low-viscosity oil, an 'intelligent' alternator, a variable-displacement oil pump and a new aerodynamic pack, and all this adds up to not only a new and improved Fiat Doblò, but also an all new and improved fuel economy figure of up to 64 MPG and CO2 emissions of just 115 g/km.
It's not just the technical side of the Fiat Doblò that has seen improvements. The 2015 FIAT Doblò Cargo also sees a complete redesign taking its cue from the recent revealed new FIAT Ducato.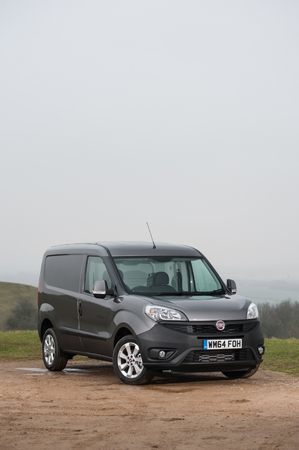 Re-sculpturing of the bonnet, and the addition of new headlamps and a new grille has seen the new Doblò achieve an air of sophistication and elegance, with the sleek new front bumper, lower air intakes and fog light shrouds in particular giving the commercial vehicle a more car-like front that belies its solidity and robustness; while at the rear you can find new light clusters with a sleeker shape and more sophisticated graphics.
Not much in the way of change to the interior of the Doblò - and that's all down to previous owners and users who, in their customer feedback, basically said "If it ain't broke, don't fix it." This means that the ample storage space, high comfort and specification levels and the Doblò ability to shrug off the rigours of daily use with ease are all still there, but have now been joined in the 2015 Doblò version by a lighter and more fluid clutch action , a shorter and more positive gear change and additional soundproofing.
When it comes to safety, the Doblò's safety credentials are second-to-none with a full suite of standard driver aids that includes almost every safety acronym that can be found: ESC (Electronic Stability Control), ABS brakes with EBD (Electronic Brake force Distribution), ASR (Anti Slip Regulation), TPMS (Tyre Pressure Monitoring System), HBA (Hydraulic Brake Assist) and Hill-Holder systems that help the driver during hill starts as well as a passenger airbag and lateral airbags.
The power behind the safety throne, as with all FIAT Doblòs, is its class-leading chassis with its sophisticated bi-link rear suspension to ensure sharp and predictable handling as well as a smooth and quiet ride even when laden down with passengers and/or cargo.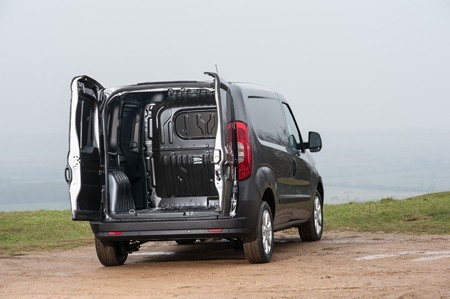 And speaking of cargo...
...it would be remiss of us not to highlight the hugely versatile load compartment that is (and will always remain) central to the appeal of the FIAT Doblò. With a payload of up to one tonne, the Doblò's load bay has a flat floor with minimal wheel arch intrusions and a practical squared-off shape (courtesy once again of the bi-link rear suspension) that all leads up to a load area of up to 5m3 which is accessed via 180-degree opening rear doors fitted with hard-wearing and ergonomic handles that allow your pinkie finger to open the rear door if you yourself are laden down with heavy boxes).
The FIAT Doblò Cargo range
The whole range is made up of four body-styles; two roof height options and two wheelbase lengths, with five engines, ranging from 90 to 135hp, and four trim levels: Standard, EcoJet, SX and Tecnico.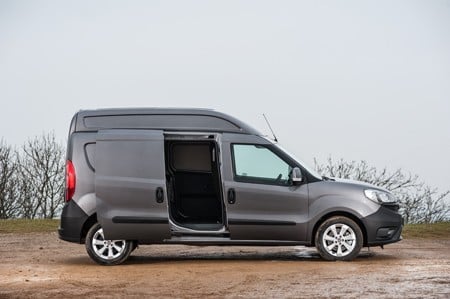 Standard features on all FIAT Doblò models include adjustable-level headlamps, a full-size spare wheel, full bulkhead, overhead storage, electric windows, central locking, full wheel trims, side rubbing strips, full-height twin panelled rear doors; offside sliding side door, (plus a nearside sliding side door on Maxi and XL models) and a speed limiter (upon request).
Moving up to the EcoJet version you get some smart alternator management, variable displacement oil pump, Start & Stop, low-friction oil, low-rolling resistance tyres and a new aerodynamic pack.
Up again to the SX model sees you adding in bulkhead soundproofing and load area PVC lining, as well as front fog lamps, electrically adjustable and heated door mirrors with body-coloured covers, remote control central locking, height adjustable drivers' seat with lumbar support, in-cushion storage in the passenger seat and an upgraded stereo with MP3 compatibility.
And finally, right at the top-of-the-range we find the FIAT Doblò Tecnico model that has all of the above plus air conditioning; rear parking sensors, Bluetooth connectivity, Start & Stop; remote steering wheel controls and a dealer-fitted satellite navigation system.
All models also feature a number of options that, for the 2015 Doblò, include a new Gateway module for vehicle telematics, a power folding door mirror function, DAB preparation for aftermarket audio systems and, the Traction+ system which has already proved itself in the Fiorino and Ducato that allows drivers to make their way even on low-grip surfaces with the surefootedness of a mountain goat without increasing the weight of the vehicle.
Award ceremonies await the new FIAT Doblò I have no doubt, and sales to match its predecessors.