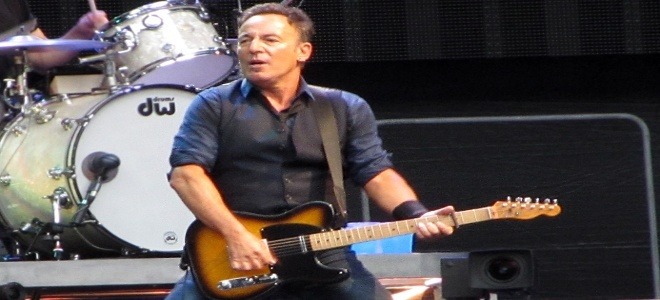 Hats Off To The Boss!
Today is the 64th birthday of everyman rock genius Bruce Springsteen. Though he's most famous for his stirring anthems of resilience and solidarity in harsh economic climates, he also has scores of songs about cars and driving.
So to celebrate this international day of Bruce Springsteen excellence, we thought we'd take a look (and have a listen) to some of his finest driving songs.
For it's a fact, universally acknowledged, that one of life's greatest pleasures is to cruise down the "highway" (motorway), wind rushing through your hair, with a bit of Bruce Springsteen blasting out of your "stereo" (radio).
So whilst we cannot and will not condone speeding or reckless driving, we actively encourage you to dig out your Bruce Springsteen CDs, tapes or MP3s and, if only for today, play them loud. And hopefully, somewhere in new Jersey, the boss will feel the love and smile a little.
The 5 Best Bruce Springsteen Driving Songs
Thunder Road (Born to Run, 1975)
Key Lyrics: And my car's out back/If you're ready to take that long walk/From your front porch to my front seat/The door's open but the ride it ain't free/And I know you're lonely/For words that I ain't spoken/But tonight we'll be free/ And the promises will be broken/There were ghosts in the eyes/Of all the boys you sent away/They haunt this dusty beach road/In the skeleton frames of burned out Chevrolets.
Racing In The Street (Darkness on the Edge of Town, 1978)
Key Lyrics: I got a 69 Chevy with a 396/Fuelie heads and a Hurst on the floor/She's waiting tonight down in the parking lot/Outside the Seven-Eleven store/Me and my partner Sonny built her straight out of scratch/And he rides with me from town to town/We only run for the money got no strings attached.
Radio Nowhere (Magic, 2007)
Key Lyrics: I was driving through the misty rain/Yeah searchin' for a mystery train/Boppin' through the wild blue/Trying to make a connection with you.
Pink Cadillac (Tracks, 1998)
Key Lyrics: I love you for your pink Cadillac/Crushed velvet seats/Riding in the back/Oozing down the street/Waving to the girls/Feeling out of sight/Spending all my money/On a Saturday night.
Cadillac Ranch (The River, 1980)
Key Lyrics: Eldorado fins, whitewalls and skirts/Rides just like a little bit of heaven here on Earth/Well buddy when I die throw my body in the back/And drive me to the junkyard in my Cadillac.
I think we can all agree that Bruce Springsteen makes driving sound like the most exciting, romantic and altogether brilliant thing ever.
So. Happy birthday, Bruce Springsteen!
Image via Flickr user: Bob Shand