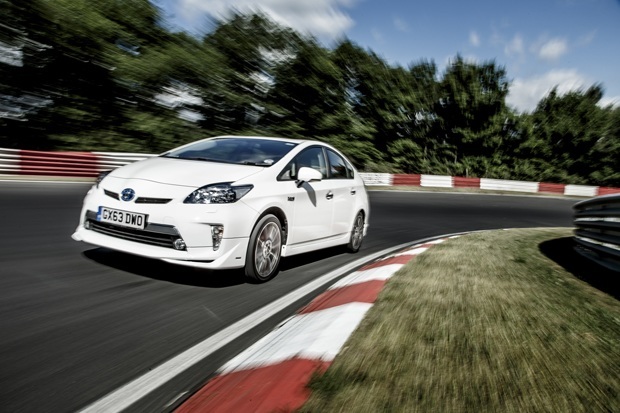 Normally at the world-famous Nürburgring we are talking speed records with three figures, so it makes a change for a car manufacturer to test their car at the race track to get a three-figure miles per gallon figure.

But that's just what Toyota have done, taking its Prius Plug-in hybrid to the track to show off just how little fuel it could use on a single lap of the notorious Nordschliefe, the first time that anyone has used the track to show this side of a car off.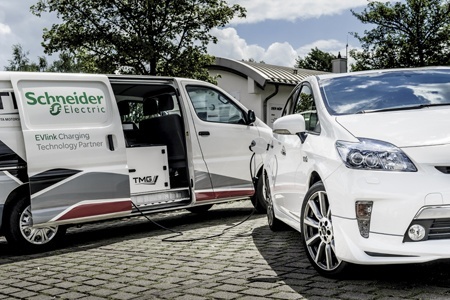 And it's not a sleight-of-hand trick either (using clever technical tweaks or trick bodywork) as Toyota designed a genuine, real-world test by having the car running in traffic during a public session and making sure that the car kept to all the circuit rules, including the 60km/h minimum average speed. These rules, regulations and conditions made sure that the speed requirement and the circuit length (12.9 miles) were well within the quotes that Toyota use for the range of the all-electric EV Prius Plug-in, the electric car designed to meet the day-to-day driving demands of urban commuters. In theory, the distance could be covered without a drop of petrol being used.

Behind the wheel of the standard Toyota Prius Plug-In was motoring journalist and Japanese car expert Joe Clifford who was actually completing the test in his own car, a standard Prius Plug-in that he had recently upgraded with the addition of TRD parts – an upgrade that involved styling rather than performance, making the car look better and not affecting the already impressive fuel economy.

TO THE TEST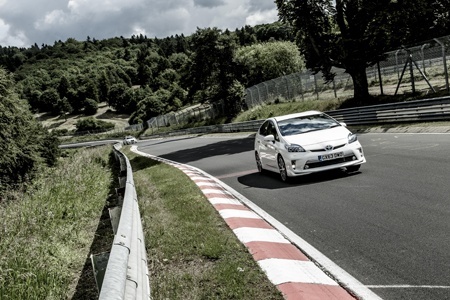 The conditions on the day were dry and breezy, and Joe completed his lap in 20 minutes and 59 seconds; a time that allowed him to boast a fuel economy of 698mpg, way beyond the car's official combined cycle figure of 134mpg. In fact, in completing the task, the Toyota used less than five tablespoons of fuel.

This incredible figure was achieved thanks to the Toyota technology involved that is a development of Toyota's full hybrid system matching a 1.8-litre Atkinson cycle petrol engine with a compact, rechargeable lithium-ion battery which increases battery performance and energy density to allow the car to be driven further and at higher speeds on electric power alone than the standard Prius.

Joe Clifford explains how it was all done with no recourse to smoke and mirrors – and how it cold have been so much better: "We used no special tricks for this test. We simply took a fully charged car, fitted it with low rolling resistance tyres and drove the lap, among all the other public drivers taking the opportunity to experience the challenge of the Nürburgring. Although the 12.9-mile distance is similar to a typical commuter trip, the difference here is a rise and fall in elevation of around 1,000 feet. In fact it was only on one long climb that the petrol engine cut in, and then only for a short while. Without that, we think we might have even achieved the ultimate 999.9mpg read-out – the highest figure the display can show."

Toyota aren't saying that this is what a normal commuter can reach, but it does show how, in certain circumstances, how outstanding figures can be reached – and it also gives a bit more credence to the 134mpg that Toyota claim in their original figures.

Prius Plug-in's achievement adds to the history of Toyota's Nürburgring success, including lap records for its EV P001 and P002 electric vehicles. More importantly, this latest test relates directly to what customers might experience with their own vehicle in day-to-day journeys. In a neat link to the record-breaking exploits of the EV P002, the battery cells from that car were used to power up the Prius Plug-in, via Toyota Motorsports' charging truck.

You can see the full story of the Nürburgring challenge here and find out about leasing a Toyota Prius from Nationwide Vehicle Contracts here.