CARS OF THE 70s NEARLY EXTINCT– JUST 161 ALLEGROS, 22 BUGS AND 3,482 CORTINAS LEFT ON BRITISH ROADS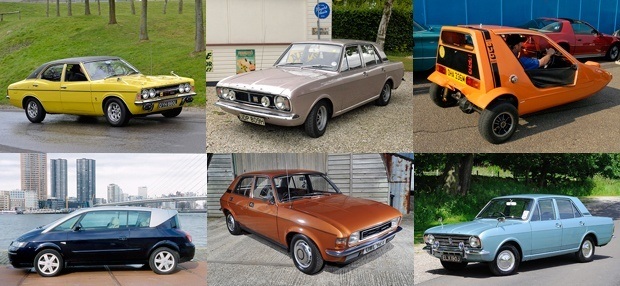 Bad news for DCI Gene Hunt. It seems that cars from the 1970s are disappearing faster from the UK roads than an escaping villan after a bank robbery gone wrong! That's according to WeLoveAnyCar.com who have launched #CarCountUK which details just how many of each make of car and model are still licensed on UK roads.
Perfect for those car drivers who want to know where that first ever passion-wagon they had has disappeared to, right down to the particular model of a brand. You might even find that if you had held onto what at the time you considered a bit of a boneshaker you might have a bit of a goldmine in your hands now.
The site uses government-supplied data that includes all cars registered and taxed for the road from 1901 to December 2013 - so it doesn't include cars in garages, cars declared SORN, cars in storage and cars not registered for UL roads – but it still gives you a good idea of just how exclusive (or out of touch) you would be now if you'd kept hold of it!
It is certainly an interesting experiment from the UK's largest car review site, especially when you realise that there are more drivers on UK roads born in the 60s and 70s than in any other era – and the cars that these drivers had in their youth are becoming almost extinct. It's just a good job that a car manufacturer at the time didn't release a model called the Dodo!
For example, #CarCountUK shows that there are fewer than 22 Bond Bugs, 161 Austin Allegros and just 3,482 Ford Cortinas still registered to drive on British roads. Now if you take into consideration that the Ford Cortina was once the UK's most popular car that is a big drop, and the site also reveals that it is thought that there are more Austin Allegros in classic car collections than there are on the UK roads.
There are other 'interesting' facts like; There are 4,119 Ford Sierras still licensed in the UK (from 1.3 million sold), although it should be noted that the more specialist models like the Ford Sierra Cosworth (RS and Sapphire) remain (956 in total – 23% of all remaining Sierras) as people look after them better and are prouder to show them off; there are only 273 Renault Avantimes left registered against another Renault creation, the Espace with 23.049; and there are only 19 Renault Fuego models still registered and (presumably) running.
It's not all about the old days though. Exclusive groups can also be formed by cares in current times; 6 owners of the Audi Q7 SE TFSI 333 QUATTRO A model and just 9 owners of the Peugeot 308 SPORTIUM E-HDI S-A variant show that fact off very well.
A spokesman for WeLoveAnyCar.com said:
"Our easy-to-use site allows anyone to look at how exclusive their cars are and in some cases drivers might be surprised to find they are one of a handful driving the model they own."
In the end, it's just a bit of fun to see where your old car is on the exclusivity list – if at all- and maybe if your car sat on the driveway or in the garage is one of a few remaining on the UK roads.
Fire up the Quattro, Gene.
All Pictures Courtesy of David Kimber