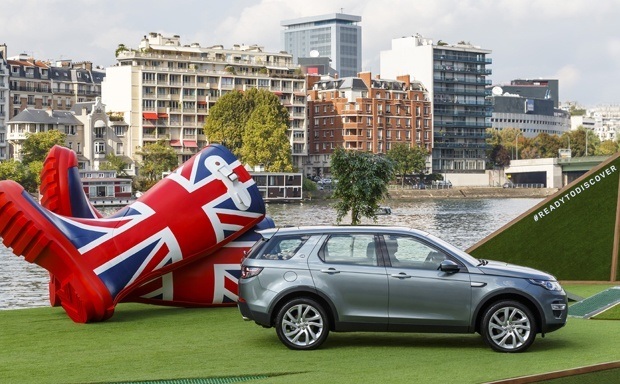 It was 'The British Are Coming' all over again as the new Land Rover Discovery Sport made its public debut, ahead of its Paris Motor Show public unveiling, as a pair of Discovery Sport vehicles sailed down the River Seine on a giant barge.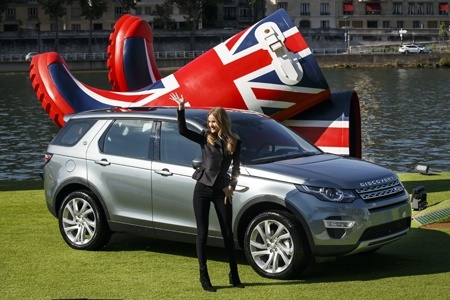 The pair of Land Rover's new premium compact SUV were flanked on their journey of Discovery by seven pairs of brightly coloured, giant-sized Wellington boots which were designed to not only indicate Land Rover's love of the outdoor life but also to represent the family-friendly SUV's versatile 5+2 seating layout.

And who else was there to give a little more Britishness to the occasion but model Rosie Huntington-Whiteley, straight from Paris Fashion Week, to make a surprise appearance on Land Rover's own floating catwalk; causing complete media frenzy as the British supermodel posed next to the Discovery Sport and a pair of 4.5-metre Union Jack patterned Wellington boots.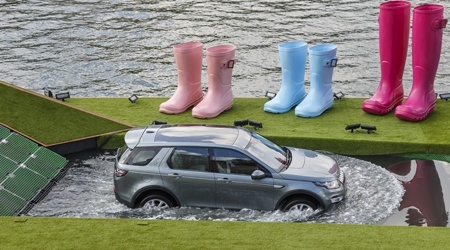 Having faced the world's auto and fashion paparazzi and their plethora of flashbulbs and cries of 'Over here' the Discovery Sport continued on its journey on the 80-metre long barge along the River Seine, still turning heads as it cruised past Parisian landmarks such as the Eiffel Tower and Notre-Dame Cathedral.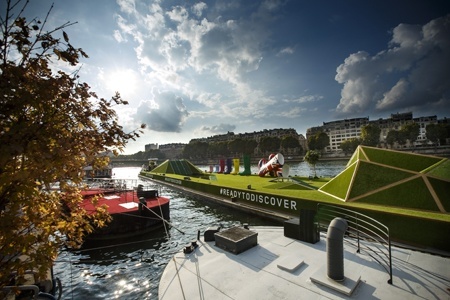 The new Land Rover Discovery Sport is a big deal for Land Rover having been originally revealed digitally at Virgin Galactic's Spaceport America facility in New Mexico, USA, back in September where Land Rover also announced details of its Galactic Discovery competition to send four friends into space.

"Designed and engineered to be the world's most capable and versatile premium compact SUV, this is a vehicle that will appeal not only to existing Land Rover customers but to a whole new group of people who may never have considered Land Rover before," said Gerry McGovern, Land Rover Design Director and Chief Creative Officer. "It is quite simply the most accomplished vehicle in its segment."

The Discovery Sport, as we revealed back in June; and Land Rover are hoping that it will help add to their predicted record-breaking 2014 sales figure.