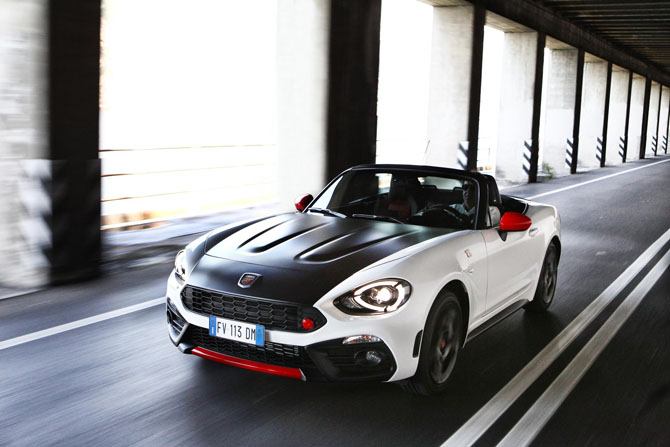 The Abarth 124 Spider, 595 and 695 are now available to lease with Nationwide Vehicle Contracts
Continuing our policy of bringing you the best cars at the best prices, Nationwide Vehicle Contracts is delighted to announce that Abarth models are now available to lease.
Abarth
Although the name may be new to many of our customers, the Italian car manufacturer has been around since 1949, taking its name from the company's founder, Carlo Abarth.
Essentially founded to manufacturer racing cars, Abarth branched into road cars and in 1971 Fiat acquired the car business and took its models under the Fiat banner.
In 2007, Abarth as a model name was reborn as an independent unit (although it is still owned 100% by Fiat) with the launch of the Abarth Grand Punto and the Grande Punto 2000. The manufacturer now has a range of three models including the sporty 124 Spider, the 595 and the 695, all sporting the iconic Abarth Scorpion badge, along with Abarth performance, technology and Italian style.
Having launched two new models in the shape of the 124 GT and the 695 Rivale at this year's Geneva International Motor Show, Abarth also used the show to promote their 2018 plans to compete in car rallies and on the circuit racing, both fields in which they have undoubted history.
Lets take a closer look at what Nationwide Vehicle Contracts has to offer when it comes to Abarth...
Abarth 124 Spider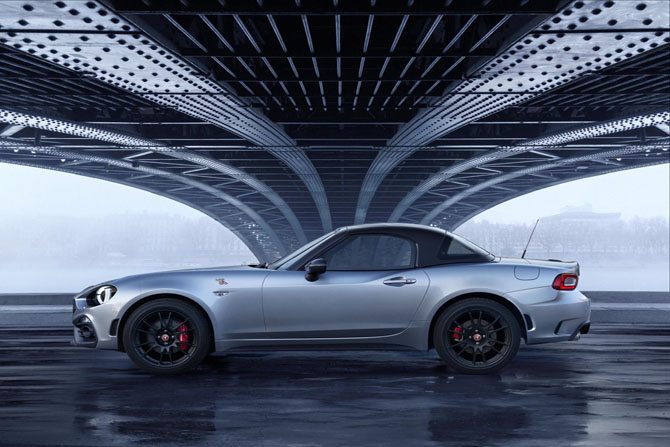 A viable alternative to the Fiat Spider and the Mazda MX-5, the Abarth 124 Spider can get from 0-62mph in 6.8 seconds with a top speed of 144mph. That is one fast car and with emissions of 148g/km and a claimed 44.1mpg on the combined cycle, it isn't too bad on economy too.
Differences from its rivals include changes and updates to the suspension and a turbocharged engine as well as design changes to set it apart (especially from the Japanese challenger).
The front-engined Abarth features a manual gearbox, is rear-drive, and looks, like its Fiat brother, very retro, with a range of heritage, rally-inspired colour schemes available as options, although the initial colour is jet black.
It is available in two models, Scorpione and Multiair and will certainly turn heads round as you dart around town in this roadster every day. But the main difference is under the bonnet with the 1.4-litre single turbo motor producing 168hp and 184lb ft of torque at 2500rpm - more powerful than the Mazda.
Simple, basic, comfortable, nicely designed inside and out, and with functional infotainment rather than mind-blowing, the Abarth Spider is there for those who want to look good at a cheaper price than a Porsche but with a Fiat.
Check out our latest lease prices on the Abarth 124 Spider
Abarth 595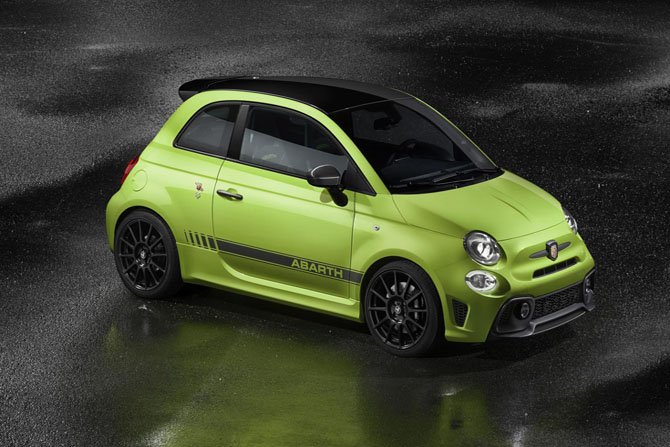 If you are looking for a sporty city car that is a step up from the likes of the Fiat 500, the Renault Twingo and the Volkswagen Up!, the Abarth 595 Hatchback could just well be it.
Available in a variety of trims - Competizione, Trofeo, and Turismo - as well as a convertible - Abarth 595C Convertible - the 595 boasts a Sporty 1.4 litre turbocharged engine to get you into the right mood to outshine all those rivals in not only looks but power too. With a 0-62mph time of 6.7sec and a 143mph top speed, it'll be showing the rivals a clean pair of heels from the off, especially in the top-spec Competizione version with 178bhp.
The 595 is based on the Fiat 500, but there are little touches inside such as a racing steering wheel that leave you in no doubt as to the name on the badge, and to the car's intentions.
With just three doors, it may be a bit cramped inside for the two adults in the back, and the 185-litre boot may not fit as much in it as others, but you've not got it for any other reason than the nippiness around town in a city car; have you?
When it comes to specifications, at entry level the kit includes 16" alloy wheels, air-con, a 5.0" touchscreen infotainment system with DAB radio, Bluetooth, USB and 3.5mm connections, twin exhaust pipes, a sporty bodykit, electric door windows, and sports seats, with the Turismo and Competizione adding in more such as sat-nav, 17" alloys, leather seats and xenon headlights.
Safety-wise, there are seven airbags, anti-whiplash headrests and electronic stability control, and fuel economy ranges from 47-48mpg with CO2 emissions of 139g/km.
The Abarth 595C Convertible comes with an electric fabric roof that folds down to sit on top of the boot, leaving the side windows and pillars in place, and is available on all trims.
Check out our latest lease prices on the Abarth 595 Hatchback, and the 595C Convertible.
Abarth 695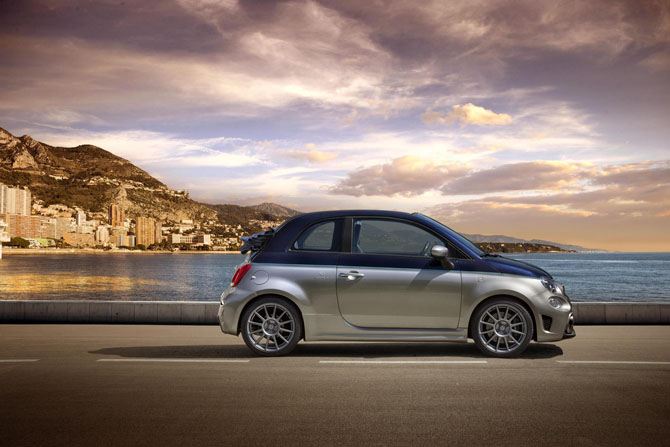 The Abarth 695 is a step up from the very best of the 595. The Abarth 695 Rivale was revealed at Geneva this year and is now available to lease from Nationwide Vehicle Contracts.
Conceived in partnership with yachting giants Riva, the Abarth 695 Rivale is one of Fiat's proudest moments and certainly the most sophisticated Abarth yet.
A 1368 cm3 engine waits for you under the bonnet ready to produce maximum power of 180 HP and a torque of 250 Nm to a maximum speed of 225km/h. An acceleration speed of 0-62mph in just 6.7 seconds is just the start you are looking for.
The power-to-weight ratio of the 695 Rivale is that of a real supercar (5.8 kg/HP with a mass of 1045 kg) and its performance is pretty special too: a maximum speed of 225 km/h and 6.7 seconds to accelerate from 0 to 100 km/h.
Beautiful chrome touches on door handles and the tailgate merely hint at Riva's direction on the sophistication inside; in fact, the model's 'Rivale' name even mirrors that of one of the most agile and efficient yachts ever built by the boatyard - the "56 Rivale".
Carbon fibre kick plates, blue leather seats and interior door panels, black mats with blue inserts and carbon fibre or mahogany dashboard are available extras to continue the nautical feel along with advanced technological solutions such as Uconnect (TM) infotainment with a 7" HD touch screen, ready for Apple CarPlay and Android Auto.
Check out our latest lease prices on the Abarth 695 Rivale.
Check out all of our Abarth lease deals here or contact one of our Leasing Consultants to see how you could be leasing a brand new Abarth from Nationwide Vehicle Contracts.