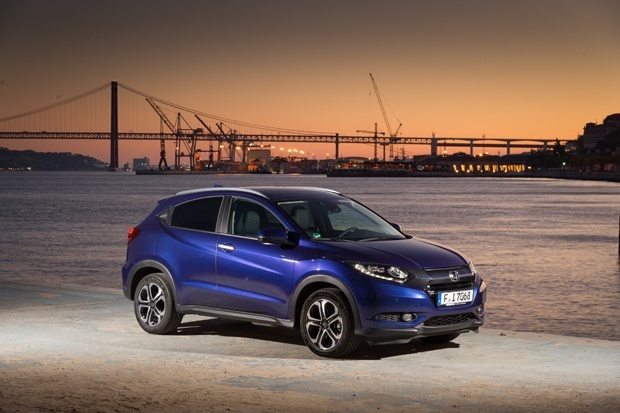 For those customers looking for efficiency in their car along with the kitchen sink of technology, the all-new Honda HR-V could well be the one for you - and it is now available to lease from Nationwide Vehicle Contracts. Check out some outstanding deals here.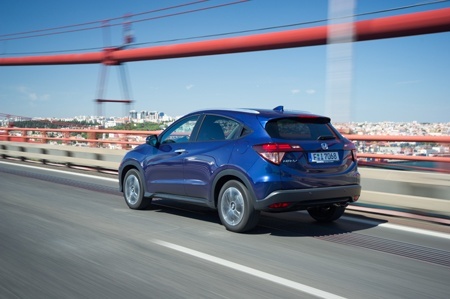 Aiming the car at "active people who enjoy both their work and home life. These people have a high sense of the balance between fashion and practicality", the new HR-V, apart from giving you dynamic styling, class-leading interior space and versatility, advanced infotainment and safety technologies, delivers class-leading fuel economy and CO2 emissions.
Leon Brannan, Head of Car, Honda (UK) is a man speaking with all the confidence of someone who knows that he has something special to tell us about: "The Honda HR-V created this fast growing market segment back in 1999 and for 2015 the all new HR-V will offer a class leading ownership proposition, refinement, sleek styling, a quality feel as well as being packed to the roof with safety and technology features. We are confident that the HR-V will perform favourably against its main competitors in this segment, such as the current market leading Nissan Qashqai."
Engine Efficiency
Honda's all-new HR-V will be available with choice of highly efficient 130 PS (96 kW) 1.5 litre i-VTEC petrol and 120 PS (88 kW) 1.6litre i-DTEC diesel engines, both operating as front-wheel drive powertrains, and both complying with the exacting and stringent Euro 6 emissions standard.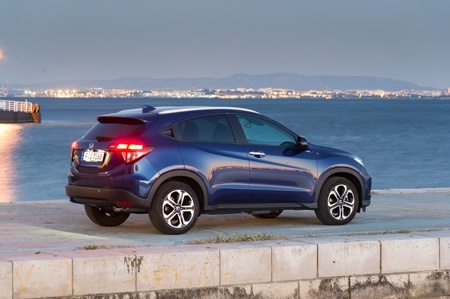 Emanating from Honda's advanced Earth Dreams Technology series, the 1.6 litre i-DTEC diesel engine is unique to Honda vehicles on sale in Europe, and works in perfect harmony with a newly-engineered six-speed manual transmission to give some excellent fuel economy figures from 71mpg. CO2 emissions start from just 104 g/km, yet the HR-V SUV loses no performance capabilities with this frugality with 120 PS at 4,000 rpm and 300 Nm of torque at 2,000 rpm generated to accelerate the new HR-V from 0-62mph in 10.1 seconds.
For customers who prefer a petrol option, the 130 PS 1.5 litre i-VTEC engine achieves a combined fuel economy of 54.2mpg and CO2 emissions from 120 g/km when used in conjunction with the available CVT automatic transmission. These figures are only slightly revised to 50mpg and 130 g/km when married with the standard six-speed manual transmission, with acceleration to 62mph from starting amended to just 10.3 seconds with the manual and 10.9 seconds when equipped with the optional CVT.
When it comes to power, the 1.5 litre i-VTEC petrol engine produces 130 PS at 6,600 rpm and maximum torque of 155 Nm at 4,600 rpm, with Honda's VTEC (Variable Timing and Lift Electronic Control) and VTC (Variable Timing Control) technologies combining with direct injection, strong tumble intake ports and an optimised piston shape to ensure that both output and efficiency receive the highest benefits.
These engine efficiency figures are made possible not only by the engine technology but by the re-creation of the new HR-V when it comes to design, with particular attention being paid to the aerodynamics - which can only be described as class-leading.
'Emotionality and Toughness'
"Combining high eye-point and toughness - core values of SUV - with a new level of emotion was the key," says Masaki Kobayashi, Project Leader on the Honda HR-V. "So we came up with an exterior concept encapsulated by "Emotionality and Toughness" and an interior concept called "Personal Cockpit and Expansiveness". We wanted to fuse apparently conflicting values to create something fresh.'
Exuding all the confidence of a car that knows its distinctive, boldly sculpted lines bring to mind an offspring of a coupé and a particularly tough, solid and robust SUV, inside the character-filled body of the new HR-V, you'll find:
Class-leading boot space
Honda's Magic Seats system
Premium quality materials and a sophisticated cabin design a
An outstanding Honda Connect in-car infotainment system
A wide range of safety aids and camera technologies
With a powerful 'solid wing face' nose, strong lower body form, and finely sculpted surface detailing, the new HR-V radiates a distinctive and self-assured identity, fully prepared for both family duties as well as social toughness.
The coupé-like body shape creates a dynamic and sporty look, complemented by the distinctive, sharply defined lines that run the length of the body - no surprise given the design brief to create a car that offers a sense of movement and agility, even at standstill, along with a robust presence on (and off) the road.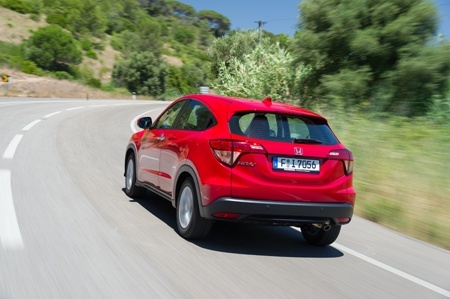 Honda are pleased with the look of the new HR-V. Masaki Kobayashi again: "For the exterior we are very pleased with its dynamic shape, the high quality of the surfaces and the intricate but seamless detailing. I believe that the HR-V possesses the elegance to look attractive in any scene and yet exudes toughness at the same time."
The all-new HR-V is available in four metallic paint finishes - Brilliant Sporty Blue, Alabaster Silver, Modern Steel, and the new Ruse Black - and in three pearlescent paint finishes - a new Morpho Blue, Crystal Black, and White Orchid - as well as the solid Milano Red.
'Expansiveness'
It's all about the space with the all-new Honda HR-V's interior design being tailored specifically to the needs and demands of the SUV target market.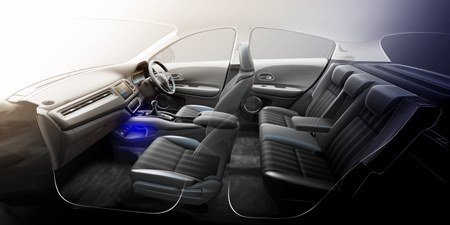 The whole aim of the design team tasked with the interior of the HR-V was to achieve a fine balance of class-leading interior space, ease of use and storage space with a dynamic and emotional design. A tough ask in any situation; but by packing a roomy and versatile interior with both functionality and a sense of personal space and fun, the cabin of the HR-V "brings the virtues of an MPV into the crossover segment for the first time."
Honda's centre-mounted fuel tank layout under the front seats is the foundation of the HR-V's spacious and versatile interior, freeing up the underfloor space beneath the rear seats to accommodate Honda's Magic Seat system.
Already a popular feature on many models in the Honda range, many of which are also available to lease, the Magic Seat system allows the adaptation in numerous configurations of the 60:40 split second-row seats to ensure both comfort for the maximum number of passengers and versatility of the cavernous interior when it comes to load carrying.
Passengers and drivers already are able to take advantage of class-leading cabin space, with headroom, legroom and shoulder room in the front and rear as generous as many larger vehicles, as well as the ability in the cargo bay to carry much more than thought possible with a capacity of 453 litres with the rear seats upright, increasing to 1,026 litres with the rear seats folded.
The new HR-V's wide tailgate opening (1,180 mm) and low loading height (650 mm) ensure easy access to the cargo-carrying capabilities, but it is the versatility of that capability that is enhanced by the Magic Seat system.
From the standard seating position, the Magic Seat system can adopt one of three modes:
Utility mode – the rear seat back folds forward as the seat base itself lowers into the rear passenger footwell, creating a maximum 1,845 mm-long flat floor.
Tall mode – the front of the rear seat base rises up and back and is locked in a vertical position to leave a cargo height of 1,240 mm from floor to ceiling, allowing tall objects to be placed behind the front seats.
Long mode – the front passenger seat back folds back to a horizontal position, while the rear seat back folds forward, forming a 'tunnel' to accommodate items up to 2,445 mm long.
'Personal Cockpit'
When it comes to the driving experience of the new HR-V, especially when we are talking long distances, a comfortable and fatigue-free experience for both driver and passengers is assured as the cockpit of the car is designed for this very experience with class-best levels of refinement.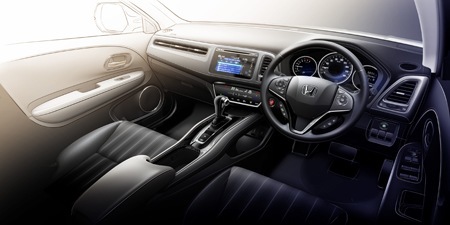 The cockpit acoustics have been specially developed with adaptations to the carpeting, wheel arch padding and dashboard acoustic pad inserts all contributing a refined and relaxing atmosphere throughout the cabin - if that is what is wanted!
Because at entry level, all HR-V models are fitted as standard with a five-inch LCD colour display screen in the centre of the dash and a 160-watt AM/FM/CD Audio system with four speakers, with mid and upper grade models fitted with a 180-watt six-speaker audio system.
This all connects to the advanced connectivity and infotainment provided by the Honda CONNECT in-car infotainment system that is available as standard on the mid and upper grade HR-V, and as an option on the base model.
Running on Android, and similar to the Smartphone, Honda CONNECT comes with pre-installed apps, and gives fast access to internet-based services.
Accessed through a customisable 7" touchscreen in the centre of the dashboard, it can be synced to other personal multimedia devices such as Smartphones, and displays vehicle information such as trip information and fuel economy as well as images from the rear-view parking camera (depending on model).
In addition, the Honda CONNECT system features extensive options for syncing with smartphones and other personal multimedia devices: WiFi, Bluetooth, HDMI, and MirrorLink – which 'mirrors' the screen of a connected compatible device, allowing it to be operated through the in-dash touchscreen.
All of this technology is encased in a cockpit with the wraparound feel of a coupé fitted with high quality, soft-touch surfaces.
For the driver there is a three-dial instrument binnacle with 'floating' illumination rings and Honda's ECO Assist function, with passengers in the front able to control their airflow comfort.
There are three grades of material comforts - high quality fabric, half-leather or full-leather upholstery - and on top-grade models a unique-in-class opening panoramic glass sunroof with one-touch opening tilt and slide operation.
Compehensive suite of advanced safety features
It is really no surprise that the all-new HR-V is fitted with a wide range of active and passive safety technologies designed to make driving both easier and safer, just as all new Honda vehicles are.
Every new HR-V sold in Europe will be equipped with Honda's City-Brake Active System to help avoid or lessen the impact of low speed accidents by using laser radar technology to scan the road ahead before automatically applying the brakes if an imminent risk of collision is detected.
For the mid and upper grade models of the HR-V, Honda have installed their Advanced Driver Assist System, which uses radar sensors, plus forward and rear facing cameras, as standard to provide systems like:
Forward Collision Warning
Traffic Sign Recognition
Intelligent Speed Limiter
Lane Departure Warning
High-beam Support System.
Add in Honda's proprietary Advanced Compatibility Engineering™ (ACE™) body structure technology, 8 airbags including front, side and full-length curtain airbags, and front seat head restraints, and it's no surprise that the new HR-V achieved a top scoring five-star safety rating in the latest and toughest Euro NCAP crash tests.
The new HR-V is part of the wave of next-generation and all-new vehicles from Honda, demonstrating the brand's pioneering approach to technological innovation which makes life better for its customers. There are three equipment grades available, so contact us here at Nationwide Vehicle Contracts for details of the leasing options on the new Honda HR-V.