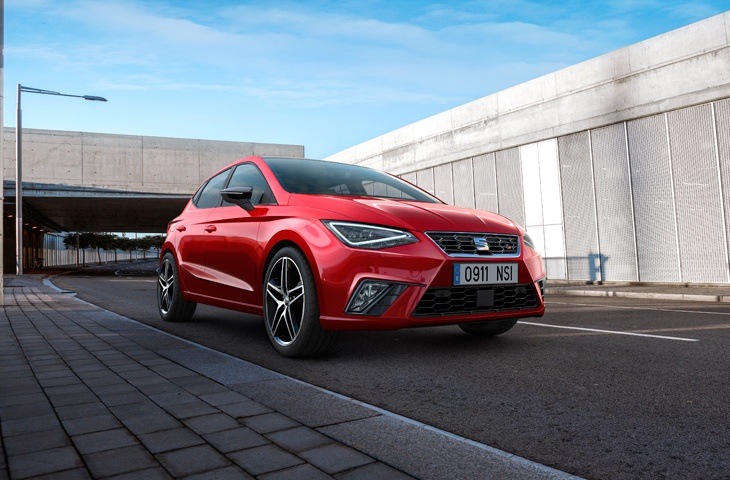 The fifth-generation of SEAT's high-selling supermini, the SEAT Ibiza, was recently revealed in Barcelona, "loaded with the latest technology features, outstanding dynamics, and impressive improvements in interior space and comfort." In fact, it has already been described as "the best SEAT Ibiza ever."
Since making its debut in 1984, the Ibiza has become a SEAT icon, selling over 5.4 million models, and is without doubt one of the three cornerstones of the SEAT brand along with the SEAT Leon and the SEAT Ateca.
With major steps forward in safety, design, performance and comfort, the new SEAT Ibiza is the first to use the Volkswagen group's new MQB A0 modular platform in design, and will be available in the UK in July 2017.
Compact, Roomier, Efficient
Even though the new SEAT Ibiza is shorter and shallower then the previous model, it is wider, adding to both robustness and interior space.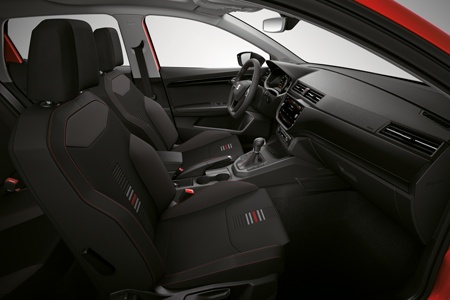 Leg room in the back seats has increased by 35mm, while head room has gone up by 24 mm in the front seats and 17mm in the rear.
Wider seats (by 42mm) adds to comfort, and the boot has been enlarged by an impressive 63 litres to a total capacity of 355 litres. This, along with a lowered loading height, is an excellent example of SEAT's goal of combining design and functionality.
The SEAT Ibiza ride is of exceptional quality and dynamism, all achieved in comfort thanks to the new MQB A0 platform, which also offers more safety with 30% greater torsional stiffness. A five-door model only, the new Ibiza manages to have the sportier look of a three-door model, and with technological advances incorporated when it comes to noise control, vibrations and ride harshness, it also offers a ride on par with many much larger and luxurious cars. And, of course, it's still well at home when it comes to the city.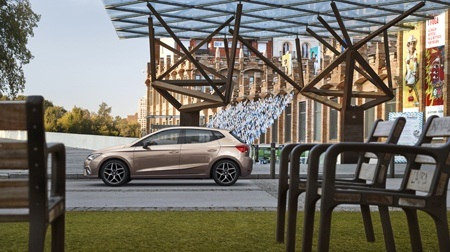 All of the engines available on the All New SEAT Ibiza are Euro6 emissions standard compliant and offer "outstanding features, durability and low emissions."
On the petrol front there are three to choose from: A three-cylinder 1.0 TSI with 95 or 115PS, along with a turbo-compressor, intercooler and direct injection; and a new EVO 1.5 TSI unit with four cylinders and 150PS that will be available later in the year.
And two diesel options here in the UK in the shape of 1.6 TDI diesel engines with 80 and 95PS.
A manual five-speed transmission is available for the 95PS and lower engines, and a six-speed transmission for the more powerful engines, with the option of a seven-speed dual-clutch DSG-auto gearbox also available.
Four trim levels with advanced technology
The All New SEAT Ibiza will be offered in four trim levels at UK launch: S, SE, FR, plus, a new XCELLENCE version (to make an appearance at a later date).
Of these, the FR trim comes with the most dynamic and technology focused equipment (some of which is also standard in S and SE trim) such as:
Rear diffuser
Exclusive front bumper and exterior black pack
Sport (and stiffer) suspension
Four mode settings, Comfort, Eco, Sport and Individual
Interior ambient LED lighting in two colours, red and white.
Full LED lights (on the headlights, dashboard, indicators and rear fog lights)
Front Assist
Adaptive Cruise Control
Keyless Entry System with heartbeat engine start button
Front and rear parking sensors
Rear view camera
Premium 8" touchscreen.
Wireless charger with GSM amplifier
Apple Car Play, Android Auto and Mirror Link
Beats audio sound system with a digital signal processor (DSP), seven premium speakers and an eight-channel with 300W amplifier.
The new XCELLENCE trim has been designed to "appeal to customers looking for comfort, elegance and intelligent technology" and will also contain many of the FR's specification, although with a softer setting.
Design
So that's what it offers - what does it actually look like?
With the change in dimensions, the new SEAT Ibiza seems to hug the ground, its perfect proportions offering the impression of strong character and agility.
Having aimed at a "fresh and young, yet mature and balanced" look, the designers have pushed the evolution of SEAT's design DNA to new limits - something that is obvious at first glance.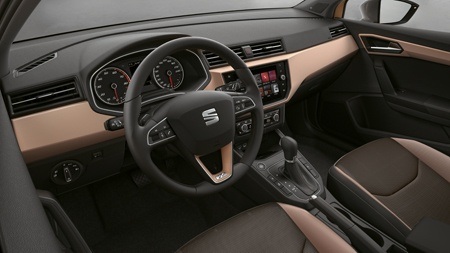 At the front of the car, the triangular full LED headlights and daylight graphics make the new SEAT instantly recognisable, the SEAT badge sitting proudly on the grille.
The short front and rear overhangs make it stable, dynamic and sporty, while the longer wheelbase and window outline offer a feeling of internal space.
At the back, rear lights wrap around the car to give the impression of sporty aerodynamism performance, accentuated by the rear reflectors seeming to bring the car closer to the ground.
Inside, the design of both the Leon and Ateca are reflected, but 'Ibiza-ed', with elegance and quality high on the list.
Perfect proportions and a greater sense of space and comfort have already been highlighted, and, for the driver, all controls and instruments are set in the highest position possible to avoid them having to take his or her eyes off the road.
Having taken the best of all surrounding it, the new SEAT Ibiza looks to be all set to continue its dominant march through SEAT history, and if you want to find yourself leasing the car from when it launches in Summer 2017, contact one of our Customer Service Representatives now.