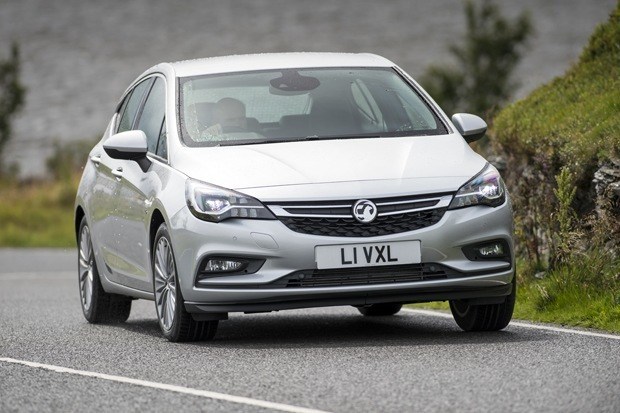 Having made its global debut at the Frankfurt Motor Show, the new Vauxhall Astra is now available to lease from Nationwide Vehicle Contracts - and it is expected to be a great success.
No surprises really because the Vauxhall Astra is one of the UK's top-selling and best-loved cars, with 50,000 new owners in the last 12 months. In fact, more than 25% of British motorists have either owned or driven an Astra.
Accounting for around 12% of C-Segment sales, the Vauxhall Astra has a very diverse customer profile -appealing to people from all areas of society, male and female, young and old - as does its main rivals, the Ford Focus and the Volkswagen Golf, with a 70:30 in favour of company car drivers and fleet decision-makers. So whether you are interested in Business Leasing or Personal Leasing, the new Vauxhall Astra could be for you.
The New Vauxhall Astra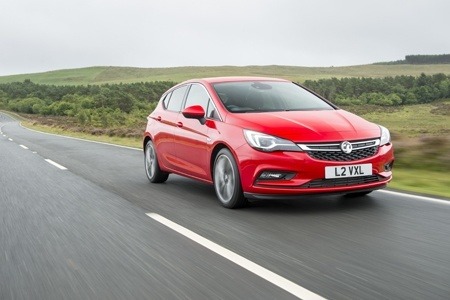 Based on an all-new lightweight vehicle architecture with a new design, powertrains and technology, and built at Vauxhall's Ellesmere Port manufacturing plant in Cheshire, the new car is up to 200kg lighter than its predecessor (depending on trim and model), even with the addition of high-strength and ultra-high-strength low-weight steels, and compact subframes.
Powertrain portfolios include both petrol and diesel units ranging from 100PS to 200PS, including an all-new 1.4-litre (150PS) ECOTEC Direct Injection Turbo and the recently-launched 1.6-litre CDTi Whisper Diesel, and the New Astra is also the first Vauxhall to feature OnStar, a ground-breaking connectivity technology now available across Europe that includes high-speed 4G LTE mobile network, emergency response notification and stolen vehicle recovery alert, as well as Apple CarPlay and Android Auto.
There have also been some serious changes to the chassis, front and rear suspension, and braking system to make the new Vauxhall Astra a dream to drive - whatever style you drive at.
"The all-new Brit-built Astra raises the bar in terms of quality, design and connectivity," said Tim Tozer, Vauxhall's Chairman and Managing Director. "Lighter than ever before, with new powertrains and cutting-edge technology, the new Astra is set to shake up the C-segment when it arrives in showrooms this autumn."
Design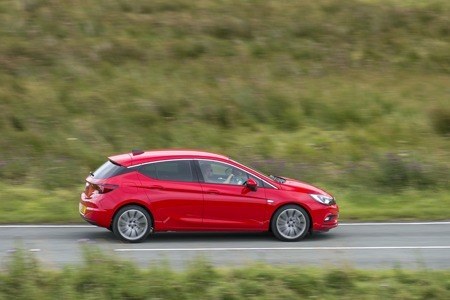 The design of the new Vauxhall Astra, created by a design team headed up by Brit Mark Adams, is inspired by the Monza Concept revealed back in 2013; and using the Vauxhall design philosophy of 'sculptural artistry meets technical precision' the team has produced a car that looks a lot more athletic than ever.
"It's smaller on the outside but larger on the inside, highlighting our focus on great efficiency," said Adams. "All of the design elements, like the way the grille flows seamlessly into the lamps, the dynamic divided C-pillar and stretched taught surfaces down the bodyside, all support the visual effect in making the new Astra look lower, longer and wider, while still offering excellent interior space. Overall, the design reflects new Astra's key messages: leaner, lighter, more efficient, dynamic,"
Instantly recognisable as a member of the Vauxhall family thanks to the grille-based Griffin logo and the rear 'blade', the most significant design cue of the new Astra is the divided C-pillar, that gives the impression of a floating roof.
Inside the car, switches and controls are reduced to an absolute minimum amongst the premium materials used to create the driving space, allowing the efficiency and ease of use that is right there at the core of the Astra, with an award-winning IntelliLink system at the heart of the interior. And the location of the system has been chosen to make sure that the display is within easy reach for both viewing and use.
"The interior is a blend of sculptural dynamic shapes, premium materials, and an absolute focus on quality of execution and craftsmanship. We seamlessly integrated full width decors, bordered by a signature galvanised blade, to visually emphasise the width, spaciousness, and efficiency of the interior," added Mark Adams.
Powertrains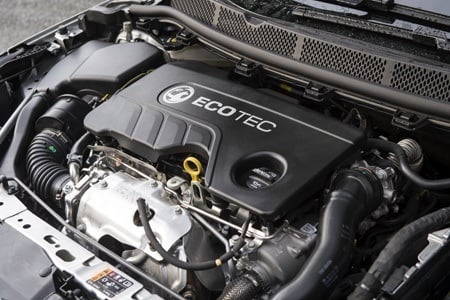 Every engine that you find under the bonnet in the Astra range is part of Vauxhall's new-generation powertrain offensive that features petrol and diesel units ranging from 100PS to 200PS, including an all-new 1.4-litre (150PS) ECOTEC Direct Injection Turbo and the recently-launched 1.6-litre CDTi Whisper Diesel.
1.4-litre Turbo
The all-new 1.4-litre (150PS) ECOTEC Direct Injection Turbo is one of the highlights of the engine range from the same family as the one-litre, three-cylinder engine that you find in the Vauxhall Corsa, ADAM and VIVA. Available with 125PS and 150PS, this four-cylinder petrol unit delivers maximum torque of up to 245Nm, with maximum power available between 1,800rpm and 4,000rpm.
Designed to be as light as possible, the new 1.4-litre Turbo also features notable reduction in noise, vibration and general harshness.
"These engines making their debut in the Astra are powerful, efficient and cultivated. The all-aluminium unit is not only environmentally friendly but also sets new standards in driving comfort," said Christian Müller, VP GM Powertrain Engineering Europe.
The 150PS version achieves a top speed of 134mph and 0-60mph in 7.8 seconds with fuel economy of 51.4mpg combined and emissions of 128g/km, with the 125PS model fairly comparable with 127mph, 8.6 seconds, 52.3mpg combined and 124g/km of CO2.
The 1.4 ECOTEC engine comes mated to a six-speed gearbox as standard with the 150PS version available in early next year as an optional six-speed automatic.
1.0-litre ECOTEC Direct Injection Turbo
The 1.0-litre three-cylinder ECOTEC Direct Injection Turbo petrol engine was seen previously in both the ADAM and the Corsa, and produces 105PS and a maximum torque of 170Nm at only 1,800 rpm - quite a lively little mover I am sure you will agree!
Equipped with a five-speed manual gearbox, the 1.0-litre Turbo achieves 0-60mph in just 10.5 seconds; and the ecoFLEX version uses its Start/Stop system and low-rolling-resistance tyres to return 67.3mpg and emission of just 96g/km of CO2.
There will be an all-aluminium 1.4-litre ECOTEC with 100PS and 130Nm of torque available later next year too!
1.6-litre ECOTEC Direct Injection Turbo
The 1.6-litre ECOTEC Direct Injection Turbo is the most powerful petrol engine in the Astra range. with the 200PS turbocharged direct injection engine block offering an impressive 300Nm of torque (with overboost) which helps it achieve 0-60 in an estimated 7.3 seconds and a provisional top speed of 146mph.
1.6-litre Whisper Diesel
When it comes to diesel engines, the clean and frugal 1.6 CDTi is available with three outputs: 110PS, 136PS and a BiTurbo version with 160PS, with the 1.6 CDTi (110PS) ecoFLEX variant having the lowest CO2 emissions in the Astra range at just 82g/km combined and also offering the most efficient fuel economy, achieving 91.1mpg combined.
Already available in the current Vauxhall Astra, the 136PS 1.6 CDTi engine is one of the benefactors of the new model's substantial weight reduction, allowing it to reduce its 0-60mph acceleration time by nearly one second from 9.7 to 9.0 seconds while at the same time keeping its fuel economy at just 76.3mpg on the combined cycle. The 136PS diesel is available with both a six-speed manual and six-speed automatic transmission.
Six-speed automatic transmission with ActiveSelect function
A six-speed automatic transmission is optional on 1.4i (150PS) and 1.6CDTi (136PS) models with a wide selection of shift patterns available to allow adaption depending on the style and habits of the driver. The electronic control also adapts to road conditions, reducing gear shifting when climbing or descending gradients and using engine braking assistance during down changes.
Electronic Stability Control (ESC)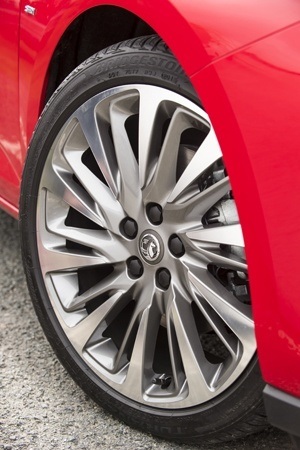 ESC is standard across the range with the ESC yaw sensor positioned in the centre of the car to detect any movement around the vertical axis, with another sensor on the steering column measuring the steering angle being applied - all to help stabilise car control.
Core ESC functions also include:
ABS (Anti-lock Braking System) and Traction Control
Electronic Brake Force Distribution
Cornering Brake Control
Torque Vectoring by Brakes
Cornering Torque Control
Electronic Drag Torque Control
Brake Assist System
Hydraulic Brake Assist Fade
Brake Disc Cleaning
Trailer Stability Program (if required and activated when a Vauxhall-approved towing hitch is fitted.)
Space-saving Electric Parking Brake (EPB) combined with a Hill Start Assist (HSA) function
Optimised Electric Power Steering
Aerodynamics
Vauxhall's all-new Astra is one of the most aerodynamic cars in its class thanks to its streamlined design, vehicle architecture and reduced dimensions. It has a drag coefficient of 0.285, compared with 0.325 for the outgoing model, which helped make the new model more economical and reduce its CO2 emissions.
The new Vauxhall Astra is also up to 200kg lighter than its predecessor making "...the new Astra more aerodynamic than ever before," said Reiner Weidemann, Head of Vauxhall/Opel's Aerodynamics department. "The drag coefficient values beat the best values achieved by its predecessor across the board. We gained some important knowledge from the tests we conducted in the ultra-modern wind tunnel at Stuttgart University, where we have been working for many years. This helped us make the new Astra the most streamlined compact class car ever produced by Vauxhall."
Driver Comfort
The new Astra is not only lighter and more efficient than its predecessors, it also features innovative driver assistance systems and comfort features to make journeys safer and more relaxed, and these include (on many of the models and dependant on model):
A Front Camera System with a next generation camera
Traffic Sign Assist
Following Distance Indication
Headway Alert
Lane Departure Warning
Lane Keep Assist
Forward Collision Alert
Collision Mitigation Braking
Integrated Brake Assist
Autonomous Emergency Braking
Side Blind Spot Alert
Advanced Park Assist and Rear View Camera
The Interior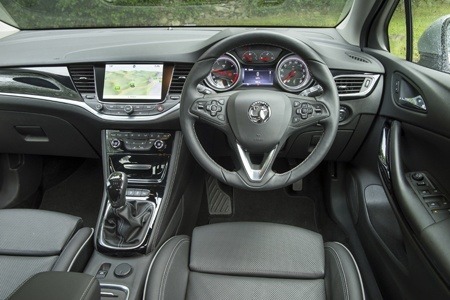 Fitted with front airbags for driver and co-driver, and thorax-pelvis side airbags and full-length curtain airbags for the first and second row, when it comes to safety, the new Vauxhall Astra also adds in body-mounted retractor/pretensioners with load limiter, seat-mounted lap pretensioners and a seat-integrated pelvis ramp to reduce potential injury and increase passenger protection to its maximum.
In addition to the active and passive safety features, the new Vauxhall Astra is also available with a host of comfort features such as the new AGR (Campaign for Healthier Backs) certified premium 18-way adjustable ergonomic seats that provide excellent long-distance travel seating comfort. There is also the option available to add in side bolser adjustment, massage and memory function along with ventilation.
Connectivity
Seemingly in the Top Three things that people look for now in a car, it's no problem for Vauxhall who have always been known for bringing innovations and technology to the mainstream. The new Astra continues this tradition by adding in some cutting-edge connectivity that includes OnStar, Apple CarPlay and Android Auto, along with Vauxhall's next-generation R4.0 IntelliLink infotainment system that brings smartphone connectivity and apps into the cabin for customers with compatible Android 5.0 Lollipop and Apple iOS 8 (or higher) smartphones.
OnStar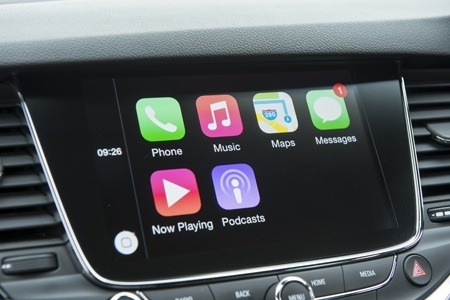 The Astra is the first all-new Vauxhall model that will be available with OnStar's ground-breaking connectivity technology from launch that turns the new Astra into a 4G LTE mobile Wi-Fi hotspot, allowing up to seven devices, from smartphones to tablets, to be connected simultaneously. The UK is one of the first GM markets in Europe to offer 4G LTE, along with Germany and Holland.
OnStar also offers customers a broad range of safety and comfort services including vehicle locator should an airbag be activated and 24/7, 365 days a year contact with its UK-based contact centre.
OnStar subscribers can also download the MyVauxhall Smartphone App to allow them to contact OnStar from anywhere via their smartphone as well allowing them to remotely lock or unlock the car as well as accessing information such as oil levels and tyre pressures.
The entire OnStar service portfolio is available on the new Astra and free of charge for the first 12 months after registration.
Phone integration via Android Auto and Apple CarPlay
Making its debut in new Astra is the new generation R4.0 IntelliLink infotainment system that is compatible with Android Auto and Apple CarPlay, allowing information from smartphones to be displayed on the car's display screen.
And due next year on the Navi 900 system, is Android Auto that is built around Google Maps, Google Now and has the ability to talk to Google, as well WhatsApp, Skype, Google Play Music, Spotify, and podcast players.
All functions can be controlled via the large, up to 8" touchscreen located high on the centre stack, via remote control on the steering wheel (volume) or via voice control, with all radios coming with Bluetooth hands-free phone connectivity, audio streaming, aux-in, USB ports and Digital Audio Broadcast DAB+ as standard, enabling a better radio selection and reception.
Range and Equipment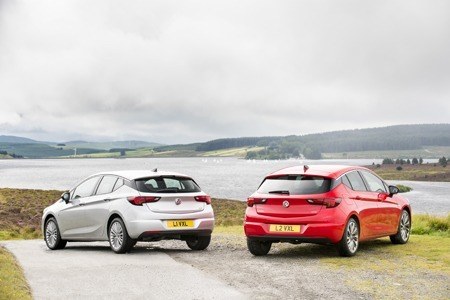 The new Astra range includes Design, Tech Line, Energy, SRi and Elite, with Nav versions of the SRi and Elite trims also available.
Each trim level features a high level of standard spec:
Design features:
16" alloy wheels
LED daytime running lights, 6 airbags
Air conditioning
R4.0 IntelliLink audio system with digital radio
7-inch colour touchscreen, USB & aux in
Bluetooth connectivity, multi-function trip computer
Cruise control and steering wheel controls
Electrically operated front and rear windows
Tech Line adds in:
Navi 900 satellite navigation system with 8 inch colour touchscreen
Leather steering wheel, adjustable front armrest
Energy adds in:
17" 10 spoke alloy wheels
Heated front seats and heated leather steering wheel
SRi adds in:
17-inch five twin-spoke alloy wheels
Driving Assistance Pack (Front Camera System, Traffic Sign Assistant, Lane Keep Assist, Lane Departure Warning, Following Distance Indication, Forward Collision Alert with Collision Imminent Braking)
OnStar
Sight & Light Pack
Sports seats, sports switch
Leather steering wheel
Front foglights
SRiNav adds in:
Navi 900 satellite navigation system with 8 inch colour touchscreen
Elite adds in:
17-inch multi spoke alloy wheels
Leather ergonomic sports front seats with extendable seat cushions, tilt and four-way electrical adjustment
Heated steering wheel, front and rear outer seats
OnStar
Sight & Light Pack
Electronic climate control
Front foglights
Electrically foldable door mirrors
Two USB chargers for rear seat passengers
Elite Nav adds in:
Navi 900 satellite navigation system with 8 inch colour touchscreen
As well as OnStar and next generation IntelliLink, other technology available on the new Astra includes:
Cruise Control with Speed Limiter
Advanced Park Assist
Rear View Camera
Side Blind Spot Alert
IntelliLux LED Matrix Lighting System
Powerflex Bar
Air Wellness Fragrance Defuser
LED Rear Lights
18-way adjustable driver's seat with massage function, ventilation and seat-width setting
The new Vauxhall Astra is now available to lease from Nationwide Vehicle Contracts. Contact us for more details on either Business Leasing or Personal Leasing.