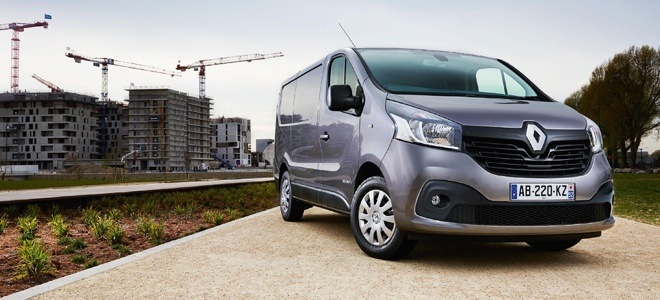 Back in March we told you about Renault's new Trafic and how the French van manufacturer had teased information about the new version of their van-tastic 'Van à Vivre' with the promise of more to come in time.
That time has come, as the full specification has arrived.
THE NEW, ROBUST, DYNAMIC DESIGN
From the front you'll see that the all-new Trafic is now the happy recipient of robust yet dynamic lines as part of the Renault brand's new styling identity, meaning that although the driver feels like it is a new van, it is most definitely a Renault.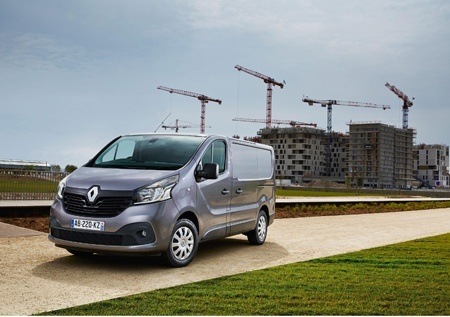 There is a large, vertically-positioned Renault logo on the front of the Trafic – if there was ever any doubt – and the whole design screams dynamism as it evolves from the previous model versions of the Trafic that themselves have taken the van a step on every time.
There is even two new colours to add to the All-New Trafic options (A metallic Copper to go with Oyster Grey, Mercury, Stone, Panorama Blue and Jet Black ; and a non-metallic Bamboo Green as an addition to Glacier White, Laser Red and Mole Grey), and that's before you take a look at the radically altered interior.
There are now up to 14 stowage solutions in the all-new Trafic so that there is a new capacity of 90 litres – a size that allows Renault to boast that the new Trafic is 'An office on wheels.' But more about that side of it later.
The dashboard is modern and more like that of a passenger car than a van with a totem-style centre console that is home to the multimedia system and climate control switches. There are Trafic versions at the higher end that incorporate a chrome-effect console surround, along with a chrome-effect gear lever knob and chrome-effect front loudspeaker surrounds, plus lidded dashboard stowage and Java upholstery.
It's also all about comfort with the new Trafic with the enhancements being compared to those of an MPV; new seats with more foam, a height-and reach-adjustable steering wheel, and an adjustable driver's seat in angle, height and position.
THE OFFICE ON WHEELS
It's all about what you can do in the cabin with clever ideas and storage solutions that make sure that the driver's mobile phone, tablet and laptop computer are always within easy reach – assuming that the driver has stopped the van first.
Mobile phones can be 'cradled' on the dashboard, tablets just above the radio...and then there is the extremely clever laptop facility.
By tipping the central seat back forward and lifting the lid built into the seat back, the driver will find a specially engineered laptop area where the laptop can be turned perpendicularly to face either the passenger or the driver.
There's even space for a clipboard so that work can be done 'on the move' as well as stowage options for water bottles, cans, cups, notebooks, pens, hard hats, boxes, and so much more as part of Renault's thought-out Trafic interior, all carefully integrated into the cabin's overall design and positioned to be as practical as possible.
Depending on model chosen, there is a choice of four 1 or 2 DIN radios, with or without CD player, and all with digital radio compatibility, with 1 DIN radio complete with Bluetooth® hands-free telephony and a fascia-mounted USB port and jack socket the entry level.
Continually upgrading as the choice does before it all ends up with premium audio system that is available combining the Renault R-Link Evolution® multimedia system when it is available at the end of this year with Media –Nav, the touchscreens allow connection of other portable devices as well as already incorporating Nav & GO navigation with 2D and 2,5D (bird view) displays.
AN EVEN MORE PRACTICAL CARGO AREA
The new Trafic hold the market's longest load-carrying ability as the flaps incorporated at the bottom of the bulkhead and beneath the front bench seat allow up to 4.15 metres for the L2 version, and that's before we even take a look at the interior overhead rack which enables use of the cargo area to be optimised.
The All-New Trafic van range gives a choice of two lengths and two heights as well as crew van, platform cab and passenger versions; all of which adds up to a total range of a frankly astonishing 270 combinations with the carrying capacity of the panel van versions ranging from 5.2 to 8.6 cubic metres.
And when you want to use a van for the purposes that it was meant to, those sorts of figures are what you want to see.
The crew van version of All-New Trafic is made at the factory in Sandouville in France and includes one or two sliding side doors, rear doors or tailgate, windows for second row passengers, an easy maintenance floor and roof lining as well as a choice of two load lengths and carrying capacity in the shape of L1 and L2.
Using the Renault Trafic is now even easier with a hands-free card now available which can start or switch off the engine by pressing a button as well as opening or closing all doors (including the rear doors only by the same method. There is even a single door opening facility to make sure that the cargo area stays secure.
NEW, RESPONSIVE, ECONOMICAL ENGINES
With Renault's experiences in Formula 1 most certainly in mind, it is no surprise that the Trafic can offer some outstanding economy figures in both single and twin-turbo versions, both of which are compliant with Euro 6 emissions legislation.
In the single-turbo camp, you'll find; the dCi 90 (260Nm) engine at the start, for specific use in urban situations and the dCi 115 (300Nm) with extra power and torque to help it cope with heavier loads, that offers a fuel economy of around 43.5mpg.
Moving on to Twin Turbo you'll find technology that means the vans are more powerful, more responsive and more economical to run (with fuel economy above 47mpg) – and these are the Energy dCi 120 Twin Turbo (320Nm), with Stop & Start and the Energy dCi 140 Twin Turbo (340Nm), with Stop & Start.
It is also possible, depending on traffic conditions, road type and load, for drivers to reduce their fuel consumption by a further 10% by using the vehicle's eco driving aids like the ECO mode button, driving style indicators and gearshift indicators.
NEW DRIVER AIDS
The Renault Trafic also features some of the newest driver aid technology including a reversing camera, a Wide-View mirror built into the reverse of the passenger-side sun visor to more than double the angle of vision towards the rear-left of the Trafic, Hill Start Assist, and Grip Xtend which helps control the front wheels to optimise traction on difficult surfaces such as soft ground, mud, snow and sand,
These figures are certainly worth the wait – as is the Renault Trafic.