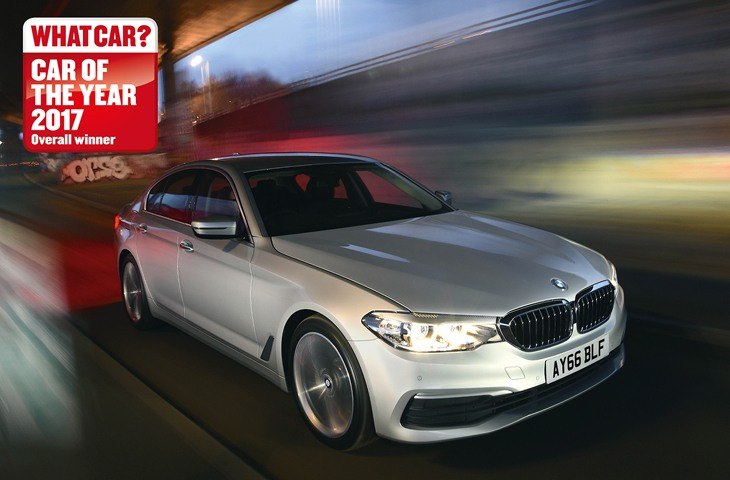 The new BMW 5 Series
What Car? has announced the new BMW 5 Series as its Car of the Year for 2017 at the 40th annual What Car? Awards, held on London's Park Lane.
Not only did the 5 Series beat off competition from the likes of Mercedes-Benz and Rolls-Royce to win the Luxury Car of the Year Award, its' obvious talents led the judges to decide that it was the best new car of the past 12 months.
BMW Brand senior vice-president Hildegard Wortmann collected the Car of the Year Award having seen the 5 Series come top of the heap of the 43 cars shortlisted for the award.
"For the BMW 5 Series to win the prestigious 'Car of the Year' award is an honour and testament to the hard work that goes into producing one of BMW's core models.
"The BMW 5 Series is a brand-shaping saloon and in times of rapid change within the automotive industry we believe the seventh generation model points the way into the future. It is a truly outstanding car and I am very grateful to What Car? for this great recognition."
The latest 5 series improves upon its already impressive predecessor with more efficiency and refinement, better handling, and technology and luxury in the interior normally reserved for far more expensive models.
What Car? editor Steve Huntingford said: "The BMW 5 Series is no stranger to success at the What Car? Awards; it's something of a dynasty that has always stood for excellence, but the latest model moves things on again in all the areas that matter most to buyers.
"While the 5 Series is a tour de force, though, the list of category winners demonstrates that an outstanding car has never been more accessible. For those looking to change their car in 2017, they need look no further than the What Car? Car of the Year winners."
The 2017 winners in all categories were:
Car of the Year: BMW 5 Series 520d SE
City Car of the Year : Hyundai i10 1.2 Premium SE
Small Car of the Year: Skoda Fabia 1.2 TSI 90 SE
Family Car of the Year: Audi A3 Sportback 1.4 TFSI 150 Sport
Hot Hatch of the Year: Ford Fiesta ST-2 3dr
Small SUV of the Year: Seat Ateca 1.4 EcoTSI 150 SE
Large SUV of the Year: Skoda Kodiaq 2.0 TDI 150 4x4 SE 7st
Luxury SUV of the Year: Audi Q7 3.0 TDI 272 quattro SE
MPV of the Year: Volkswagen Touran 1.6 TDI 115 SE
Estate Car of the Year: Skoda Superb Estate 2.0 TDI 150 SE Technology
Electric Car of the Year: Renault Zoe Q90 Z.E. 40 Dynamique Nav
Executive Car of the Year: Audi A4 3.0 TDI 218 Sport
Luxury Car of the Year: BMW 5 Series 520d SE
Convertible of the Year: Mazda MX-5 2.0 SE-L Nav
Coupe of the Year: Audi TT 1.8 TFSI Sport
Sports Car of the Year: Porsche 718 Cayman 2.0
Readers Award: Honda Civic Type R
Safety Award: Toyota Prius
Technology Award: Peugeot 3008 i-Cockpit