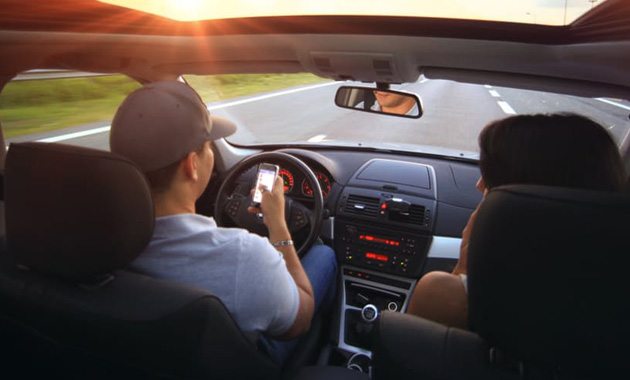 Apple has announced that its iOS 11 software update is to include a new "Do Not Disturb While Driving" mode for iPhones, which means that once it is turned on, drivers won't find themselves distracted by their iphones when driving - hopefully helping to solve a problem that can not only lead to penalty points and a fine, but also to accidents, injuries and even death.
Developed by Apple along with Bruce Mehler and his colleagues at the MIT AgeLab— and with help from engineers at Honda, Jaguar Land Rover, Panasonic, Google, and Denso - the "Do Not Disturb While Driving" mode will sense the first time you take it in your car and prompt the driver to turn it on. Once operational, the mode blocks all incoming notifications until the driver gets out of the car.
As Bruce Mehler says: "While we'd all be better off if the phone is totally off, the idea of having an easy-to-use application that detects the vehicle in motion is a pragmatic step in the right direction. The option to specifically limit the number of calls that can go through is probably going to increase the uptake."
The update will allow the new mode to highlight any contacts that are 'favourites' - and by that it means numbers and contacts that may have an important need to contact the driver such as schools or work. Favourite numbers will be able to 'break through' the 'Do Not Disturb' barrier (just like in real life), so rest easy all you parents and employees and bosses.
This 'break through' ability worries Ian Reagan, a traffic safety researcher in the USA with the Insurance Institute for Highway Safety. "That seems to run counter to the goal. Any notifications coming through can prove distracting. The ideal answer is to turn the darn thing off, but a voice-activated system that doesn't demand its users take their eyes off the road is the next best thing."
Turning the phone off is the ideal advice, but the generic need for people to stay in touch with everything all the time seems to far outweigh the need for safety whilst driving, and the 'need' to use a mobile phone or mobile device when in a car is something that has become 'acceptable' (within reason). That reason is stopping and pulling over to use it, because when phones are used at other times whilst driving that the dangers arise.
This is why Jason Wakeford, a spokesman for Brake, the road safety charity, said: "This new feature is to be welcomed and will help drivers stay focused on the road and not their phones. Mobile use behind the wheel is a growing menace and so Brake would like to see similar initiatives from other phone manufactures to help cut distractions in the car.
"Advances in technology must also be accompanied by rigorous enforcement and tougher penalties for those who flout the law. Traffic policing should be made a national priority, to ensure that drivers have the expectation that if they use a mobile phone behind the wheel, they will be caught and punished."
Police have recently been cracking down on mobile phone use behind the wheel, timing it with an increase in both penalty points and fines for the offence, but this needs to be maintained at all times, not just when it is a tabloid headline.
It's not just a problem in this country, with figures in the USA indicating a rise in deaths and injuries caused by distracted driving, much of which seems to be put down, according to Bruce Mehler, to drivers multi-tasking whilst driving - and a lot of that is smartphone-related.
Apple are reportedly the first phone manufacturer to act upon the dangers that their equipment and technology can cause, and we await other manufacturers in the Android field to respond - and hopefully follow suit.
Personally I would hope that the upgrade (or App if necessary) would send a message to incoming caller/texter/notifier, telling them that the person they are trying to contact is driving - but maybe that is the next step in this technological conundrum.
But in the end it is up to drivers to accept their responsibilities, and understand that ultimately they are the ones that are obligated to drive safely - and if that means turning off their phone, or ensuring that Plane mode or Do Not Disturb mode is operating, then so be it.
iOS 11 from Apple is due to be available to iPhone/iPad users in the Autumn (or Fall if you are reading this in the USA) so expect it around September time, along with a new iPhone 7. It will obviously have loads of other pluses to do with Apps and Messages and the like, but this Do Not Disturb upgrade may just be the most important part of it.