Friday saw April Fool's day shoot past at a rate of knots with the usual plethora of fake stories, from Jose Mourinho taking over as manager of the Nigerian Football team to a female James Bond and Cath Kidston's floral paint. And there was even the odd story that came out that people thought was an April Fool, but wasn't, like the prospect of the story of AFC Wimbledon being made into a Hollywood film.
On the only day of the year that people actually start to question stories that appear on Facebook, car manufacturer's put out their own stories that show their lighter side, trying to fool the public into believing ideas that, in reality, COULD be true. After all, who would have believed in a driverless car 5 years ago?
So we have had a look at what some brands heralded on Friday, for your entertainment.
Vauxhall
Vauxhall released pictures of what they claimed was the "world's first full-size production kinetic car", the ADAM C, powered by clockwork.
Looking like the ADAM from the outside, under the bonnet there is no engine, fuel tank or battery, replaced by a simple wind-up technology that makes the car go.
Zero running costs and no emissions - and no compromise in performance!
And it's all a wind up! (Geddit?) 15 minutes of manpower fully powers the vehicle and connects everything from the acceleration to six-speaker sound system, and it manages to last for 125 miles before it needs doing again, so is perfect for the city.
And when it runs out of juice, just jump out and wind it up yourself - or pay a passer-by to do it!
Not only is it good for the environment, but it keeps you fit as well, with the rotating motion offering an incredible cardio and strength workout, exercising the chest, shoulders, arms and core muscles, with a 65kg person expected to burn over 400 calories in just 15 minutes of winding.
When the fifteen minutes are up, a buzzer sounds and a voice announces: "End of wind-up!"
"This game-changing technology stands to revolutionise the way we drive," said Mick Cannical, Vauxhall's Chief Kinetics Engineer. "We've paved the way towards a future of wind-ups. Improving the customer experience is a priority to us and given that the average Brit drives less than 35 miles every day, we estimate the model will appeal to over two-thirds of the population. We expect the growth to be exponential."
Not a bad little April Fool story. A hark back to the days of yore when cars were initially invented and you saw someone at the front winding the starter motor up.
For details of some REAL DEALS on the Vauxhall ADAM, click here to see what Nationwide Vehicle Contracts have on offer.
Honda
Honda's prank centred on the social media side of connectivity by suggesting that they were going to introduce emoji registration plates for car buyers in the UK, even releasing images of the world's first official emoji number plate on its race car for the road, the Honda Civic Type R.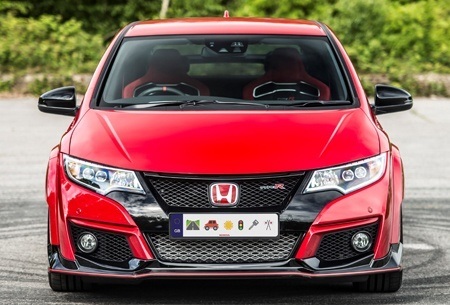 Supposedly aimed at younger drivers, the article even said that initial talks are planned with the Driver & Vehicle Licensing Agency (DVLA) in an endeavour to exclusively launch the new plates in early 2017, as drivers show their emotions as they drive.
They even revealed UK research figures with "96% of respondents aged under 30 indicating a preference for emoji plates over the traditional car license plate" and "97% of those questioned admitting they now use emoji faces as their main method of expressing an emotion or idea in texts and instant messages."
The first emoji plate from Honda on the released image has images of the Hinomaru "circle of the sun" Japanese flag, symbolic of its roots as a Japanese automobile manufacturer, the red car and those first car keys that are so important to young drivers.
Shigastu Baka, First Officer Of Licences at Honda UK, says: "We are really excited to offer our customers a fun, quirky way to customise their car, which importantly, is reflective of their personality and lifestyle. At Honda, we believe in innovation – and this concept is sure to be well-received by younger consumers for whom emojis are such a popular way of communicating."
Less believable that Vauxhall, but a bit of fun nonetheless. But if you want to see some REAL DEALS on the Honda Civic,take a look at some of these leasing offers from Nationwide Vehicle Contracts here.
Citroën
Citroën have a strong relationship with Arsenal Football Club, and their spoof story involved the installation of the world's first retractable sunroof at the club's Emirates Stadium, an idea allegedly inspired by the sunroof available on the Citroën C1 Airscape.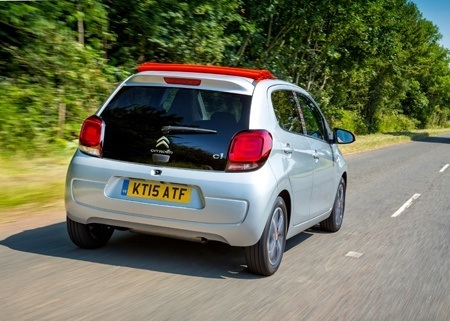 In keeping with the C1 Airscape's aesthetics and exceptionally large sunroof, it was claimed that the stadium roof would be made from nearly 9,000 metres of red canvas, be able to open and close in around 11 seconds, and operate in an identical fashion to the C1 Airscape roof, with avoiding sun-in-the-eyes likely to save between 4 and 6 goals a season, and climate control helping improve player stamina.
One lucky Arsenal fan would even be given the chance to decide and control whether the roof should be open or closed ahead of each game.
Arsenal Football Club's Vice Captain, Per Mertesacker, said; "This is a great opportunity for the Emirates Stadium to reinforce its status as the best stadium in the world. With the new sunroof we can control the hydration levels of the players and how much sun we are exposed to. Our sports scientists say it will improve our stamina around eight percent."
They even went to the trouble of making a video!
Hats off to Citroen. It's a great effort, and will have fooled a few people, as well as getting coverage in both motoring and sports press.
For more information on the Citroën C1 Airscape leasing options from Nationwide Vehicle Contracts, click here.
MG
Even MG got themselves involved in the fun and frolics on April Fool's Day by claiming that their engineers and designers based at Longbridge have manufactured the world's first invisible car, a first not only for the Birmingham-based manufacturer but for the world.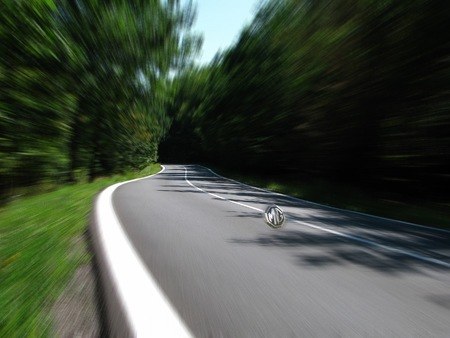 Only a picture is available but a quote from Matthew Cheyne, Head of Sales and Marketing for MG, featuring some very dubious names gave us a bit of a chuckle. said: "We were really honoured to have Professor C.Thrue and Chief Designer Avril F'ouil working with us on this new project. At first we had some trouble with the cars, as people kept walking into them or we'd misplace them on the site. As soon as we placed the iconic MG badge on the front of them, using non-invisible materials, we were able to find them much more easily.
"At first we couldn't see the point in doing something like this and we know that some people won't think the car is much to look at, but we are proud of creating something so advanced. It definitely makes parking in busy cities easier, as traffic wardens can't see the car to put a ticket on!"
Can't see the attraction myself (Sorry!) but if you want to see some real deals on MG cars, check out the leasing deals available from Nationwide Vehicle Contracts here.
MINI
Possibly the kings of the April Fool windups, MINI has managed to give us an idea that COULD be possible, except for a few obvious points that highlight that it is a joke.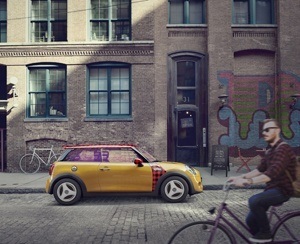 This time they have unveiled a real retro throwback car in the shape of the new MINI Hipster Hatch that comes complete with new technology such as Instagram filtered windows, and older stuff such as twin-deck cassette player and a fixed-gear drivetrain. (Cassettes? Ask your dad!)
Aimed at the vintage market goer and the inhabitants of Camden and Chorlton, the new MINI Hipster Hatch has just one forward gear with a maximum speed of 25 mph, but the exclusive and fully adjustable Instagram filter on all exterior window glass allows drivers to adjust their surroundings and live life in LO-FI, Clarendon, Crema, or any of the 12 pre-loaded Instagram window filters available to turn any journey into a nostalgic memory at the touch of a button.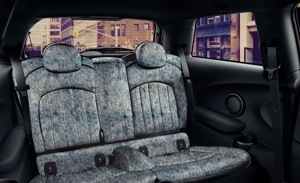 The upholstery is clothed in stonewash denim so both driver and passengers can coordinate their outfits accordingly, and alloy wheels have been upcycled from previous alloy wheels to ensure sustainability.
"The MINI Hipster Hatch is like no other we've built before" said Ivana Newcarr, senior external product launch experience curator at MINI UK. "Inspired by the kind of innovative thinking only found when you ignore the script and ask what those who refuse to be categorised want from a car – features like fixed gear drive, twin-deck cassette player, upcycled details and Instagram filtered windows to name but a few."
Love the idea - just wish it was true!
You'll have to satisfy yourself with some great MINI deals here.
For more April Fool's Car Stories, check out this Auto Express article, and for more great leasing deals on cars, check out Nationwide Vehicle Contracts Hot Deals.