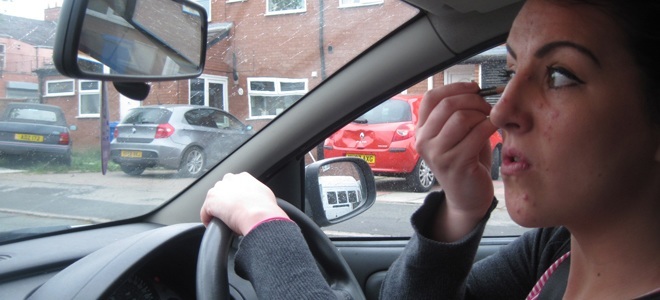 REPORTS IN THE TIMES and DAILY MAIL SUGGEST NOT!
At last week's SMMT (Society of Motor Manufacturers and Traders) conference, reported on by both the Daily Mail and The Times, a key speech by Andy Palmer, the executive vice-president of Nissan, noting that women account for 50% of car buyers, admitted that, despite this increase in purchasing power, women's needs are often ignored by car designers.
And if the man labelled as the most powerful Briton in the global motor industry by AutoExpress says so, then there's a good chance that it might be true!
Dr Palmer actually lives and works in Japan, although his formulative years in the automotive industry were spent in the UK and he is concerned that as an industry, the UK is falling behind when it comes to cars.
"Globally, 50% of women are dissatisfied with their car," he said. "And a huge 74% of women feel misunderstood by automakers. I know these statistics sound like they are talking about their lovers not their cars, but the reality is our industry is failing the largest and most influential customer segment in the world."
By 'unhappy', they mean that consideration to the needs and wants of women is lacking (The comedian in me suggests that that is the story of my life right there in a nutshell!) with more priority given to the horsepower and speed of a car than the legroom required when driving in heels (Is that not dangerous anyway?), seats contoured to the shape of a woman and the lack of space for prams and other family-related requirements. He even suggested that the "sexist sales patter of predominantly male showroom sales staff" is off-putting too, despite the purchasing power of women who are the key influence in seven out of ten car purchases, even if they don't buy a car themselves.
And one of the suggestions that he has come up with the help counteract these figures could be considered controversial – in a male dominated industry.
He said: "One factor is the lack of women in our business. I'm sure that Nissan is not untypical in employing less than 10% female managers in our ranks. But our UK universities produce less than 9% of female engineers each year. That compares with China at about 30%
"We need fewer hairdressing courses and more job creation based around those from a technology and mathematical background. If a car company does not have female engineers, that is a competitive weakness. Generally the car industry is not seen as female friendly. The best way to address that is to have more females in every part."
And that includes training more women engineers to design and create the 'female-friendly cars of the future – or else, as the good doctor also pointed out, "if Britain and Europe don't grasp the challenge it will be overtaken by a booming China which already educates three times more women engineers than the UK."
And naturally, the speech was welcomed with more than a touch of enthusiasm by Sue Robinson, director of the national Franchised Dealers' Association, although she does state that great strides have already been taken: "As half the UK's car buyers are women, it is very important that we recognise that in the manufacturing and buying process. Retailers are working very hard to encourage more women into the industry at all levels from senior management to technicians. Women are a powerful force in the car market and the industry has improved to and responded to this."
Some firms, in fact, have already grasped the nettle. Ford has already created a Women's Product Panel chaired by Angela Engel to advise it.
She suggested that rather than worry about Nm, torque and 0-62 mph, women are more concerned about whether a door handle be grabbed without a ring scratching the lacquer, if wearing high heels means that knees hit steering wheels, and how easy is it to get in the car when wearing a tight skirt. (Personally it all sounds a bit sexist, but coming from the female mouth......?)
Both Renault and General Motors have female heads of design, and Bentley have designed 'pearl pink' and 'dragon red' options for China's women.
Technical director of the RAC, David Bizley, accepted that things have to change: "Until comparatively recently there were always far more male than female drivers, which naturally caused a level of bias in terms of vehicle design. But those days have passed, and manufacturers recognise that and design their cars accordingly. Anything that improves choice for the consumer, especially women, would be a good thing."
Maybe they could take inspiration from Caroline's Cars in Norwich which is the UK's first all-female garage? And very successful it is too!