CURRENT TABLE-TOPPERS ON VIDEO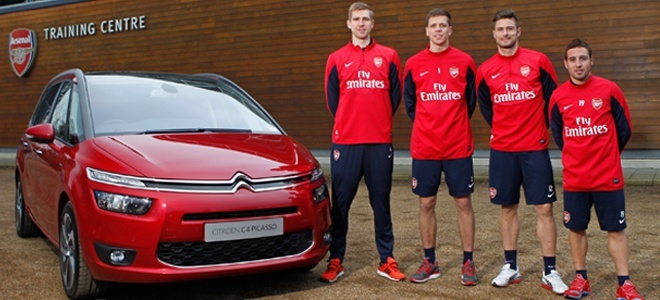 Considering that Arsenal FC have an almighty French reputation, as well as one for developing fine European talent (and some English too in the form of Walcott, Wilshire and Oxlade-Chamberlain) it makes sense for a European car manufacturer to tie themselves in with the club – although one that keeps it hands on purse strings would be useful a la Mr Wenger.
So, reading that 4 of Arsenal's European contingent have involved themselves in a light-hearted film that involves the New Citroën Grand C4 Picasso, I was interested as to what it shows – not only with the players' skills but also in what the car can do too.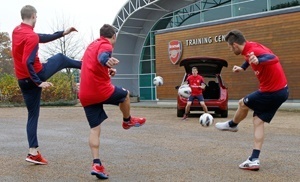 Over to the Arsenal Training Ground where stars Olivier Giroud (France), Per Mertesacker (Germany), Santi Cazorla (Spain) and Wojciech Szczesny (Poland) are ready to show off some of the features "that help to make the New Grand C4 Picasso a multi-award-winning MPV", Barry.
Free-kick practice sees Citroën's new-generation compact 7-seater as part of the test, with Cazorla slipping the ball easily through the wide door opening (and out again) before all three outfield players test Szczesny who keeps goal in front of the wide boot. A test of the space available around and inside the Grand C4 Picasso before the comfort is tested by some post-training relaxation on the massaging seats.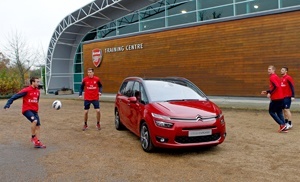 Per Mertesacker and Olivier Giroud then try out the New Grand C4 Picasso Park Assist feature as they manage to squeeze into a space between a Ferrari 430 and Maserati GranTurismo by using the assisted parallel parking technology – without a scratch or even a whisper on the two supercars there!
James Parfett, Communications Director at Citroën UK, commented: "It's brilliant to be exploring new ways of working with Arsenal as we're now in our seventh season as the Club's Official Automotive Partner. We had a lot of fun creating this film and we hope Citroën and Arsenal fans alike enjoy seeing the players and car in this new light."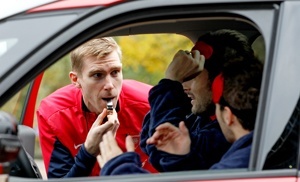 No doubt Tottenham fans (and possibly Chelsea and Manchester City fans) were hoping for a few injuries as the tongue-in-cheek film (that you can see HERE) was being filmed, but sadly for them, no such luck as the safety features on TopGear Magazine's Family Car of the Year, What Car?'s MPV of the Year and one of the seven finalists for Car of the Year was out through its paces in a successful attempt to show that "the New Grand C4 Picasso is a practical, versatile and elegant offering for the 7-seat compact MPV segment that strikes a new balance between benchmark space and engaging styling, combined with record efficiency."
You can read more about the car HERE and find out more about the latest Citroen Grand C4 Picasso leasing offers from Nationwide Vehicle Contracts HERE.