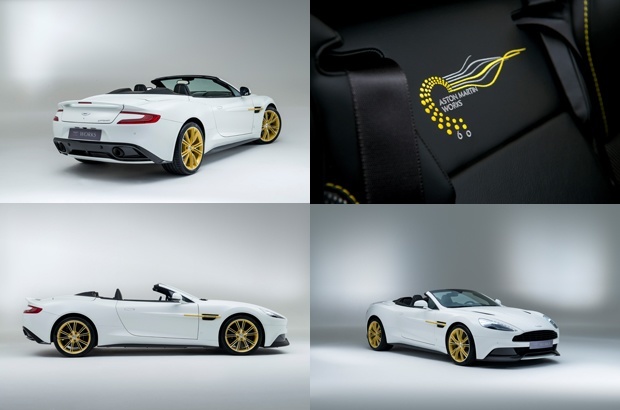 Prepare yourself to be green with envy, as Aston Martin Works – celebrating 60 glorious years at Newport Pagnell - marks its diamond jubilee in 2015 with the commissioning of six limited edition sports cars, the first of which was revealed as 2014 came to a close.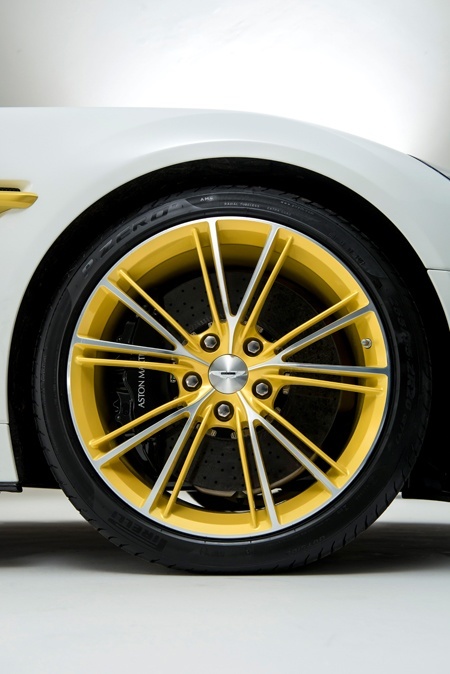 All six of the bespoke cars are planned to be versions of the current Vanquish super GT in either Coupe or Volante form, and are being created in association with the luxury British brand's Gaydon-based design team and Q by Aston Martin; all of them subtly different, and each tailored to reflect one of the six decades being celebrated. All of them have distinguishing trim and paint colour treatments, but the most emotive part of each car comes in the shape of the bespoke rotaries around the major controls in the centre console of each Vanquish which has been cast from metal that, previously, had formed a piston in an Aston Martin engine of the relevant period, and then carefully laser etched with Works' Anniversary wording.
Pistons from a 1955-1965 DB 2/4 Mk II saloon, a 1965-1975 DB5, a 1975-1985 V8 Coupe, a 1985-1995: V8 Vantage X-pack, a 1995-2005 V8 Vantage supercharged and a 2005-2015 Original Vanquish have been used, and the ultimate result will be something very special, rare and, of course, ultra-desirable, as well as instantly recognisable as a 'Works 60th Anniversary' model.
HISTORY IN THE MAKING
It was back in July 2014 when the Works team met with designers from Aston Martin's Gaydon HQ to try and work out what to do to celebrate 60 years, and came up with the idea of creating the bespoke Aston Martin Works 60th Anniversary Limited Edition Vanquish models, and Marek Reichman and his team worked closely with Aston Martin's bespoke personalisation branch – Q by Aston Martin – to sketch out the finer details.
Dr Matthew Bennett, General Manager of VIP and Q by Aston Martin Sales at Gaydon, said:
"The colours of these six unique cars have been very carefully chosen to reflect and celebrate the progress of Aston Martin Works over those six decades. Celebrating the past, but pointing very much toward a bright and exciting future, too, these Vanquish models will, I'm sure, very quickly become a notable feature of the brand's history at Newport Pagnell."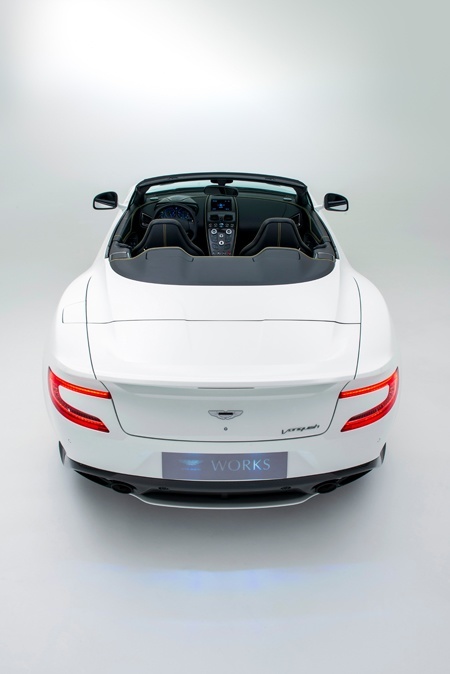 Each of the six Vanquish models will feature Anniversary Yellow side strakes and alloy wheels as well as an instantly recognisable Aston Martin Works 60th Anniversary logo etched into each car's sill plates.
Paul Spires, Aston Martin Works Commercial Director, is an enthusiastic supporter of the whole scheme:
"We certainly gave ourselves some challenges with this project. Coloured side strakes such as these have never been attempted by Aston Martin before, and sourcing pistons from the correct engines in the correct decades was, of course, no small feat either. However, we're all very happy with the end result and we've already taken a number of orders from collectors keen to own a piece of the brand's history."
Besides the distinguishing features already mentioned, the Anniversary cars will include: White/black Duotone seat centre panels; unique sill plaques depicting the era the car relates to and featuring the Works Anniversary logo; distinctive colour and trim treatments that include features such as contrast yellow stitching in the leather, and new heavy weave carbon fibre; and the standard technical features of the Vanquish super GT such as its 6.0-litre V12 petrol engine that is already mated to the latest generation Touchtronic III eight-speed automatic gearbox, providing excellent performance with a 0-60mph time of a mere 3.6 seconds and a maximum speed tops 200mph.
HISTORY MADE
The first of the cars was unveiled at the Newport Pagnell factory in time to give the staff there a Christmas lift, as Paul Spires explains:
"This project has been a harmonious co-operation across the whole business, developed uniquely to celebrate 60 years of Aston Martin Works at Newport Pagnell. I was thrilled to unveil the first of the cars at our Christmas celebration, and look forward to seeing the remaining models being built and delivered to customers throughout the course of our anniversary year in 2015."
If you fancy getting your hands on one of these, then prices for the six cars are available on application at Aston Martin Works. (If not, use the money to buy a house)