FUEL-SAVING IDEA POTENTIAL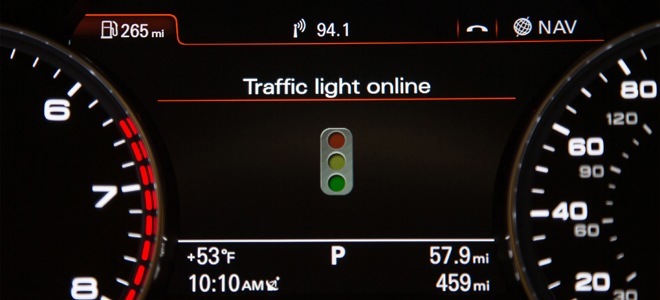 If you think how much money you could save in fuel consumption by driving with more fluidity, then Audi's advanced traffic light technology is just for you, making town and city driving almost free of annoying and potentially fuel-burning stopping and starting at red lights.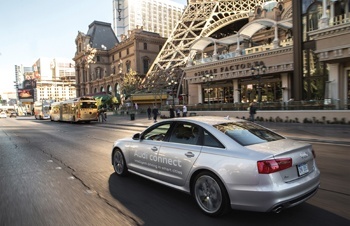 The Audi Online traffic light information technology uses the power of in-car internet in a completely new way by making use of Audi connect to establish a link between the car and the traffic light network in each town or city by connecting to their central traffic computer. Once connected, the traffic light technology than finds the information regarding traffic light change sequences wherever the car is, and as the driver approaches a set of lights the Driver Information System (DIS) display that is located in the central instrument cluster informs the driver just how fast to drive to get through the lights on green (by using red, amber and green icons) without stopping (if possible.)
If the car is already stopped at a red light, Audi connect works out how long it will be until the lights change and display this information via a timer that appears on the DIS will calculate and count down the time remaining until the next green light is scheduled to appear via a ; in fact it goes one step better and interacts with the car's Start-Stop function to switch on the engine five seconds before the green light cometh.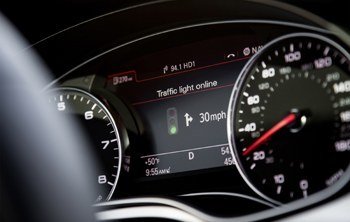 To some people it may sound a little bit lazy, but Audi AG calculates that this online traffic light interaction technology has the potential to reduce CO2 emissions by up to 15% and also to save an astonishing amount of fuel (approximately 900 million litres of fuel if it were used throughout Germany for example.)
Admittedly this technology is yet to be in full production, but it is ready to go and Audi claim that it "could be fitted to every Audi model in the range subject to the necessary government legislation."
The online traffic light information technology was recently shown off by Audi on the busy Las Vegas freeways where it was fitted to an Audi A6 Saloon as part of a trailblazing technology display at the Consumer Electronics Show (CES), encountering 50 sets of traffic lights on the way. More testing is currently taking place in Italy in Verona (although anyone who has ever driven in Italy knows that Italian drivers don't take any notice of traffic lights anyway!) where there are around 60 sets of lights in the city centre, and in Berlin with its 1,000 sets of lights in the city.
Whether the technology is ever used or not, the whole thing may actually stop those drivers known as 'amber gamblers.' – and that can only be a good thing!
Online traffic light information wasn't the only piece of Audi technology shown off at this year's CES. There was also some significant developments in Audi piloted parking and in an Android-based tablet called the Audi Smart Display.
Vorsprung durch Technik as they say.