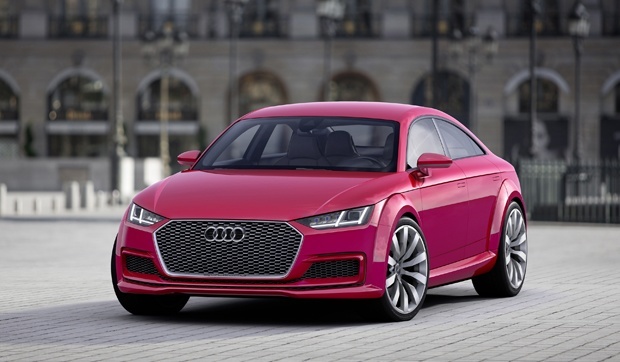 The Audi TT has always been a much loved formula for success, and Audi have taken a new look at it by giving it 5 doors and a longer wheelbase, and adding in a 400PS version of what is already a punchy 2.0-litre TFSI engine.

It's only a concept at the moment, debuted at the Paris Motor Show, and it draws its inspiration from the existing five-door A5 and A7 Sportback models which already blend coupé lines with executive class car practicality.

"With the TT, Audi created one of the automotive design icons of the last 20 years," says Prof. Dr. Ulrich Hackenberg, Audi Board Member for Technical Development. "In the years since, we have designed our sporty and elegant five door Audi A5 Sportback and Audi A7 Sportback. In our Audi TT Sportback concept show car, we are now fusing both concepts to form a new member of a potential TT family."

Exterior design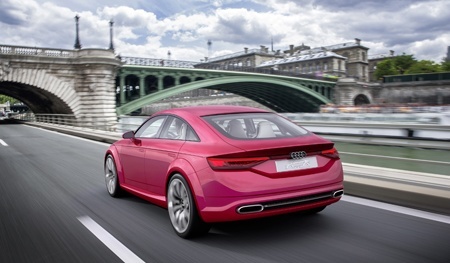 The five-door Audi TT Sportback concept is longer, wider and lower than other TT models (admittedly not by that much but it is!) and is coated in a Mar Red paint, which helps enhance the statement of powerful elegance created by the high-precision lines and new sporty and elongated taut sculpture.

The distinctive horizontal lines at the front end of the new Audi TT Sportback concept show off the Quattro badge mounted onto the newly flattened and wider singleframe honeycomb grille; and as you would expect from an Audi, the whole design flows with lines and surfaces merging into one continual flowing design.

The Audi characteristics in the Audi TT Sportback concept continue with large, striking air inlets and the (newly designed) headlights with separators that demonstrate a unique daytime running light signature created by laser technology – in each headlight, a module comprising four powerful diodes generates a beam of light that illuminates several hundred metres creating a laser spot, activated at speeds of 37mph and above, that supplements the LED high beam. (This is a great feature when it comes to helping driver safety and visibility, and for other drivers facing the beam, the good news is that a camera is used to detect other road users from the light projection and adjust it accordingly.)

When it comes to the lights it is worth pointing out that the Audi TT Sportback concept also features what is called a 'sweeping function' in the LED rear lights where the individual diodes in the lights light up one after the other from the inside to the outside, indicating the car's direction to those behind.

The silhouette and side view of the four-seater show car is particularly striking with short overhangs, wide semicircles on the wheel arches, a sharp tornado line across the doors and to the rear end, exterior mirrors positioned on the door top shoulders, strong shoulders on the powerful vehicle body, and low greenhouse elongated towards the rear all combining to give the effect of power and beauty combined in one singular motor car.

Even the rear of the Audi TT Sportback concept is focused and sculptural, with one-piece rear lights an integral part of a powerfully contoured continuous trim, with the two large elliptical tailpipes of the exhaust system embedded in the diffuser and linked by a trim.

Interior Design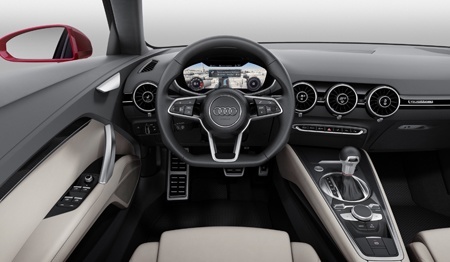 The beauty starts from when the driver and the passengers enter the Audi TT Sportback concept through doors with frameless window panes with the interior immediately calling to mind both the sporting excitement of the Audi TT and the functionality of a four door saloon.

The sophistication of the exterior is mirrored in the cabin, with high-quality materials in use throughout; from the instrument panel and upper area of the door trims in dark granite grey to the door armrests, centre console and the seats in new soft leather in parchment beige. The seat upholstery features a diamond pattern with the side bolsters trimmed with special accent strips in dark grey leather that are fixed with red thread using a special stitching technique.

There is space for two people in the rear in the individual super sports seats with integrated head restraints and a comfortable armrest, and those without friends and a need to carry will be pleased that the backrests can be folded down so that large objects can also be stowed in the luggage compartment beneath the tailgate.

The instrument panel is something that the Audi designers are particularly proud of as, when viewed from the top, it resembles the wing of an airplane with the five round air vents reminiscent of jet engines; but rest assured that it's not just a design feature as the whole thing is fully focused on the driver.

This is because of the introduction of the Audi virtual cockpit, a digital instrument cluster that replaces the conventional physical displays and the central MMI monitor in other cars. With this, the driver is able to switch to the 12.3" display at multiple levels in order to view graphics of exceptional clarity with the whole system operated via the multifunction steering wheel or the MMI terminal.

The touchpad is located on the round rotary push-button and is used to enter characters and also processes multiple finger gestures to enable features such as the ability to zoom in on the map just as you can on a smartphone.

Drivetrain details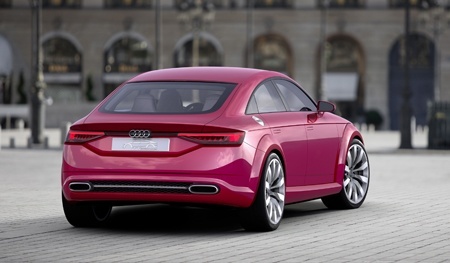 The fact that it's an Audi and the fact that it is a TT will tell you that when it comes to the engine, you are looking at something special; in this case a 2.0 TFSI engine that generates 400PS at 6,400 rpm, 450 Nm (331.9 lb-ft) of torque available between 2,400 and 6,000 rpm and 300 Nm (221.3 lb-ft) at just 1,900 rpm, has a fuel efficiency of up to 40.3mpg and CO2 emissions of 162 grams per kilometre.

Because it belongs to the Audi EA 888 engine family, you'll find a stackload of high-end technology on board for the turbocharged direct-injection unit and, in order to generate the high power output, the 2.0 TFSI unit has undergone extensive modifications, including some intensive work and changes when it comes to materials used, with aluminium and ultra-high-strength forged steel to the fore.

The sophisticated suspension and the low centre of gravity ensure dynamic handling as the turbocharged direct-injection engine accelerates the Audi TT Sportback concept through its seven-speed S tronic twin-clutch transmission from 0-62mph in just 3.9 seconds; and thanks to the sonorous sound increase in time with acceleration, the people on the street and road will certainly notice you.

Although with its style and immediate appeal, the Audi TT Sportback concept already gets those looks. Just prepare yourself for how good it will look and perform when the concept becomes reality – whenever that will be.