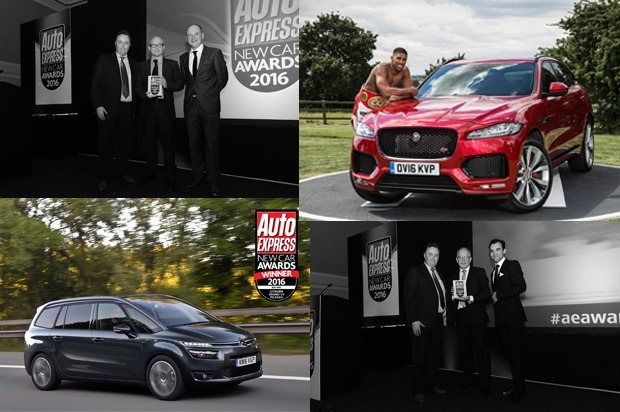 Auto Express New Car Awards are highly rated in the UK car industry, with an award from them in one of the many categories boasted about by car manufacturers in their many press releases and adverts. So the 2016 award ceremony held recently produced many winning models that we at Nationwide Vehicle Contracts can offer on some great leasing terms.
Here are the winners (and some runners up) rated and tested by Auto Express's experienced road test team that you can choose from if you so wish as your next car.
Car of the Year 2016: Jaguar F-Pace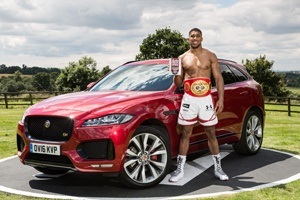 Chosen from all the winning models in the various categories, it is the Compact SUV of the Year, the Jaguar F-Pace, that takes the crown as King of Kings for 2016.
An off-roader packed with Jaguar-ability, it has become one of the must-have cars for 2016 very quickly, with great looks, great driving, luxurious cabin and family-friendly practicality.
Delivering best figures of 57.7mpg and 129g/km of CO2, it's also an economical motor as well as being a stunningly good looking 4x4 with a choice of engines from the entry-level 2.0-litre diesel right up to the 3.0-litre supercharged V6 petrol S model with 8-speed auto transmission.
Riding on big 22" wheels, the drive is dynamic and yet comfortable with the leather-clad cabin holding you in its arms like a baby in the womb, with added InControl Touch Pro system and digital dials providing technology (amongst other items.)
It looks stylish with a huge presence on the road, and provides a massive 650-litre boot to carry all the cares you would wish to do, as well as a four-wheel drive system that combines with quick steering and body control to give driver and passengers the drive of the day!
City Car of the Year: The Skoda Citigo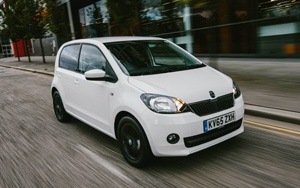 For the fifth year running, the Skoda Citigo has picked up the Best City Car award at the Auto Express New Car Awards, and it's no big surprise really.
Compact and manoeuvrable with a spacious interior, it ticks alls the boxes for a City Car, but can also pack a punch away from urban streets with even the lower-powered 59bhp 1.0-litre engine offering plenty of punch.
Fun to drive and comfortable in its own skin over city terrain, passenger space is maximised to allow four adults to travel comfortably with their belongings stored in the 251-litre boot.
Available technology includes Bluetooth, sat-nav and heated seats (as standard on some trims) and there is already a promise of an updated and facelifted model in the next year.
What's not to like?
Also commended in this category was the Hyundai i10 and the Vauxhall Viva.
Supermini of the Year: Volkswagen Polo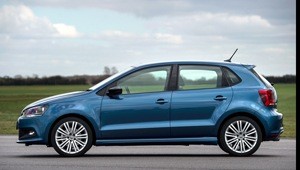 The upgrades and facelift that the Volkswagen Polo received in 2015 has helped it scoop up the Supermini of the Year award ahead of its rivals, partly due to the addition of more efficient engine options.
As well as the entry level model, there is a turbo version available to help zoom about, as well as the sporty R-Line model that adds style and design to practicality.
The wide range of petrol and diesel engines includes a more powerful 1.4 TSI that features technology such as cylinder deactivation to improve efficiency when cruising, with a 1.4 TDI with two different outputs for those covering big miles also available.
For those concerned with emissions, the already economical 1.0 TSI now claims fuel economy of 68.9mpg and 94g/km CO2 emissions thanks to effective use of VW's high-efficiency BlueMotion technology, and with a lot of trim levels and equipment specs available, there's no surprise in this award.
Also commended in this category was the Skoda Fabia and the Suzuki Baleno.
Premium Small Car of the Year: MINI Cooper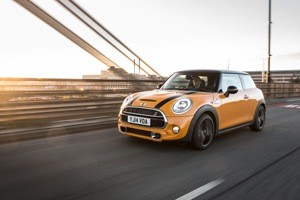 3 years in a row, the MINI Cooper has picked up the Premium Small Car of the Year Award, this year beating off the close attention of the FIAT 500 and the DS3.
And it's good to see that MINI keeps on improving on what already is an iconic car.
With lots of personalisation options added in to the existing style and quality, the choice of engines is also down to personal choice, from the entry-level 1.2-litre three-cylinder up to the nippy 228bhp John Cooper Works model, all with great handling and an immense drive - as well as those admiring glances from passers-by.
But it's not all about the look (although a choice of roof, body graphics, interior and wheel design obviously helps) - it is functional too with lots of technology combining with the expected retro look inside.
Nippy with fuel economy and emissions looking good too, it may be small in size but big in heart.
Also commended in this category was the FIAT 500 and the DS3.
Compact Family Car of the Year: Vauxhall Astra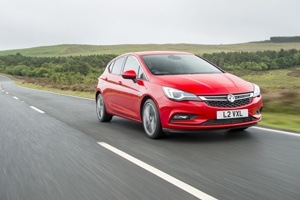 Already the 5th best-selling car in the UK and now winner of Auto Express's Compact Family Car of the Year for 2016, the reinvented Vauxhall Astra has take on all rivals, and shot them down in the midday sun of a Western town.
Faced with having to compete with many compact hatchbacks already, there's now plenty of space in both cabin and boot, plenty of power and pace, and a whole host of technological additions - enough to keep the family happy and the solo driver wanting a great drive.
A redesigned car is obvious from the outset with the addition of LED headlights, and adding in Apple CarPlay and Vauxhall's OnStar concierge service to mid-level trims such as the sportier SRi model just makes it more of a 'need' than a 'want'.
Also commended in this category was the MINI Clubman and the SEAT Leon.
Family Car of the Year: Skoda Superb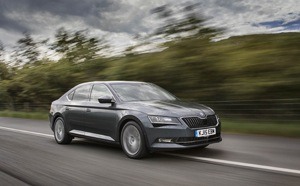 Not many cars live up to their name, but the Skoda Superb does, and now it's picked up Auto Express's Family Car of the Year 2016 by showing off the space, the driving dynamic and low running costs that it boasts.
There's plenty of heat on the street thanks to its design while inside you not only find quality materials, a great list of standard equipment, reassuring safety systems, and lots and lots of space, allowing passengers to stretch out and luggage to do the same in the 625L boot.
There's a great ride too courtesy of a wide range of petrol and diesel engines that includes a 2.0-litre diesel that combines a healthy 148bhp output with CO2 emissions of just 108g/km, and a 276bhp turbocharged 2.0-litre capable of 0-62mph in just 5.8 seconds .
Also commended in this category was the Mazda 6 and the Toyota Prius.
Estate Car of the Year: Skoda Superb Estate
And the Skoda Superb continued its good year with the Estate version picking up the Estate Car of the Year award, taking it away from last year's winner the Volkswagen Passat Estate.
Being an estate, and being a Superb, the interior is obviously cavernous, but by combining it with some great styling and looks, efficient engines and quality inside that you find only on more expensive models, the Skoda Superb Estate is a worthy winner.
With Skoda being part of the VW Group, the Superb Estate shares the same range of engines as the VW Passat, all with great economy, led by the 1.6 TDI in SE Business trim and its claimed 67.3mpg economy and CO2 emissions of 109g/km, and including a 118bhp diesel version and a 148bhp 2.0 TDI.
Even so, Skoda has added lots of useful touches, including an ice scraper in the fuel filler cap, umbrellas in the doors and cup-holders that grip your drink so you can take the lid off one-handed. Although these only sound like small details, they're the kind of features that can make living with a car so simple.
The Superb Estate is practical too with loads of room and a massive 660-litre boot, as well as some nice touches like an ice scraper in the fuel filler cap, umbrellas in the door and functional cup-holders.
Also commended in this category was the Peugeot 308 SW and the SEAT Leon ST.
MPV of the Year: Citroen Grand C4 Picasso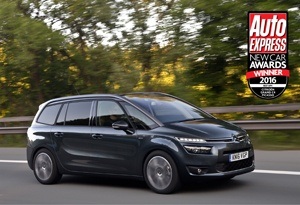 There's been a lot of MPVs about in the last year, so for the Citroen Grand C4 Picasso to take the Auto Express MPV of the Year title 3 years in a row is a great achievement.
It is truly a family car with the seat configuration leading the way: five individually folding rear seats, 2,181 litres of load space when they are all folded back, a bright and airy cabin, large side windows and panoramic interior.
Add in some luxurious touches like the 7" infotainment touchscreen with Bluetooth and TFT dials, and reclining front passenger seat with integrated footrest (on higher grade models) along with driving assistance systems that include stop/start, cruise control, hill-start assist and driver's seat height adjustment, you'll find that the Citroen Grand C4 Picasso offers a great ride too.
The Picasso is available with a choice of petrol and diesel engines that includes the refined 2.0-litre BlueHDi 150 turbodiesel and the 1.6 HDi with fuel economy of 74.3mpg and CO2 emissions of 99g/km, as well as Citroen's recently introduced and silky smooth EAT6 automatic box.
Also commended in this category was the Ford S-Max and the SEAT Alhambra.
Crossover of the Year: SEAT Ateca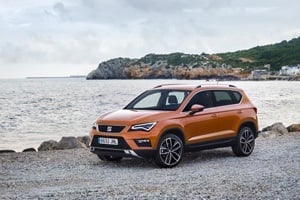 Increasingly popular with car buyer and car leasers, the Crossover models' award saw a hard-fought victory for the extremely versatile SEAT Ateca.
Stylish with plenty of space inside (including an easily accessible 485-litre boot), the SEAT Ateca can easily carry three adults in complete comfort in the back.
Inside, the SEAT Leon has a lot of influence with a clear layout and great quality combining with some top-notch technology and equipment such as heated leather seats and sat-nav as well as lots of safety features that includes LED headlights, seven airbags and autonomous emergency braking.
With a good choice of fuel-economical engines that includes a 148bhp 2.0 TDI diesel, the drive is exceptional as the Ateca uses its refined suspension to ensure comfort over the roughest of surfaces.
Also commended in this category was the Citroen C4 Cactus and the Renault Kadjar.
Large SUV of the Year: Volvo XC90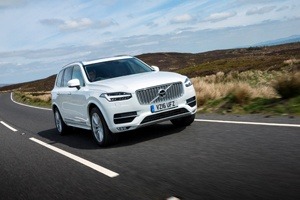 Again, another hard-fought for category, but the winner once again is the Volvo XC90, Auto Express Car of the Year in 2015.
Standing out not only for its luxury, and advanced technology, the obviously crafted design features are there for now and the for the future of this premium seven-seater.
Highlighted by the 'Thor's Hammer' daytime running lights, the outside is stunning, and the interior keeps up with it by being more than just classy. Lot of leather and a refreshingly simple dashboard with a tablet controlling everything makes it all uncluttered, and Volvo's reputation for safety continues with City Safety auto-braking technology, Queue Assist and self-parking just three of the stand-out features.
A range of decent 2.0-litre engines includes the smooth, refined 231bhp diesel, a 316bhp petrol and a hi-tech 401bhp petrol hybrid, all with stunning fuel economy and CO2 emissions.
Also commended in this category was the Audi Q7 and the Kia Sorento.
Hot Hatch of the Year: Ford Focus RS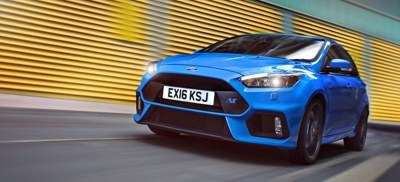 One of the easier decisions this tear for Auto Express was the decision to award the Hot Hatch of the Year Award to the Ford Focus RS that has set the Hot Hatch world alight since its introduction to the sector.
The 345bhp four-wheel-drive monster is developed for the Hot Hatch road with a special drift mode that can send all of the power to one individual rear wheel, and it is, in all but name, a rally car for the UK roads.
Under the bonnet we find a Cosworth-led 2.3-litre turbo four-cylinder that can launch the car from 0-62mph in just 4.7 seconds, and the car's balance is such that it can cope with cornering like a seasoned pro despite its young years.
Crammed with technology, the Focus RS is practical too, with 5 doors and a 260L boot, and an eye for comfort with optional Recaro seats and a luxury pack that offers keyless go and cruise control.
Also commended in this category was the Honda Civic Type R and the SEAT Leon Cupra 290.
Compact Executive Car of the Year: Jaguar XE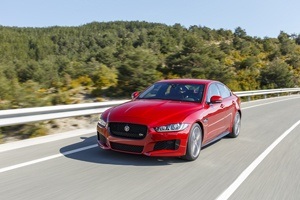 According to Auto Express, it was the overall mix of Jaguar XE qualities rather than just one factor that sees the XE win the Compact Executive Car of the Year Award: Qualities such as its looks, style, agility, cabin quality, ride, balance and ease of handling.
It can even boast CO2 emissions as low as 99g/km on some models thanks to its lightweight aluminium structure and its 161BHP or 178BHP Ingenium 2.0L diesel engine with standard six-speed manua l gearbox box as standard, although an eight-speed automatic is also available.
But then we look at the executive side of the car (after all that's the award) and we find that the lack of space inside is transformed into a feeling of being cocooned (according to the Auto Express) in luxury thanks to the soft leather seats, trim inserts, Jaguar's latest touchscreen infotainment system and four-wheel-drive option.
And we realise why it won.
Also commended in this category was the BMW 3 series and the Lexus IS.
Executive Car of the Year: Mercedes E-Class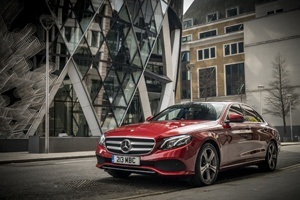 It's no surprise that, when it comes to Executive Cars, Mercedes-Benz is right there at the top, with its new Mercedes E-Class picking up Executive Car of the Year.
Not only does it have the quality that you not only want but expect, but when it comes to driving comfort and technology, it's a winner there too.
There's a feature called Drive Pilot which "keeps you in your lane at up to 80mph and even changes lanes for you where traffic laws allow" and a cabin that exudes luxury and includes twin widescreen displays and sumptuous seats.
With a new 2.0-litre four-cylinder diesel with a nine-speed auto gearbox providing the 192bhp and 400Nm of torque, the Mercedes E-Class 220d version can go from 0-62mph in 7.3 seconds, with the 254bhp 3.0-litre V6 E 350d diesel version shortening this by 1.4 seconds. It is even capable of 102g/km emissions at its lowest ebb.
But overall it was the comfort, efficiency and technology that won the day for the E-Class, although the standard equipment spec that includes self-parking, adaptive cruise, autonomous braking, LED headlights and sat-nav, among other features. would obviously have helped.
Also commended in this category was the Jaguar XF and the Tesla Model S.
Other winners in other categories included:
For more information on Auto Express's 2016 Awards click here, and for more information on leasing a car from Nationwide Vehicle Contracts, contact one of our Customer Service Representatives.