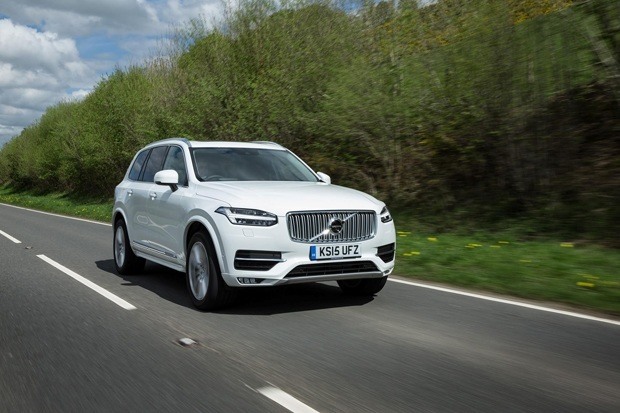 12 years after the original XC90 took the title, the all-new Volvo XC90 has been named Car of the Year 2015 and Large SUV of the Year category winner at this year's Auto Express New Car Awards 2015.
Dr Peter Mertens, Senior Vice President Research & Development at Volvo Car Group, was a proud man as he accepted the Car of the Year 2015 award: "This award reflects the great passion that Volvo Cars puts into its new cars. We understand our customers' desire to have beautiful cars – cars that make their lives easier by delivering the latest technology - but in a user-friendly manner. We also understand the driving need for powertrains that deliver efficient performance, and a chassis that provides a balanced and engaging driving experience that ensures the driver is always fully in control," he said.
The Volvo XC90
The all-new XC90 is the first car to be created and built on Volvo's own in-house designed and built platform, called SPA (Scalable Product Architecture) and also benefits from Volvo's own in-house designed and built engines that go under the name of Drive-E.
Design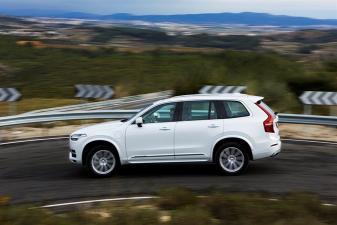 Having taken three years to design, develop and create as part of a USD 11bn investment programme, the Volvo XC90 is "a blend of rich Scandinavian design elements, both inside and out" that is a signpost for a new chapter in Volvo's history.
Aided and abetted by the front 'Thor Hammer' daytime running lights and new larger grille, the visually striking, premium quality seven-seat SUV gives off a commanding road presence, as well as containing some world-leading safety features, new powertrain technologies, an unrivalled combination of power and fuel efficiency and a superlative interior finish.
And inside the serene and relaxing cabin, reflecting Scandinavian design, not only is there some exquisite leather and wood materials but also what is considered to be the "crowning glory": a centre tablet control system called Sensus that controls all the major functions of the vehicle, from the infotainment and phone, to navigation and connectivity features.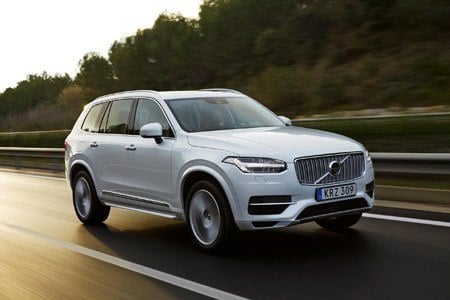 We have spoken about the Volvo XC90's design before on this blog with Volvo's new iron mark with its iconic arrow elegantly aligned with the diagonal slash across the grille, very much to the fore in prominence. Add in the aforementioned the T-shaped "Thor Hammer" DRL lights, the Volvo XC90 is "an entirely new, distinctive and confident face for Volvo's forthcoming generation of cars."
To add to the already evident muscle, the Volvo XC90 shows off a larger bonnet , neatly sharpened shoulders to connect to the distinctive new rear lights, and a range of wheel sizes up to 22".
Undoubtedly an SUV, the XC90 offers an unrivalled combination of power and fuel efficiency via is range of two-litre, four-cylinder Drive-E powertrains, with the XC90 Twin Engine sitting at the top of the range, combining a two-litre, four-cylinder supercharged and turbocharged petrol engine with an electric motor to offer around 400 horsepower with CO2 emissions of around 60 g/km.
Safety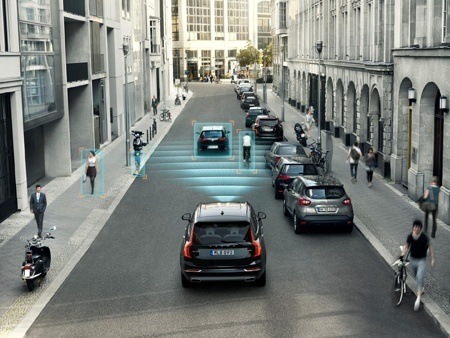 When it comes to safety, the fact that the XC90 is a Volvo should tell you that safety is a major priority; and the XC90 features two world first safety technologies - a run-off road protection package and auto brake at intersection capability - amongst a plethora of other features too numerous to mention.
And it's all part of the Vision 2020 task that Volvo has set itself when it comes to safety, connectivity and autonomous drive.
Dr Mertens explains: "The new technologies will take us a significant step closer to our vision that no one will be killed or seriously injured in a new Volvo car by 2020. Our starting point on safety is the same today as it was when the company was created almost 90 years ago: real-life situations. We study data. We crunch numbers. We innovate. The result is one of the safest cars ever made."
And Lex Kerssemakers, Senior Vice President, Product Strategy and Vehicle Line Management of Volvo Car Group, chips in with a bit more information about the future: "With the XC90, we take the first step towards self-driving cars. A new function that automatically follows the vehicle ahead in stop-and-go traffic will provide a radically simplified, semi-autonomous driving experience."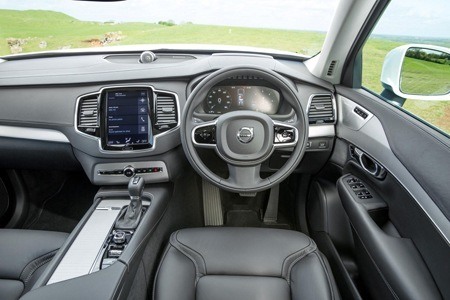 Fitting seven inhabitants very comfortably, the XC90's interior is the most luxurious to have been designed for a Volvo with a virtually button-free system in a modern, spacious and uncluttered cabin.
It also features one of the top audio systems available in the automotive world courtesy of a Volvo Cars/Bowers & Wilkins partnership to create a 1,400 Watt Class D amplifier, 19 Bowers & Wilkins speakers, and one of the first air-ventilated subwoofers in a car that turns the whole interior space into a giant subwoofer.
As Steve Fowler, Editor-in-Chief of Auto Express, said: "We've been waiting a long time for the XC90, but it was well worth the wait – it's a sensational SUV. It not only sets new standards for Volvo, but for the car market in general, leading in terms of technology, efficiency, style and safety. It's also got an element of style – inside and out – that you might not have expected. If the XC90 points the way for the future of Volvo, the future looks very bright indeed."
You can check out the great leasing deals on the Volvo XC90 from Nationwide Vehicle Contracts here.