EUROPE'S BIGGEST BEETLE EVENT CELEBRATES ITS 10TH ANNIVERSARY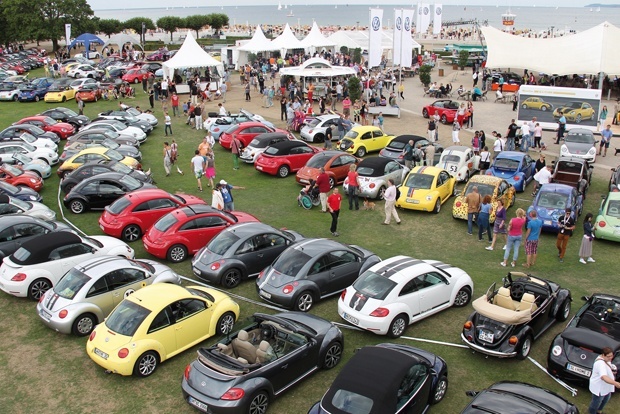 For millions of us out there, the Volkswagen Beetle brings back memories of 'Herbie Rides Again' and the Summers of Love. So, with the sun shining, and threatening to continue to do so throughout the month of August across the whole of Europe (if weather forecasters are to be believed), it will allow Beetles old and new to make their annual pilgrimage to the beach.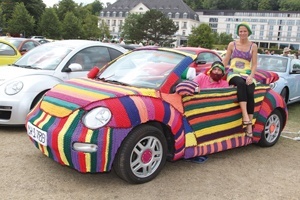 No; it's not just another teen movie: it's the 2014 Beetle Sunshine Tour over the weekend of 15-17 August that allows Beetle fans to gather together on the Baltic coast to celebrate and party Beetle-style with the 'Voice of Germany' star Ole 'Soul' Feddersen performing a specially composed Beetle song with Nathalie Dorra and her band.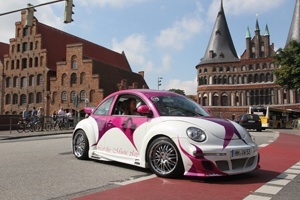 Obviously, being a German car, the whole event is organised by our Teutonic friends (Hence the Voice of Germany performers), but there is no need for borders as 400 Beetles and around 4,000 guests make their way to Brügmanngarten in Travemünde having started off in parade from Lübeck Airport.
Whereas the beach music is provided by the Urban Beach band, Projekt Caramba and DJ, Ole Feddersen and his band (with Nathalie Dorra) and other members of Udo Lindenberg's 'Panik Familie', the real stars of the show are the fans and their cars – as the pictures here show.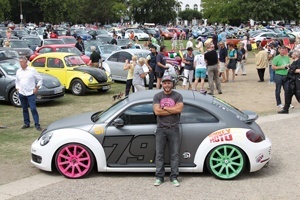 "It always thrills me to see the great creativity and passion that the participants put into designing their vehicles,"
says Gaby Kraft, the meet's organiser, and this creativity will be put to the test as one of the hundreds of curvaceous Volkswagens from six decades at the privately organised fan fest will get to be crowned 'Most Beautiful Beach Beetle' of them all. From Glamour Beetles and Crochet Beetles to Rock'n'Roll Beetles and Beach Beetles, artistic interpretation of the free choice theme sees many drivers and owners coming up with some stunning and original ideas in an attempt to win the prize.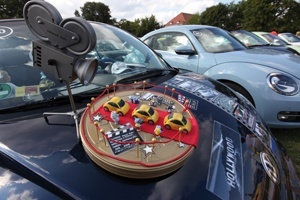 Volkswagen has been an official event partner since 2005 and it is fully understandable that they will be present on the beach again showing off a number of special vehicles such as the Beetle Dune, the concept Cross version of the Beetle and the recently launched Beetle Cabrio Karmann.
They will also be showing off the GRC Rallycross Beetle, a 544 PS four-wheel drive car that has been developed in conjunction with Andretti Autosport for the American GRC race series that will be making its official debut in GRC in the middle of September in Los Angeles. Maybe it will be showing off its outstanding acceleration from 0-62mph in just 2.1 seconds?
Any Beetle drivers that are interested enough to want to get their own Beetle on the beach (or maybe just want to visit) can visit
www.beetle-sunshinetour.de
where you can also see the complete programme. (There is an English version of the website on the same page)