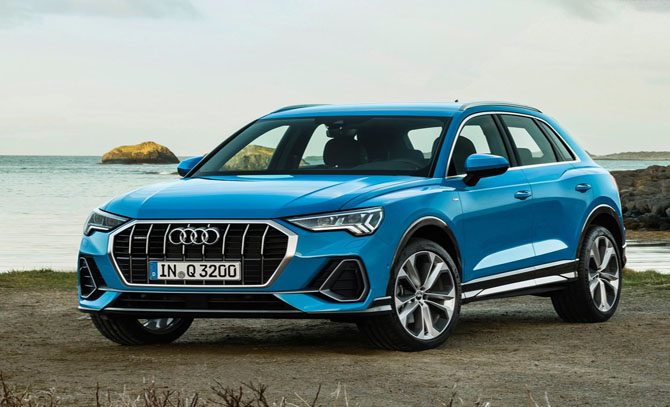 For many new mums, this Mother's Day is the first one spent with their precious little bundle of joy, and for many other mums it is a day to be spoilt by their children.

So, in honour of all the amazing mums out there, here is the Nationwide Vehicle Contracts Guide to the Best Cars for New Mums.
Whether you are looking for a run-around motor, with room for a child seat, to get you and baby from A to B (via C, D, and E, of course). Or a full-blown SUV to pile all the kids in to, we have got what you're looking for, thanks to our large number of vehicles and marvellous deals to match.

What features mums need in a car

The following are just a few things that are required in a mum-and-baby-friendly car.

Room and easy access for child car seats

Boot space for prams/buggies

Ease of parking

Reliability

Comfort

Affordability

Economy and ecology

Safety features
So, what fits the bill?

Volkswagen Polo

When it comes to superminis, you'll be hard pressed to find one better than the Volkswagen Polo – it is one of the best small family cars around. We'd recommend it for smaller family's, because of its 280-litre boot space and its ability to fit 2 rear child seats into the ISOFIX fittings. It also has low running costs, excellent handling, and its smaller size means its small enough to fit into tight spots. Surprisingly spacious inside, the Polo also has Bluetooth connectivity to help with infotainment, a dust/pollen feature, and a 5-star Euro NCAP safety rating.
Kia Soul and Kia Stonic
Both of these Kia models do, admittedly, look a little chunky – especially in comparison to the larger (and more aesthetically pleasing) Kia Sportage – but if you can see past the looks, you'll find 2 models mums will delight in. Both boot spaces are around 353-litres, both offer ISOFIX child seat anchor points, and the space inside is great when manoeuvring kids in and out.
The Kia Soul has DAB radio and Bluetooth. Whereas, the Kia Stonic has Apple CarPlay and Android Auto, so in-car entertainment is always at hand. Both offer great visibility too, although it should be noted, the Stonic needs an entry-level safety kit upgrade to give it a 5-star safety review.
SEAT Arona
The SEAT Arona is a compact crossover with a 5-star Euro NCAP safety rating. It offers more boot space than its rivals, at 400-litres it perfectly fits all those baby essentials. Plus, when the back seats are folded down the boot space increases to 823-litres.
The Arona is compact, spacious, economical and packed with features such as autonomous emergency braking to help keep the whole family safe. It also offers ISOFIX child seat anchor points and in-car infotainment, to make even the longest of family journeys fun.

For parents looking for a larger family vehicle, SEAT also offer the Alhambra It has all the similar features of the Arona, but with the added bonus of more space. And for ultimate peace of mind, both models were named Car of The Year at the What Car? Awards, in their respective categories.
Peugeot 2008 and Peugeot 3008
The smaller-sized Peugeot 2008 is a hatchback-SUV hybrid – featuring a 422-litre boot space and it was given a 5-star safety rating. Whereas, the larger, award-winning 3008 Crossover offers a 512-litre boot with the same safety rating.
Thanks to the foldable rear seats both models have plenty of space, as well as, ISOFIX child seat anchor points, child safety locks and plenty of infotainment options to keep everyone entertained. Economical and spacious, both the 2008 and 3008 are great options for busy mums.
Mazda CX-3 and Mazda CX

-5

For the Mazda loving mums amongst you, we'd advice you to take a look at the Mazda CX-3 or the larger CX-5. Like all of the cars featured in this list, ISOFIX child seat anchor points come as standard, along with some more than adequate boot space – 350-litres and 503-litres respectively.

Both of these SUV models boast Mazda's award-winning SKYACTIV Technology engine for economic driving, as well as speed and comfort. And thanks to the i-ACTIVSENSE safety technology, you and the whole family can travel safely.

Audi A3, Audi Q2 and Audi Q3
Audi has always been at the forefront of offering solutions for busy mums and growing families. So, it comes as no surprise Audi offer a whole host of models for you to choose between – all meeting the category safety regulations.

The Audi A3 has a 380-litre boot, perfect for transporting a buggy and enough toys to keep the liveliest youngster entertained. Design features include everything from – manual rear child locks and ISOFIX child seat anchor points to airbag deactivation, plenty of storage and 2 USB ports. Plus, thanks to an efficient diesel engine, fuel bills will be kept low.
The Audi Q2 has everything from a 460-litre boot, ISOFIX child seat anchor points and split folding rear seats to electrically operated child locks on rear doors, a seatbelt warning light and so much more. The 6 airbags and electronic stability control come as standard, meaning not only is the Q3 SUV great to drive (creating green-eyed glances on the school run) but it is as safe as houses too.
Range Rover Evoque
Speaking of the school run, you'll turn plenty of heads arriving in the Range Rover Evoque – complete with rear seat centre armrest, auto climate control, air filtration and ISOFIX child seat anchor points. The smallest of the Range Rovers, there is still plenty of space inside and the 472-litre boot allows enough space to fit all your kid's bags, buggies and books inside. With the Range Rover Evoque, you'll not only look stylish sat at the steering wheel but also be confident in the knowledge your children are safe and secure.
Mercedes-Benz GLC SUV
If you are looking for a high-spec family car that gives you plenty of space, innovative, and practical features, then the Mercedes-Benz GLC SUV is pretty much the perfect choice for you. It is complete with 4-wheel drive, sat nav as standard, keyless start, ISOFIX child seat anchor points and a 5-star safety review. The advanced safety options of the Mercedes-Benz GLC SUV are second to none – including Collision Prevention Assist Plus and Attention Assist. Plus, thanks to its 550-litre boot and spacious cabin all your children are going to love the roomy Mercedes-Benz GLC SUV.
If you don't see anything that catches your eye on our list, take a look at the other family options we have available – such as the Nissan Qashqai, Volkswagen Sharan, and the Volvo XC-90. They will all help make family life that little bit easier.
Happy Mother's Day from all of us here at Nationwide Vehicle Contracts.

Have another question about the best lease cars for mums? Leave a comment below or call Nationwide Vehicle Contracts on 0345 811 9595 to speak to one of our leasing specialists.