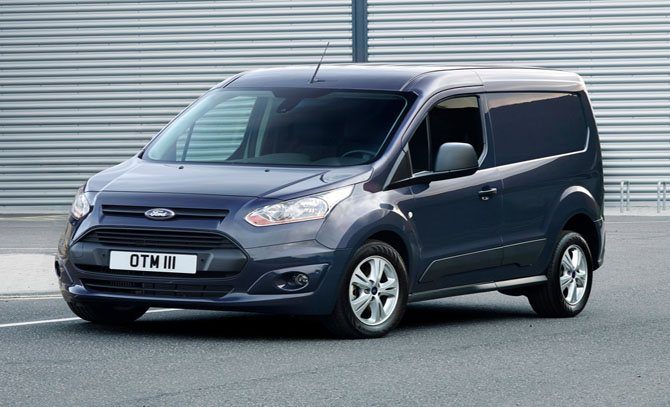 As a builder your van is your most valuable tool, so it's vital you choose a van that perfectly meets all of your needs. This is why Nationwide Vehicle Contracts has listed the best vans for builders.

First and foremost, we've provided a check list of some of the most important factors we think you should consider when deciding which van you want to lease from Nationwide Vehicle Contracts.

Check list:

Reliability. You'll need a van that will get you to every job on time, every time.
Space. You'll need to make sure that there is enough room inside your van for your tools and equipment.
Dimensions. You'll have to decide the required payload, body size and cab room to ensure you continue to deliver an optimised service.
Efficiency. You'll need to consider the van's miles per gallon.
Size. You'll need to choose between a medium or large size van.
Load capacities. You'll need to decide on the optimal wheelbase and load capacity.
Ford Transit

No list of vans for builders would be complete without Britain's favourite model, the Ford Transit. Its popularity is due to a whole host of reasons – from its payload of up to 1,375-kg to an extensive list of driver technologies and an internal body length of almost 11.5-ft (3.5-metres). As well as cruise control, an easy fuel cap-less refuelling system and front and rear parking sensors. Plus, front fog lights, PAS, trip computer, warning lights, a 2nd remote key, deadlocks, and remote central locking.
The Ford Transit also offers unrivalled reliability, driver ease and security – ensuring you get to every job on time and with all your tools protected. Additionally, as the EcoBlue technology comes as standard fuel efficiency, performance and refinement are guaranteed. Every model of the Ford Transit adapts to town or motorway journeys, so whether you're nipping to your next job or travelling to a tool supplier the Ford Transit is a great choice. And with lots of variants to choose from, you'll find the perfect wheelbase length and loading preference for your work requirements. Discover all the models Ford offers in their van range here.

Mercedes-Benz Sprinter

Another popular option is the Mercedes-Benz Sprinter, it's packed to the gills with the latest technology such as live traffic information, trip computer, a multimedia system with 7" touch screen and USB connection. The Sprinter also has a payload of up to 1,264-kg, plenty of load space available (four-euro pallets fit in beautifully), a powerful 3-litre V6 engine and additional options such as double cab and four-wheel drive.
It also features everything from – ASSYST flexible servicing system, communication module (LTE) for digital services and cruise control to front tachograph control under the roof liner, an outside temperature gauge and PAS. And if safety is a concern of yours the Sprinter has been manufactured with an anti-theft alarm system and double locking to keep your tools as safe as can be. Mercedes also offer many other models in their van range, check them out today by clicking here.

Peugeot Boxer

If you need a large payload, the Peugeot Boxer, with a maximum 1,525kg payload and a 3.7 metre load length, is the van for you. It features a touchscreen navigation system and audible rear parking aid (on premium models) to ensure you get to every job on time and complete every manoeuvre safely and accurately. Plus, thanks to the anti-theft perimeter alarm system, deadlocks and immobiliser your tools will be totally secure. As an extra bonus the Boxer also offers a fuel consumption of around 45.6-MPG and a load height of 1.9-metres. Peugeot also offer many other models in their van range that you can see here.
Renault Master

If you need a van for heavier items the Renault Master offers both LWB (long wheel base) and MWB (medium wheel base) options. The rear wheel drive model has a 4-meter load length and the front wheel drive version has a 1,400-kg payload. There's a whole host of features – from ply lining, a bulkhead and comfortable cabin to multimedia screen, improved infotainment system and wireless charging. There are some great lease deals available from Nationwide Vehicle Contracts, such as the Renault Master MWB. Renault also offer many other models in their van range that you can see here.
It's also worth taking a look at the Volkswagen Transporter, the Citroen Relay, the Vauxhall Vivaro, and the Fiat Ducato.
You will no doubt already be aware that your business contract, van rentals are 100% tax deductible. This is because you can reclaim the VAT when the van is part of a contract hire or leasing agreement. You can also put company decals on the lease van as long as you gain funder permission and they are removed at the end of the lease. If you do have any questions about van leasing, then you can read through our van leasing FAQs, or speak to one of our customer service representatives.
Check out some of the great van lease deals that are available from Nationwide Vehicle Contracts.