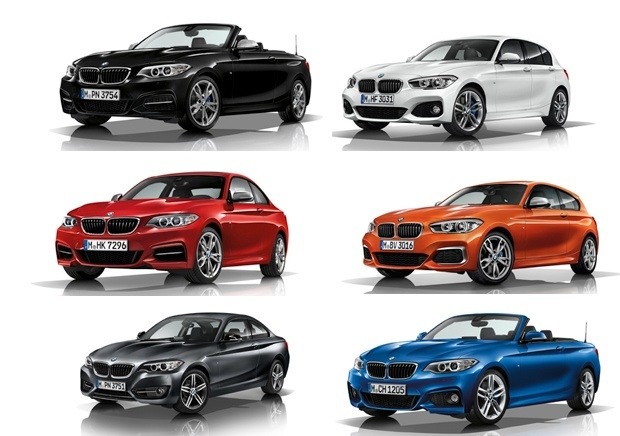 With BMW trying to be at the forefront of new innovations , they have decided to upgrade their 2017 model range this Summer with not only improvements to connectivity, equipment and personalisation pretty much across the board and more powerful, efficient engines for the BMW 1 Series and BMW 2 Series, but also the launch of two new models (The 340hp BMW M140i and BMW 240i) and a new range (BMW iPerformance).
All designed to make the Ultimate Driving Machine give you Ultimate Driving Pleasure.
Introducing the BMW M140i and M240i (and a new six-cylinder 340hp engine)
Straight in at Number One in the 2017 BMW 1 Series three-door and five-door hatch ranges chart and the BMW 2 series Coupé and Convertible line-ups comes the M Performance models, powered by a new engine. The 3.0-litre straight-six engine uses TwinPower Turbo technology to develop increased power and torque to deliver a maximum of 340hp and 500Nm of torque - and that means instant acceleration right across almost the entire rev range.
Driving the new BMW M140i, you'll find that 0-62mph acceleration has been increased from the previous M135i model by 0.3 seconds to 4.6 seconds (automatic), with the BMW M240i Coupé performing the same sprint in the same time (a reduction of 0.2 seconds from the previous M235i Coupé.) When it comes to the M240i Convertible, initial acceleration to 62mph is achieved in just 4.7 seconds - faster than before, but with a 7% over reduction in fuel consumption.
In fact, fuel economy and emission figures on all M performance models is surprisingly good, considering the power generated to an electronically-limited top speed of 155mph.
For the BMW M140i hatchback - 36.2mpg (manual) and 179g/km CO2
The M240i Coupé - 39.8mpg (Sports Automatic) and 163g/km CO2
The M240i Convertible (manual) - 34.0mpg and 189g/km CO2
The M240i Convertible (automatic) - 38.2mpg and 169g/km CO2.
This impressive demonstration of high performance mixed with frugality in fuel use is the result of some particularly painstaking attention to detail when it comes to the powertrain - in every aspect. Changes and improvements have been made right across the board, with the new M Performance models featuring electric wastegate control, a close-coupled catalytic converter, an on-demand cooling pump and map-controlled oil pump, electronic power steering, Auto Stop Start and Brake Energy Regeneration, as well as a new and compact Twin Scroll turbocharger linked to an indirect intercooler to improve efficiency.
Add into the mix a six-speed manual transmission with an engagement control function, optional eight-speed Sport Automatic gearbox with an increased spread of ratios to enhance efficiency, and a rev-linked vibration damper that enhances smoothness and engine sound, and you'll soon see why the word Performance is in there with the BMW brand name on these models.
BMW 1 Series and BMW 2 Series more efficient engines.
With the arrival of the 2017 model year BMW 1 Series Sports Hatch and 2 Series Coupé and Convertible comes the introduction of the highly efficient new Baukasten 2.0-litre four-cylinder engine to all variants in both ranges.
These 2.0-litre engines use BMW TwinPower Turbo technology that itself employs a Twin Scroll turbocharger, direct fuel injection and VALVETRONIC and Double VANOS valve control to deliver between 6hp and 7hp more to the 20i, 25i and 30i models than the units they supersede at 184hp, 224hp and 252hp respectively. The introduction of Baukasten engines also sees the 20i upgraded to twin exhaust tailpipes.
With the new engines comes a decrease not only in acceleration times, but also fuel consumption and tailpipe emissions (in some cases by up to 17g/km with the latter), meaning Benefit-in-Kind taxation and Vehicle Excise Duty advantages.
Eight-speed Sport Automatic transmission also becomes standard for the 125i, while on the BMW 2 Series Coupé and Convertible a 230i takes the place of the former 228i.
New BMW iPerformance range launched
BMW aren't going to fall behind in the green car stakes either.
Back in 2016 at the Geneva Motor Show, BMW announced a new iPerformance range of electrified fuel-saving, emissions-reducing models that would take all the technology that they had developed for the BMWi range that currently includes the i3 and the i8, and introduce them into mainstream models, just as BMW's M Performance employs the design and engineering expertise of BMW M.
Three of these plug-in hybrid (PHEV) models – the BMW 225xe Active Tourer, BMW 330e and BMW X5 xDrive40e are already available to order or lease, and these are now joined in the 2017 range under the new iPerformance banner by the BMW 740e and 740Le xDrive saloons.
From the outside, you can't tell that the car is an iPerformance cars unless you look very closely (eDrive badges on the C-pillars, charging point flap on the nearside front wing and, in some cases, i badges on the front wings are what give it away), but you can order specific iPerformance exterior styling consisting of blue slats on the BMW kidney grille and blue alloy wheel hubs at no additional cost. Inside, all iPerformance models have eDrive menus in the black panel display and, in most cases, eDrive designation on the door sills.
And it goes almost without saying that all iPerformance models benefit from the advanced electronic motors, high-performance lithium-ion batteries and intelligent energy management systems that BMW have already developed for the existing all-electric i3 and plug-in hybrid i8.
In the BMW 740e and BMW 740Le xDrive the combination of a 2.0-litre TwinPower Turbo petrol engine and a synchronised electric motor produces a combined 326hp, allowing spontaneous delivery and efficiency of the highest order, as well as being capable of covering up to 29 miles on electric power alone – good news for those wishing to save fuel when it comes to the daily urban commute.
And, of course, CO2 emissions are low (between 49 and 56g/km) and fuel consumption exemplary (from 134.5 to 113mpg.)
Superior connectivity for additional six model ranges.
With the ability to be constantly connected to the fast-changing world around us both professionally and socially an increasing necessity even whilst on the move, it is a good move from BMW to ensure that six additional model ranges now benefit from the latest iDrive interface and enhanced connectivity services.
Having originally been introduced on the BMW 7 Series and added to the BMW 6 Series, X3 and X5 back in March and April this year, with the new 2017 range it will become available on the BMW 1 Series, 2 Series, 3 Series, 4 Series, X5 and X6 ranges.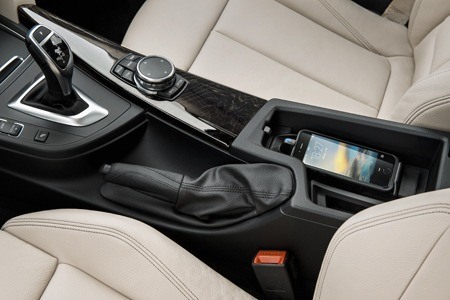 "Incorporated into the BMW Professional media system, the latest iDrive interface and enhanced connectivity provides a simpler menu navigation requiring fewer clicks to move between key sections such as map view, messages, entertainment and media and an increase in RAM to improve performance. This new system also allows the wireless integration of selected third party applications from a compatible mobile device."
Optional upgrades allow a new Enhanced Bluetooth alongside the upgraded BMW Professional Navigation system which now includes Wireless Charging, WiFi Hotspot preparation and an additional USB socket - although this is standard on all BMW 6 Series and 7 Series models as well as the M3, M4, X5M and X6M.
With the new Connected Music feature that comes as part of BMW Online Entertainment there is a library of over 30 million tracks available to stream at any time, with track, artist and album recognition as standard the listener can search for and stream other music by that artist or music of the same genre.
New equipment and personalisation options.
It was BMW that pioneered the idea of the personalised car, and now takes it a step further with the 2017 model year versions that offer a range of options such as:
Black Dakota leather upholstery with blue contrast stitching on all BMW 3 and 4 Series M Sport models
Venetian Beige Dakota leather upholstery and black interior carpets on the BMW 3 and 4 Series cars.
Tilting 9.2" and 10.2"high resolution monitors with an optional BlueRay compatible DVD with HDMI output and MP3 rear seat entertainment system on the BMW X5 and X6
Revised colour options for several models.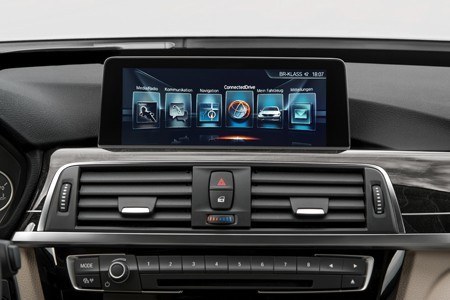 In addition to this there have been several changes to equipment and standard specifications such as:
A BMW Individual leather steering wheel becoming standard on all BMW 3 and 4 Series Luxury models
A new Exclusive trim level available for the 7 Series models
Executive Lounge seating and Executive Lounge package available on long-wheelbase 7 series versions.
The 7 Series Executive package being renamed the Premium package and now including Climate Comfort laminated windows and windscreen.
A new M Sport Plus package available on various models including the BMW 5 Series Gran Turismo, the X5 and the BMW X6 that features a Harman/kardon Loudspeaker system, Sun protection glass, 20" light alloy M Double-spoke style 303M on the BMW 5 Series Gran Turismo and 20"light alloy M Double-spoke style 469M on the BMW X5 and BMW X6, and a Head-up Display and a Speed-limit display for both the BMW X5 and BMW X6.
All this new from BMW makes you want the year to end so you can get into it, but you can prepare for it by registering your interest with one of our Customer Service Representatives or by checking out some great leasing offer on BMW models from Nationwide Vehicle Contracts here.