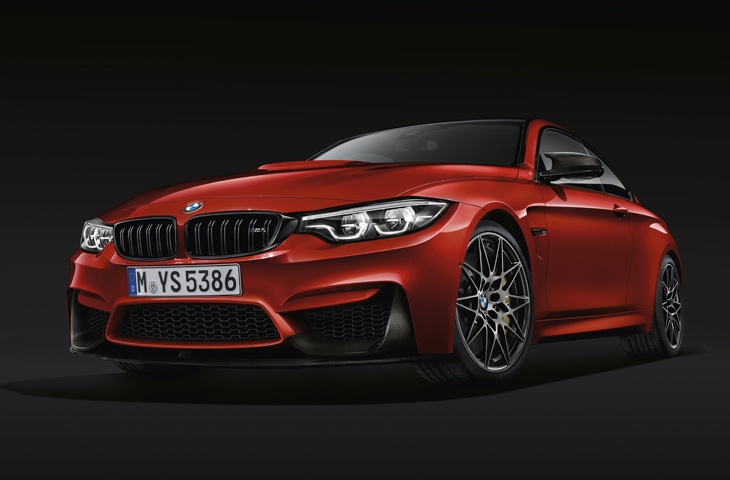 The BMW 4 Series Coupé, BMW 4 Series Convertible and BMW 4 Series Gran Coupé, all of which are available to lease RIGHT NOW from Nationwide Vehicle Contracts, are getting a makeover ready for later this year; "still blending performance with exclusivity and elegance, while at the same time still managing to exude totally distinct characters."

Design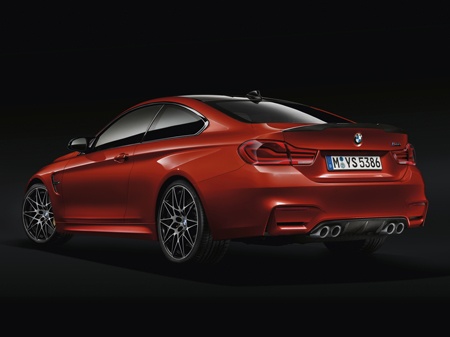 Borrowing some styling from the spectacular 2012 BMW Concept 4 Series Coupé, the front end of the new BMW 4 Series has been restyled using "crisp contours alternating with expansive surfaces to create a broad contoured appearance". There is also an unbroken central air intake with an aperture that increases in size towards the outer edges to add more width, and therefore presence, to the whole front of the car.
The BMW 4 Series Coupé, Convertible and Gran Coupé are all now equipped with new twin LED headlights as standard and are optionally available with new Icon Adaptive LED headlights, while the rear of the cars has, like the front, a sporty look and feel thanks to bold horizontal lines and elongated design of the rear light clusters helping to make the muscular wheel arches stand out.
Interior and equipment
As you would expect with a BMW, the cabin has an exclusive, high-quality feel, and the new BMW 4 Series has an array of updates to make it more so.
The surrounds for the air vents, the control panels in the doors, the switch for the hardtop roof in the BMW 4 Series Convertible and the integral belt guides for its front seats now include electroplated inserts.
The air conditioning and audio controls are now bordered by chrome, the centre console has a new high-gloss black cover panel, and the dashboard over the instrument panel has new double stitching.
The sports steering wheel, a standard feature in the BMW 4 Series, has a new rim wrapped in high-quality leather, with a modified lining that offers the driver an even better grip.
And there is also a wider choice of interior styling options to choose from with Night Blue Dakota, Cognac Dakota and Ivory White Dakota leather upholstery with coordinated contrast stitching and piping added, along with Aluminium Carbon with Pearl Chrome highlight and Black High-Gloss with Pearl Chrome highlight interior trim additional options.
Navigation, connectivity and user interface
BMW has included a number of new features (many as options) that enhance driver convenience for the navigation, telephone connectivity, display and controls in the BMW 4 Series. These include:
Professional navigation system, as option outside of standard on M Sport trim, with a new user interface
Digital Cockpit as an option for the BMW 4 Series, offering a choice of different digital display options for the instrument cluster.
Fully digital TFT colour display featuring black panel technology
Compatible smartphone wireless charging
Wi-Fi hotspot
Two USB ports in the centre console
Optional Apple CarPlay smartphone interface
BMW Connected, the BMW-exclusive personalised digital mobility assistant
The Driving Experience
The driving experience in all BMW 4 Series models is a carefully-managed mixture of sportiness and comfort.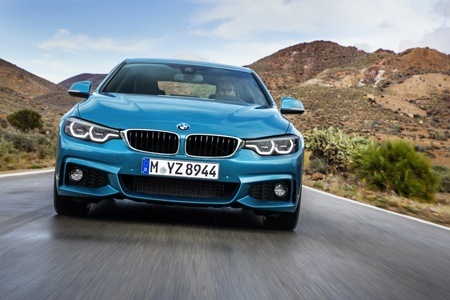 Designers have made sure that the BMW 4 Series has a lower centre of gravity than the BMW 3 Series, a wider track at the front, specially configured kinematics for even more agile handling, and a revised suspension that adds to the car's stability without compromising on the impressive ride comfort.
It may surprise you that no more has been done, but the modifications made, and the existing " harmonious and extremely agile nature of the suspension" means that there really was no need for more extensive performance-enhancing modifications.
All of the petrol engines and the four-cylinder diesel powerplants offered for the new BMW 4 Series come from the latest existing BMW EfficientDynamics family and are equipped with BMW TwinPower Turbo technology.
All new models are available with three petrol engines:
The 420i with 184hp
The 430i with 252hp
The 440i with 326hp
with a combined fuel consumption range of 35.8 - 51.4mpg, and CO2 emissions range of 127g/km to 185g/km.
There is also a choice of three diesel engines:
The 420d with 190hp
The 430d with 258hp
The 435d xDrive with 313hp
with a combined fuel consumption range of 47.9 - 70.6mpg, and CO2 emissions range of 106g/km to 155g/km.
The BMW 4 Series Coupé, BMW 4 Series Convertible and BMW 4 Series Gran Coupé can be specified with either a six-speed manual gearbox or eight-speed Steptronic transmission, which is already fitted as standard on the BMW 430d/BMW 430d xDrive, BMW 435d xDrive, BMW 440i Convertible and BMW 440i Gran Coupé.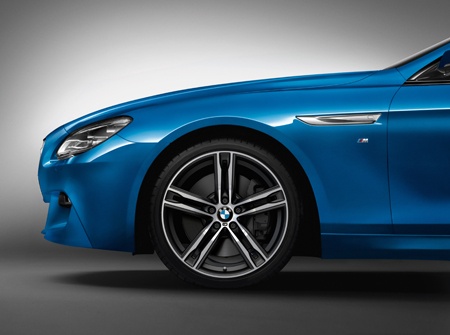 All petrol models in the new BMW 4 Series – with the exception of the BMW 420i Convertible – plus the BMW 420d Coupé/BMW 420d Gran Coupé and BMW 430d Coupé/BMW 430d Gran Coupé diesel models, can be specified with the optional BMW xDrive all-wheel-drive system (instead of classic rear-wheel drive), which offers, amongst the expected benefits of all-wheel drive, a reduction in both understeer and oversteer through bends, resulting in more dynamic cornering properties.
A wider choice of 18" and 19" light-alloy wheels exclusive to the new 4 Series is also now available, with a choice of four new designs, and new wheels for each of the SE, Sport and M Sport variants, ensuring that there are even more sporty designs than before.
And to add to your own personal configuration of the car, 3 new and exclusive new exterior paint finishes have been added to the selection: Snapper Rocks Blue, a new shade of turquoise and Sunset Orange.
The BMW 4 Series range is available to order for leasing now from Nationwide Vehicle Contracts, so CONTACT one of our Customer Service representatives now.