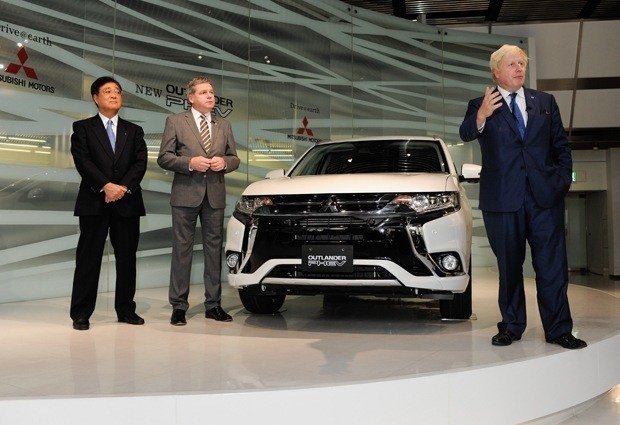 The Mayor of London, Boris Johnson, has done more than most when it comes to trying to make London a cleaner place to live and work thanks to his many initiatives culminating in London having a low-emission zone. And his drive for more plug-in vehicles has led to Mitsubishi Motors in the UK choosing him as the man to help launch the new Mitsubishi Outlander range at the company's global headquarters In Tokyo in the presence of Mitsubishi Chairman and CEO Mr. Osamu Masuko, UK Managing Director Mr. Lance Bradley, senior company executives and staff.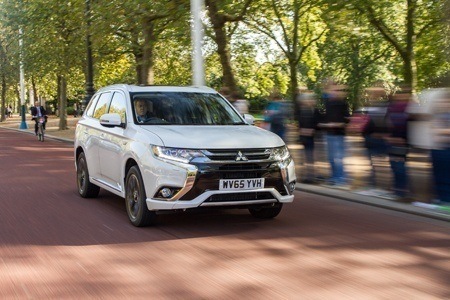 And, according to Mitsubishi themselves, Mr Johnson's clean vision has helped contribute to the success of the Mitsubishi Outlander PHEV (plug-in hybrid electric vehicle), and has led to the Japanese car manufacturer bringing not only new technology to the UK but also investment, skills and jobs into a vitally important emerging vehicle sector. When it comes to plug-in vehicle sales in the UK, the Outlander PHEV accounts for half of all; so it is no wonder that the UK is viewed as "one of the most strategically significant markets in the world" by Mitsubishi as the push forward their breakthrough ULEV (ultra-low emission vehicle) technologies.
Having already created around 400 jobs here since the introduction of the Outlander PHEV in 2014, the new model will swell this to over 1,000, including network sales people with specialist skills in ultra-low emission vehicle technology, additional people at the headquarters in the UK, and additional people to prepare the cars once they arrive at the final assembly area at Portbury, Bristol. Portbury has already seen an investment of £48 million , and this will grow in the next three years with a lot of it going into training that takes into account the technical skills and knowledge required in the newly emerging vehicle sector.
Mr. Osamu Masuko, Mitsubishi Motors Corporation Chairman and CEO, said: "We greatly appreciate the significant progress the Mayor's initiatives in London have made to encourage the uptake of ultra-low emission vehicles. We are very proud that the Mayor has taken this opportunity to unveil our new Mitsubishi Outlander PHEV here in Tokyo.'"
The Mitsubishi Outlander PHEV
The Mitsubishi Outlander PHEV is a five-seat, four-wheel-drive SUV with ultra-low emissions and high MPG that delivers a uniquely smooth driving experience. And not only is the ride smooth and quiet, but also the continuous transition between hybrid and pure electric modes that helps to minimise emissions wherever the car is being driven - from city streets to country roads and motorways.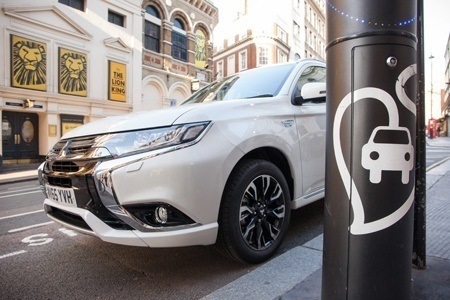 For those people who wonder and worry about the prospective ranges of electric vehicles and the like, the Mitsubishi Outlander PHEV has a combined hybrid range of more than 540 miles, and a more-than-acceptable 32-mile pure-electric range that can easily accommodate average daily driving distances; and for the power-hungry out there, the acceleration and dynamism is there too.
When it comes to recharging it does it on the move as well as the more likely method of battery replenishment at home or at work; but no need to visit a petrol station!
Mr. Lance Bradley, Managing Director, Mitsubishi Motors in the UK, said: "The Mitsubishi Outlander PHEV, along with forward-looking and consistent Government policy on incentives, is creating a market for plug-ins that will ultimately set the UK apart in global terms by delivering the right balance of low-emission driving, value for money, economy and practicality. This new model is another bold step in that direction."
The new Outlander range is the first execution of Mitsubishi's new SUV design direction – 'Dynamic Shield' - and also includes a diesel version which is amongst the 13 versions of the new Mitsubishi Outlander is the first execution of Mitsubishi's new SUV design direction – 'Dynamic Shield' that Nationwide Vehicle Contracts have to offer for leasing.
Low Emission Cars
And the Mitsubishi Outlander PHEV is just one of the over 500 Low Emission Cars that Nationwide Vehicle Contracts have on offer, as analysis by Go Ultra Low shows "that 20,992 motorists made the leap to plug-in power between January and September this year - a bumper growth of 138.5% against 2014."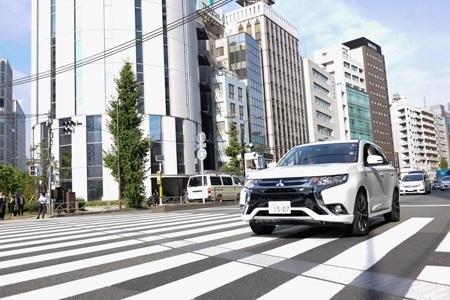 It seems that a greater choice of models is 'fuelling' the rise in demand as there are now more than 27 pure electric or plug-in hybrid cars now available in the UK, ranging from high-performance sports cars to capable family run-arounds. And Head of Go Ultra Low, Poppy Welch, said: "The growth in plug-in car registrations is excellent news and in line with our expectations. This trend should continue over the course of this year as we know that motorists are keen to achieve maximum miles for the lowest cost, while minimising emissions and environmental impact."
Mitsubishi are leading the new registrations charge, with 9,303 of its flagship Outlander PHEV sold since the start of 2015 (as against 2.731 in 2014), with Nissan following quietly with its all-electric Nissan LEAF accumulating 4,285 new registrations (2014 2.969), and BMW's i3 nearly doubling its 2014 tally with 1,564 registrations in third place.
The UK Government anticipates that around 5% of new car registrations will be ultra low emission by 2020 – an expected figure of 100,000 - and if current trends continue, aided and assisted by Boris Johnson and the like, this figure seems to be well on track.
Obviously, an increased choice helps the demand, but the fact that electric cars can be driven for as little as 2p per mile in comparison to 10-12p for a conventionally powered car will be a selling/leasing point too.
And with current plug-in hybrid sales up 226.5% when compared to 2014, that's a lot more in the pocket for the average consumer.