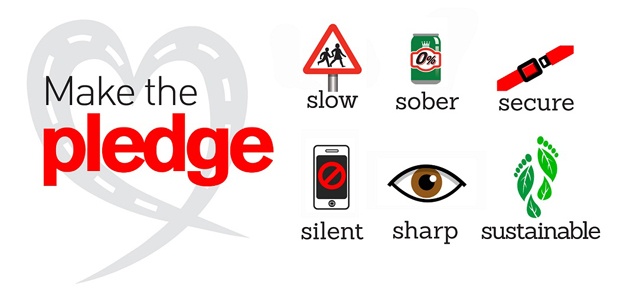 Today (Monday 21st November) sees the start of Road Safety Week, the UK's biggest road safety event, coordinated annually by road safety charity, Brake, and you'll see thousands of schools, organisations and communities getting themselves involved in an attempt to cut down (and hopefully stop) needless deaths and injuries that occur on our roads every year.
The annual event first took place in 1997 to raise awareness about road safety and to inspire communities to not only promote life-saving messages during the Week but also to take action on road safety all-year round.
Road Safety Week is aimed at anyone who uses roads, from car and van drivers to cyclists and motorcyclists, and also includes pedestrians. All sorts of people get involved in it alongside professionals working in road safety: from nurseries, schools, youth clubs and army bases to community campaigners, employers, local authorities, sports clubs, fire officers, paramedics, and driving instructors, to name but a few!
From promoting awareness of Road Safety Week by putting up a Poster or promoting it in a newsletter to running a local campaign or roadshow, all sorts of things can be done to help promote safer road use; not just now, when nights are darker and weather at its worst, but all-year round.
Road Safety Week is promoted by Brake nationwide, with the help of this year's headline sponsors, Aviva and Specsavers, with the theme for this Year, the Brake Pledge, getting coverage on national and regional TV, radio and press, alongside social media using the hashtags #RoadSafetyWeek and #BrakePledge.
Also supported by Association of National Police Chiefs Council, Police Scotland, Chief Fire Officers Association and the Department for Transport (DfT), Road Safety Week sees Brake calling on all road users to make the Brake Pledge to help stop the five deaths and 62 serious injuries that happen every day on UK roads.
The Brake Pledge
"Roads are dangerous places, where hundreds of deaths and serious injuries take place every week. But by changing our driving behaviour, we can help to make our villages, towns and cities safer places to be. Every action that we take, as a driver or as a passenger, can change the outcome of a journey and the future of a family."
That's why this year, the main theme of Road Safety Week is asking both drivers and non-drivers to take the Brake Pledge with its six elements: Slow, Sober, Secure, Silent, Sharp and Sustainable.
Slow
This section of the Pledge focuses on the speed that vehicles are driven at, with drivers often breaking the speed limit or travelling too fast for the conditions - contributory factors in more than one in four (27%) fatal crashes in Great Britain [1] according to DfT statistics.
Drivers – "I'll stay under limits, and slow down to 20mph around schools, homes and shops to protect others. I'll slow right down for bends, brows and bad weather, and avoid overtaking."
Everyone – "I'll speak out for slowing down and help drivers understand that the slower they drive, the more chance they have of avoiding a crash and saving a life."
Sober
Having even one drink before getting behind the wheel can affect your ability to drive. With one in 10 (11%) drivers/motorcycle riders killed in a crash in 2013 having been found to have alcohol present in their body - even though they weren't over the legal blood-alcohol limit - there is a case for stating that having even one drink before driving can affect the ability to drive.
And then there is the DfT statistic that, in 2014, one in seven road deaths were at the hands of someone who was driving while over the limit.
Drivers – "I'll never drive after drinking any alcohol or drugs – <not a drop, not a drag."
Everyone - "I'll plan ahead to make sure I, and anyone I'm with, can get home safely and I'll never get a lift with drink/drug drivers. I'll speak out if someone's about to drive on drink or drugs."
Secure
Amazingly enough, despite years of campaigning, it is still not second nature for a driver to wear a seat belt, with the safety feature often seen as an inconvenience by some drivers, despite the fact that statistics show that the use of one reduces the chance of dying in a crash by 50%.
21% of car occupants killed in crashes were not wearing a seat belt.
Drivers – "I'll make sure everyone in my vehicle is belted up on every journey, and kids smaller than 150cm are in a proper child restraint. I'll choose the safest vehicle I can and ensure it's maintained."
Everyone – "I'll belt up on every journey, and make sure friends and family do too."
Silent
A feature of the times that we live in, and our dependence on social media and a 'need' to be informed at all times at what is going on in both the world in general as well as social engagements, drivers who perform a complex secondary task, like using a mobile, while at the wheel are three times more likely to crash than non-distracted drivers.
The recent news that fines are to be doubled for using a mobile while at the wheel of a vehicle in an attempt to prevent deaths by Distracted Driving has already brought this into public notice, making it easier to pledge this.
Drivers – "I'll never take or make calls, read or type when driving. I'll put communication devices out of reach, and stay focussed on the road."
Everyone – "I'll never chat on the phone to someone else who's driving."
Sharp
This part of the Pledge looks at practical and physical things that drivers can do, with road crashes caused by poor driver vision estimated to cause 2,900 casualties and cost £33 million in the UK per year, according to statistics from the RSA Insurance Group plc in 2012. So booking in for a regular eye test should be at the top of any driver's to-do list (which is why Specsavers are involved in the Pledge), and rests being taken when on longer journeys.
Drivers – "I'll stay focussed on safe driving. I'll take regular breaks and never drive if I'm tired, stressed or on medication that affects driving. I'll get my eyes tested every two years and wear glasses or lenses at the wheel if I need them."
Everyone – "I'll look out for friends and loved ones by ensuring they only drive if they're fit for it, and rest if they're tired."
Sustainable
By minimising the amount we drive, and walking, cycling or using public transport instead, deaths on the road will be reduced per se, making communities safer while reducing air pollution as we help not only the environment but also individual health.
Everyone – "I'll minimise the amount I drive, or not drive at all. I'll get about by walking, cycling or public transport as much as I can, for road safety, the environment and my health."
More information about Road Safety Week can be found here, and help from Nationwide Vehicle Contracts when it comes to knowing UK Road Law here.