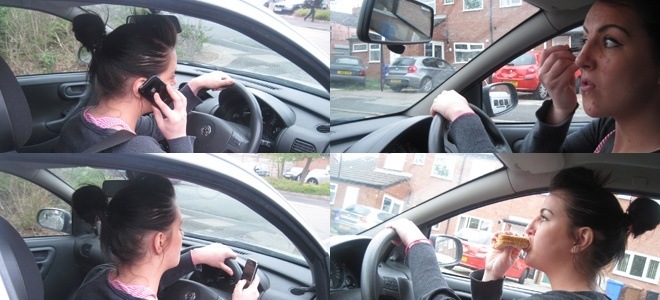 There is really nothing worse than driving along and seeing someone in their car with a bad driving habit, and our own reactions to it speak volumes about our own behaviour because on a list recently compiled by Kwik Fit are bad habits that I would hazard a guess at are habits that we are all guilty of at some time in our driving lives.
The research was carried out by Consumer Intelligence amongst 2002 UK adults for Kwik Fit and asked drivers which bad driving habit off of a list they hated; and the answers found a new most hated bad driving habit for 2013/14.
So let's have a look at those bad habits, and also self-flagellate ourselves when we realise that we are guilty of double standards by castigating those guilty of them whilst no doubt being guilty of doing them ourselves.
Top Ten Bad Driving Habits
The new top spot in a list of a nation's most despised driving habit is something that is illegal and can get you penalty points on your licence if caught doing it by an officer of the law: and that is use of a mobile phone whilst driving. 47% of the UK motorists questioned said that it was their biggest bugbear, and we can all say that we have tutted and commented to a passenger when we see someone driving along a road, or turning a corner whilst on the phone, usually chatting away. But then when our phone rings, pings or vibrates, how many of us can really resist answering?
It should be stated that there is a big age gap in moaners about the use of mobile phones with 62% of over 65s citing this as their main motoring complaint, compared to just 38% of those aged 18-24.
The old Number One has been relegated to Number Two – and that is 'tailgating'. Back in 2010, when the research was last undertaken, it held a top spot for many drivers, and this year it has raised the temperature of 42% of drivers – but then again, smartphones weren't ruling our lives then as they do now. Maybe this bad driving habit isn't one that we do as much, but I am sure that, at some time in our driving career, we have done it!
In spot Number Three is Failing To Indicate (hated by 35% of respondents), followed by Dangerous Overtaking (30%), Middle Lane Cruisers (26%), Last Minute Braking (23%) and Undertaking (19%).
Spots Eight and Nine are pretty indicative of the fast-food society that we live in where everything has to be NOW NOW NOW! In Eighth spot comes Hesitant Driving (12%) and Being Slow away from Lights (12%) before the Top Ten is finished off with 10% of drivers moaning about those who jump lights.
Now hands up anyone who has NEVER committed any of these bad driving habits! Thought so; No one!
Roger Griggs, director of communications at Kwik Fit, commented: "These driving habits aren't just annoying, they are dangerous and some of them against the law. You're four times more likely to have an accident if you use a mobile while driving, in addition to the frustration it causes for fellow motorists. And with on-the-spot penalties for motorists who hog the middle lane, tailgate or cut up other vehicles being introduced last year, it highlights just how serious these anti-social driving behaviours are being taken."