FRAZER-NASH CONFIRMS ALL-NEW BRITISH DESIGNED, ENGINEERED & BUILT METROCAB TRIALS
So much is written in the press about how clean the air needs to be in big cities, and nowhere gets more press than our country's capital, London; and no one courts more press (and achieves it) than the Mayor of London, Boris Johnson, with his plans for a greener transport system throughout London.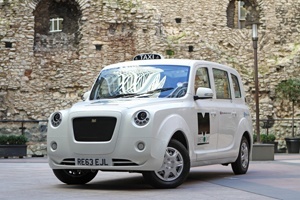 Some say that he is trying to drive out the car from Central London, and a lot of his plans and schemes seem to suggest this, but his honourable intentions are about to get a well-timed boost from the British designed, engineered and built Range Extended Electric (REE) Metrocab, created as a partnership between Ecotive and Frazer-Nash.
Metrocab Chairman Sir Charles Masefield said: "The all-new Range Extended Electric Metrocab has been in development since the mid-2000s with several prototypes built and over a million kilometres of engineering tests completed.  Instantly recognisable as an iconic London Hackney Cab, with a panoramic glass roof for views of the city, our new all-British London cab offers, for no price premium, completely new levels of economy, emissions and passenger comfort and is ready to enter service this year, benefiting the passenger, driver, city and environment alike."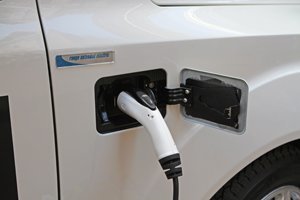 But it is the word 'electric' that will bring a smile to Mr Johnson's face because the Metrocab is yet another in a very long line of electric powered transport solutions created, marketed and developed by Ecotive and Frazer-Nash over the last 25 years that feature highly efficient, optimised and fully-integrated digital-electric and hybrid-electric powertrains.
But will it bring a smile to the faces of the London cabbie, renowned for his (and her) resistance to change and new ideas? Seemingly the only way to find out is to try one out, and Metrocab has recently launched a campaign where they are inviting London taxi drivers to register with them so that they can undertake real-world trials in the new zero emissions capable taxi; hopefully so that the drivers can see that they can save money, save the planet, save on maintenance and the problems inherent in taxi ownership – oh, and give the passenger a more enhanced experience. (Nearly forgot the passenger there!)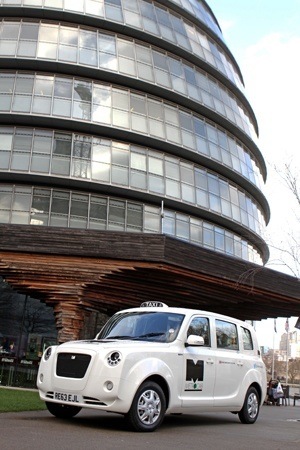 The Metrocab really is at the cutting edge of green transportation design, featuring the very latest technology for comfort, performance and safety, including full disabled accessibility, panoramic roof for views of the city, increased luggage space and unrivalled comfort for up to seven passengers.
But it's not just the customers that will be happy. The Metrocab, courtesy of its two electric motors with a 1-litre petrol engine coupled with a generator to recharge the battery pack, is capable of unrivaled efficiency and economy, not only when it comes to fuel costs but also in the daily running costs, maintenance costs, tax incentives and grants available too!
So that makes the drivers (and owners) happy; and the London Councils will be happy too due to the ultra-low emissions and a zero emissions mode, improved air quality and reduced noise pollution.
So if you take into consideration that the Metrocab is; fully compliant with London Public Carriage Office (PCO) regulations; has a top speed of 80mph (surely that's enough in London!); a turning circle of 7.62m that also meets the PCO regulations; a 1 litre petrol range-extender engine that is coupled to generator unit; emission figures that not only meets Euro 5 emission standards but Boris Johnson's ideas of what emissions should be; charging ability via the growing number of charge points around the city; and technology that includes a driver multi-function touch screen display and instrument cluster with colour display, passenger colour TV display, USB charging socket, digital infotainment system, hands free telephone, air conditioning and heating, ABS, a 3-seater rear bench seat, 3 rear facing flip down seats, an optional front passenger seat, full wheelchair access with integrated wheelchair ramp, a panoramic glass roof, mood lighting and air suspension; then it looks like it could soon become a favourite of everybody in the future.
And that future could be sooner than you think.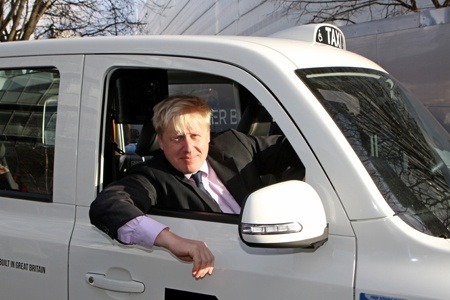 At the presentation made by Boris Johnson where the Range Extended Electric (REE) Metrocab taxi was revealed publically for the first time, the Mayor London also took the opportunity to announce that all new London taxis will need to be zero emission capable from 2018 as part of a pledge made last year to introduce an Ultra Low Emission Zone in central London by 2020.,
"As part of my mission to improve our air quality and drive innovation, I'm making a firm pledge to Londoners that from 2018 all taxis presented for licensing should be zero emission capable.  The cleaner, greener vehicles I've seen today are proof that the evolution of the great London cab is well and truly underway."
An obviously pleased Metrocab Chairman (Sir Charles Masefield) added: "The all-new Metrocab is ready now and we are keen to get our cabs on the streets of London this year for real-world trials by drivers who will experience for themselves the cost savings, environmental benefits, easy ownership and maintenance, and enhanced passenger experience offered by our revolutionary new taxi.
"The new Metrocab looks very much at home on the streets in today's test-rides – like a true next generation London taxi."
So that's something to look out for on the streets of London in the future – even if the Metrocab and cycles are the only things that may be on the roads by then!