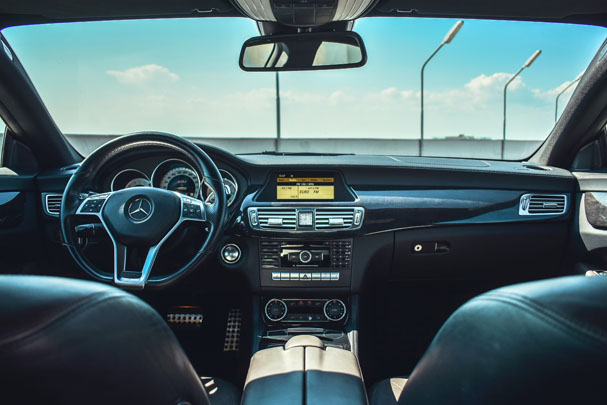 Nationwide Vehicle Contracts takes a closer look at how car interiors have mirrored fashion trends throughout the ages.

Have you ever looked at an old family photo and had a little giggle to yourself about the interior design of your house? Well, cars are just the same.
As cars developed, manufacturers saw their interiors as a blank canvas to portray the latest fashion trends to their customers. As a result, car brands began collaborating with fashion designers to ensure their customers were truly riding in style.
This has led to a range of different styles and trends throughout the ages; some good, but some very bad. To guide you through, Nationwide Vehicle Contracts takes a closer look at the evolution of car interiors and how they mirror fashion trends.
1940-1970
After the Second World War, fashion began to take off, with people wanting to enjoy the finer things in life after a tough couple of decades. For fashion, we saw the emergence of plaid patterns, with colours such as red, white, green, and blue becoming trendy.
This was matched in cars for the first time in the 1950s and 60s, with manufacturers adopting colour schemes to appeal to their audience.
1970s
The 70s was when fashion and car interior design began to take off. Car interior design switched from the bright colours of the 60s to trendy 70s colours, such as brown, beige, and mustard yellow. Looking back, probably not a great move!
We also saw radios introduced, plastic mouldings become more luxurious, and reclining seats become standard.
The late-70s was also when fashion designers began to collaborate with car manufacturers. We saw Ford recruit the likes of Givenchy and Cartier, and Cadillac turn to designers such as Gucci.
However, I think my favourite collaboration was when AMC joined with Gucci to create the Sportabout model. Its interior design was about as Gucci as possible, with green and red colours on almost every surface. It also featured a writing desk with a lamp (why?) and a miniature liquor cabinet behind the driver's seat - how times have changed!
1980s
Fashion in the 1980s is always good to look back on. Clothes were loud and proud, and so were hairstyles, with perms, mullets, and back-combed styles filling dance floors across the country. You'd think this would be mirrored in car interior design, but apparently not.
Cars in the 1980s continued the trend of the 70s, albeit with the introduction of a few new gadgets, including cassette players, glass sunroofs, and patterned cloth seats.
Collaborations took a bit of a decline in the 80s, but a couple that stood out were Ford's partnership with Fila and Peugeot's partnership with Lacoste. The latter sold over 23,000 models and was essentially a driving advertisement for the French clothing brand.

1990s
The 1980s and 90s were polar opposites in terms of fashion. We moved from bold to minimalist outfits, with baggy trousers, Nike and Adidas trainers, and tidy haircuts becoming the norm. For the automotive industry, the 90s were seen as an opportunity for a revival, with a range of new cars and interior designs emerging.
We saw more organised interiors. Soft touch plastics had become the norm, and most cars featured either leather or fabric seats, matching the move towards the minimalist yet more luxurious fashion of the 90s. Check out the Mercedes S-Class below:
However, there weren't many collaborations between manufacturers and brands. The most notable was Ford's partnership with outdoors brand Eddie Bauer to make a special Ford Explorer, which included premium tan leather.

2000s
The 2000s was when we saw technology begin to influence car interior design more and more. Most things were becoming electrical, and we started to see digital instruments introduced, such as infotainment systems with sat-nav capabilities.
Also, in the 2000s, fashion was about making a statement. We saw low-rise jeans, spiky hair, and loud jewellery. This was mirrored in the automotive industry by a preference towards luxury, and we saw brands such as Mercedes-Benz, BMW, and Audi pull away from the pack.
The most notable collaboration was between Mercedes-Benz and Armani, where the latter designed a limited edition CLK 500 Cabriolet. Check out the interior here:
2010s-present
Nowadays, in the age of ultimate technology, collaborations between car manufacturers and fashion designers are common. The 2010s marked fashion trends of ultimate style, with expensive outfits hitting the front pages, and car interiors matched this.
Car interior design switched to focus on luxury, with leather and soft-touch materials making for the ultimate driving experience.
The 2010s started with a collaboration between Volkswagen and Adidas for a limited edition of the Golf GTI, bringing the three stripes to their seats and steering wheel. The trend was continued by Fiat and Gucci in 2011 when they partnered for a limited edition of the iconic Fiat 500. Check it out below:
The luxurious interior design of the 21st century peaked with Bugatti's collaboration with Hermès. Given the go-ahead in 2019, the interior's key elements, such as the seats and dashboard were designed from scratch in Hermès workshops in Paris and then sheathed in bull calfskin! Oh, and it features cashmere fabric on the door panels.

What do you think of our list? Nationwide Vehicle Contracts is one of the UK's largest car leasing brokers and have a range of leasing deals available.
We also produce weekly blogs on a range of topics, from The Most Memorable Cars in Pop Culture to the Most Dangerous Motorsport Races.