SOME ARE ACTUALLY BELIEVABLE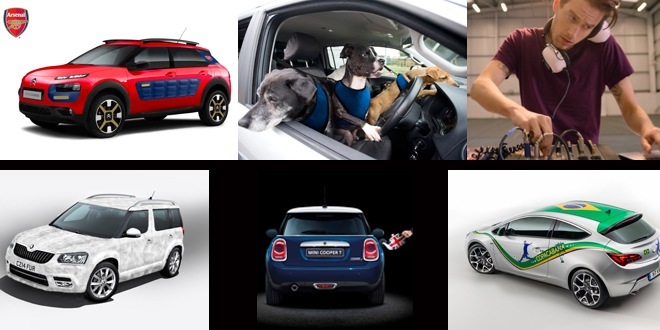 With their usual sense of humour and taking advantage of the general public's gullibility, car manufacturers see April Fools Day as a chance to get their names in the papers for the best 'gag of the day'.
Personally my favourite was always BMW's car that allowed you to switch the steering wheel over depending on which country you were driving in, but the latest lot do have their own bit of credibility somewhere in them – and it's good to see that they can take a bit of time to give us all a chuckle.
It's not just car manufacturers though. ITV's Daybreak had an article about square eggs, The Sun tried to convince readers that The Queen was allowing fracking to take place on the grounds of Buckingham Palace, The Metro that there was going to be a legal limit on the number of selfies that one person is allowed in one calendar month (IF ONLY!) and even Domino's Pizza ran an add announcing the arrival of edible pizza boxes made of dough.
So what did the car makers try to get us to believe?
VOLKSWAGEN
Volkswagen Commercial Vehicles announced that they had teamed up with the RSPCA to teach rescue dogs to drive, even giving details of three mixed-breed dogs called Tulip, Jacob and Harry who had been taught to drive a Volkswagen Amarok.
The dogs sat upright on their haunches, wore specially adapted safety harnesses and learned how to control the brakes, gears and even the steering wheel of the 180PS four-wheel-drive Volkswagen Amarok.
Taught whilst being sat alongside a human instructor in a dual control vehicle, front paws on the wheel and gearstick and rear paws on levers attached to accelerator and brake pedals, the dogs would obviously be a real bonus to anyone who wanted a dog but couldn't drive.
Anna White, manager at the Southridge RSPCA centre where the 'dogs were taught', said: "We wanted to demonstrate how intelligent rescue animals can be. All we have essentially done here is to train the dogs to execute ten sequential behaviours, albeit fairly complicated behaviours! The past few months have been a lot of fun, but there is a serious reason behind the training.
"There is a real shortage of volunteer drivers to take rescue animals to centres with space to accommodate them. We wanted to find a novel way that would encourage more volunteers to help drive rescue animals around the country."
So, just look out for a Reflex Silver Amarok with the number plate FR5T APR.
ŠKODA
To celebrate the launch of their new Yeti range, ŠKODA tried to get us to believe in a special edition called the Yeti Ice, developed by ŠKODA in the Himalayas and finished with faux fur on the outside.
The inventor of the idea, the amazingly named Dr Yu Ciddingme explained: "The fur is so thick and luxurious that during our tests in the Arctic Circle, our test drivers didn't need to use the heater."
Based on the new Yeti and Yeti Outdoor models that had been launched in January (nice bit of side promotion there), the code number of the new model is 010414, all models have personalisations available such as side-partings and fur extensions (and maybe perms too?) and also come with a lifetime supply of ŠKODA-branded shampoo and conditioner, and a comb and brush kit to preserve the well-groomed look.
Head of Special Developments, Prof Lukat Thedate said: "Everybody loves the new furry finish. People like to give it a hug and a tickle under the bumper."
PEUGEOT
Taking advantage of the fact that people these days are obsessed with both social media and personalisation of cars, the French car manufacturer decided to announce that, from July, customers would be able to personalise their car horns using "brand new Audio Sonic technology."
An extensive library of sounds would be created at Peugeot's new Audio Sonic Personalisation Centre – from classical music and dubstep to birdsong and jazz trumpet – and would be continually updated depending at what was in vogue.
Customers would even be able to create and upload their own sounds, just like on a mobile phone; a frightening prospect if the whole thing was true.
"The only limit will be our customers' imaginations" commented Orvil Pondaiss, Peugeot's New Head of Audio Sonic Personalisation. "We're delighted that our customers will be able to take personalisation to the next level with our new feature. We'll be offering guidance on how to create a distinctive horn that will get a positive reaction from fellow drivers. Hopefully thousands of Peugeot customers will be looking forward to getting their own horn later this year".
MINI
As some of you may have read on our twitter page yesterday, MINI joined in the fun by announcing the new MINI Cooper T – the world's first vehicle to be powered by a tea-leaf biofuel composite.
Head of Cooper T engineering, Dr. Ivana Kuppa, said: "This particular project has been brewing for years. Our extensive research has shown that the nation's favourite drink is also an ideal biofuel. We already know good things come in small packages, but with Cooper T customers benefiting from up to 40 miles per cup, we are delighted to have the opportunity to bring this car to market."
Continuing the tea theme, and taking advantage of the British liking and infatuation with a brew, they announced available colours as 'Chamomile Yellow', 'Red Bush' and 'Earl Grey', and even added in technology such as DAT or Dunk Avoidance Technology which stops drivers (and opportunistic passers-by) opening the fuel tank to dunk their biscuits in. After all, would a Cooper T work with a soggy Jaffa Cake in the tank?
CITROËN
Possibly taking advantage of the forthcoming World Cup, and maybe of the exciting end to the Premier League season, CITROËN announced that they would be producing a special Arsenal edition of the forthcoming C4 Cactus.(The Daily Express also spoofed Arsenal fans by suggesting that Spurs and Arsenal would be groundsharing while White Hart Lane was being modernised.)
There would only be 11 models made; they would be kitted out in the red, blue and gold shades of the Gunners' iconic crest; the integrated dashboard console would feature Citroën's new Geo Organised Away-day Location, Information & Entertainment interface, or G.O.A.L.I.E. for short; and the touchscreen system would be preloaded with all of Arsenal's away fixtures, directions to the matches, a database of pie and mash vendors and a music playlist of rousing football anthems to sing along to – including the anthemic 'One Nil to the Arsenal'.
Head of Citroën UK's Special Projects division, Joseph King commented; "We think Mr Wenger and the team will be delighted with this new special edition. As Official Automotive Partner to Arsenal, Citroën is always looking for new ways of celebrating our relationship. With the new fan-focused in-car technology, we think this model is pitch-perfect for the dedicated Arsenal supporter."
The C4 Cactus Arsenal would be available in all Citroën showrooms except those in the Tottenham area of London.
And maybe they should have added that the C4 Cactus Arsenal would never have any decent money spent on it, flattered to deceive and would never ever win an award.
(Citroën then gave the game away by adding in: Avina Jolie from Citroën France added, "On espère que tout le monde a reconnu que c'est une petite blague de notre part. Sinon, et si vous parlez français ou si vous utilisez un service de traduction, il faut dire que cette histoire n'est pas vrai. On ne produira pas cette voiture.") Just in case there was anyone stupid enough to believe that the car was real – or that Arsenal could still win the Premier League this year.
BMW
BMW decided to aim for the boy racer in most BMW drivers by announcing the introduction of a patented artificial G-force technology called the Force Injection Booster that "simulates the effects of spirited driving, even when commuting at slower speeds, to create a thrilling ride."
It blows air through vents at high speed and send electric currents through the seats to simulate high speed travel, even including the BMW AirNet®, the latest in hair protection technology, to keep the hair in place whilst the face was re-arranged by the G-Force.
Professor Mika Notbetrü, Head of BMW Innovation, described FIB technology as "Mind-blowingly unbelievable". Bit like the press release really!
VAUXHALL
More World Cup tomfoolery from Vauxhall with the initially plausible Astra Copacabana with a Brazilian flag on its roof and palm trees and dancing lines painted along its doors.
The new 200PS 1.6 Turbo litre engine with acceleration from 0-60mph in just 2.6 seconds still had me wondering until the arrival of the car seats upholstered from genuine Rio processed original grass from the famous Maracanã Stadium.
Then it got silly with footwells filled with the finest sand from Copacabana beach and a free pair of flip-flops, Samba or Vuvuzela tones on the car horn and a beverage vending machine inside that mixes up ice-cold Caipirinhas during the drive.
No doubt there was a lot of discussion at workplaces and in pubs throughout the country over all these, and whether or not they were April Fools jokes; but isn't it a shame that the horn one isn't true?