ROGER MOORE'S 'THE SAINT' VOLVO ON ITS WAY TO MANCHESTER!
Readers of a certain age will be immensely familiar with a little stick figure with a halo just above his head, and that niche market lowers in number even more when we mention it in connection with Roger Moore. (Although a lot more than if we mention Ian Olgilvy)
We are talking about 'The Saint', a TV Series aired between 1962 and 1969 based on books written back in the 1920s by Leslie Charteris about a suave and sophisticated adventurer called Simon Templar whose initials (ST) meant that he got the nickname that gave its name to the TV Series – and who could play the suave and sophisticated man better than Roger Moore? Answer: - no one!
And the car that was driven by Roger Moore's Saint was a Volvo P1800; currently rescued, revived and restored from an old welsh barn and getting ready to make an appearance in Manchester for the first time on September 21st and 22nd at The Footman James Manchester Classic Car Show taking place at EventCity at The Trafford Centre.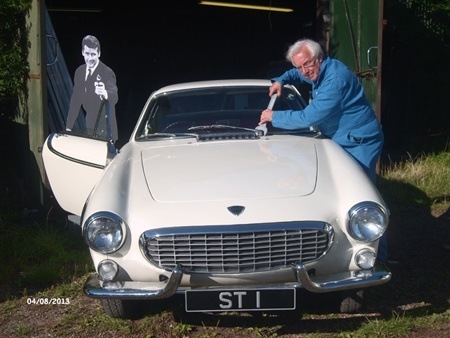 It was keen Volvo enthusiast and member of the Volvo Enthusiasts Club Kevin Price who discovered the sporty white coupe hidden in the barn under bales of hay and a million miles away from its 'hay'-day in the 60s where it was glamour personified. With its bodywork all but destroyed and the engine scattered in rusty pieces all over the back seat, to anyone apart from Kevin Price it was already on the back of a lorry on the way to the scrapyard.
But Kevin had the foresight, the enthusiasm and probably the money to save it and then restore it to its former glory ready to not only take a bow in Manchester but to also take its place in the annals of television history.
It has not been an easy project to restore the car, spanning decades and costing a lot of green, blue, purple, brown and red stuff, but with love, affection, dedication and sweat, the Saint's Volvo P1800 has recently moved under its own power for the very first time.
Kevin Price is a bit chuffed about what he has achieved: "We're very excited to be showing the original car from the Saint TV series in Manchester at The Footman James Manchester Classic Car Show on September the 21st and 22nd at EventCity. This will be the first time the car has ever been seen at a show anywhere having been completely finished in every way. I might even give it a good 'run out' and drive it there from Bewdley rather than trailer it. I'm sure we'll turn a few heads!"
And Show Organiser Andy Rouse is just as chuffed: "We're very excited to be bringing a top quality classic motoring event to Manchester and the North West of England. The response from the classic motoring community in the region has been superb and the cars we've got lined up are simply wonderful. The Saint car is a project we've been aware of over the years and it'll be great to see the final results of Kevin's incredible hard work and dedication."
It should be noted that Footman James, specialists in classic car and vintage car insurance for almost 30 years, have a vested interest in The Saint's Volvo P1800 as they have sponsored the car's restoration as well as the Classic Car Show itself, and Managing Director Andy Fairchild wasn't going to pass up the opportunity blow his company's own trumpet: "We are looking forward to seeing the Volvo P1800 again as it holds a special place in the hearts of many people here at Footman James. Supporting restorations, such as the Volvo P1800 enables enthusiasts to breathe new life into the classics of yesteryear, ensuring they take centre stage once more and thus securing the future of the industry for all. I am sure the car will be a huge crowd pleaser at the Manchester show."
It is estimated that the show will attract around 15,000 classic car fans from all over the country with a huge range of events and activities including restoration specialists, trade stands, autojumble and the to-be-expected array of beautiful classic cars.
Tickets are available from www.manchesterclassiccarshow.com/tickets/ with the first under 16 child going in for FREE.
It looks like it's an event not to be classically missed.