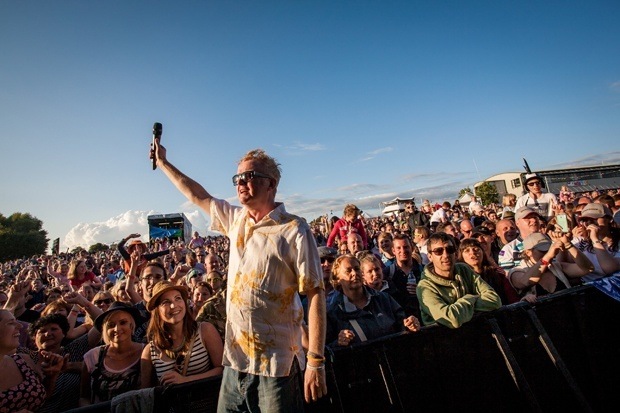 Following on from the success of CarFest North earlier this month, the car, cakes and music extravaganza that is CarFest South returns to Laverstoke Park Farm near Basingstoke this Bank Holiday weekend (22-24 August) with another sell-out crowd.

It is appropriate that the southern part of CarFest returns to Laverstoke because it was there two years ago that Radio 2 DJ and BBC presenter Chris Evans' dream of the 'perfect family festival' became a reality. And he hasn't stopped since then with 5 events over the three years raising millions of piounds for Children in Need whilst entertaining over 250,000 fans of all ages.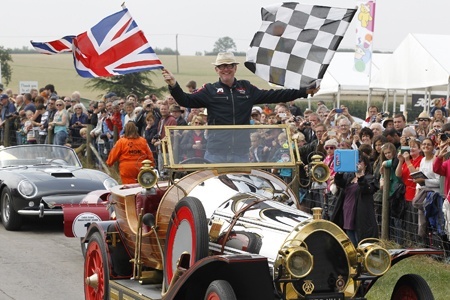 This year CarFest South is even bigger in capacity thanks to the assistance of the local community, meaning more people can enjoy it and more money can be raised!

"We've all still got a massive buzz after all the amazing fun we had at CarFest North earlier this month. Now with smiles still on our faces and music ringing in our ears, we are heading south to do it all over again," enthused the ebullient, and some would say madcap Evans. "It's always really special to go back to Laverstoke as, in many ways, it's the spiritual home of CarFest. This year promises to be the best yet, too, as we've lined up some truly fabulous cars, great live bands plus an utterly unbelievable array of family entertainment. I can't wait to get revving and rocking all over again!"

Like most car festivals seemingly these days, there will be a hill climb up a specially created mount of the dazzling showcase of cars, led by Evans' own 'Magnificent Seven' collection of fabulous Ferraris, this year headed by his most recent addition in the shape of one of the legendary Italian company's latest La Ferrari hypercars.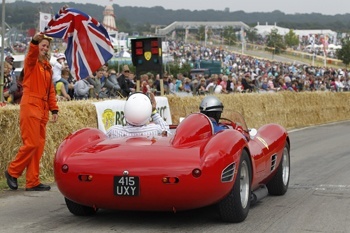 Sticking with the 'Magnificent Seven' theme, on show will also so be a Muscle Car Seven topped by Ford's yet-to-be-released 2015 Mustang V8 Fastback; a Movie Car Seven with a 'Back to the Future' De Lorean and 'Love Bug' Herbie Beetle; an Anniversary Seven including the Maserati Tipo 61 'Birdcage' owned by Pink Floyd drummer Nick Mason; an Unusual Seven containing Honda's record breaking 130mph lawn mower and a motorised bathroom plus equally special septets of rally cars, vintage cars, racing cars, hot rods and gorgeous supercars. There's also an historic F1 Seven, which includes several of the special cars that Laverstoke Farm owner, award-winner and 1979 Formula One World Champion Jody Scheckter raced to Grand Prix victories.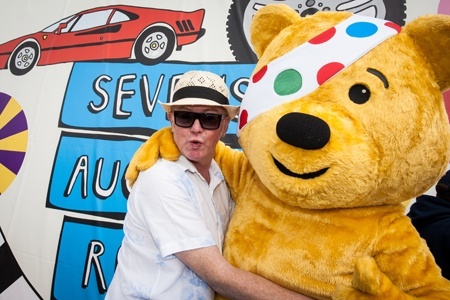 Away from the Hill Climb, the Showground has many activities to please all ages from a mega Monster Truck display and motorcycle exploits from DR Stunts all the way from Australia (including the Kangaroo Kid with his dazzling quad-bike stunt show) to sheep racing (with the Lamb National) and the Red Barrows stunt team mirroring the Red Arrows antics – with wheel barrows.

The Red Arrows will be making an appearance up in the sky as part of an amazing three-days of epic air displays that will also feature an RAF Chinook, an Abarth stunt plane, an RAF Tucano, O'Brien's crazy pyrotechnic Flying Circus and The Battle of Britain Memorial Flight (complete with two Lancaster Bombers, a Hurricane and a Spitfire. )

Kids aren't forgotten at CarFest South with a whole host of activities, entertainments and discovery zones there including Ball World serving up a host of different ball-based sports, Book World offering story-reading lessons in The Book Den and a chance for juniors to drive with lots of experiences on both two and four wheels.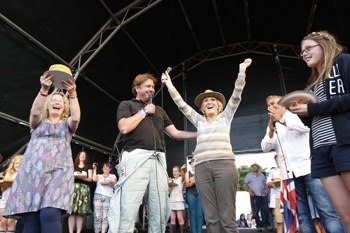 For those people who think they are still young but aren't both the AA and the Army are running mechanical workshops while the middle part of 'car, cakes and music' is also well provided for with a number of stimulating cookery workshops kindly provided by those at Laverstoke Park Farm, and the semi-legendary Cakes v Pies competition that reaches its climax on Sunday afternoon with TV chefs Paul Hollywood and Mary Berry acting as judges and cheerleaders on the Main Stage.

And finally, to end the days, with the sun setting (or trying to) the music kicks in with Friday evening seeing 80s stars Erasure topping the bill, Saturday seeing Seasick Steve close the night before Sunday's bandfest has The Feeling, 10cc, Texas, Paul Heaton and Jacqui Abbott (from The Beautiful South) and Sophie Ellis-Bexter performing before Jamie Cullum brings down the curtain on events.

Overall, it's just what the doctor (or Chris Evans) ordered, and if you have got a ticket then I am very jealous.