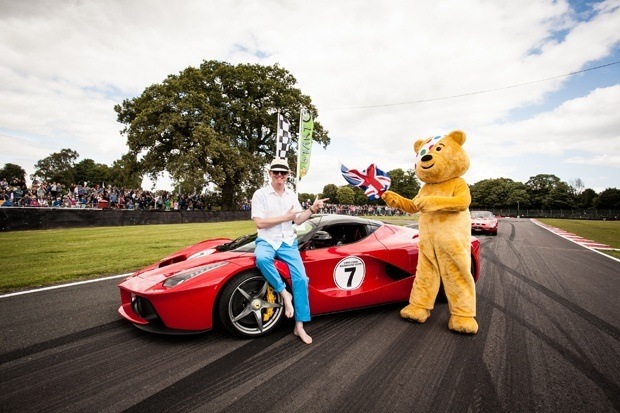 The brainchild of Radio 2 DJ and new Top Gear presenter Chris Evans, CarFest North returns to Cheshire this weekend from Friday July 31st through until Sunday August 2nd at Oulton Park.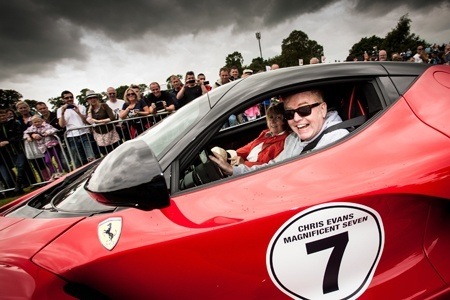 The first of two CarFests this year (the second of which takes place at Laverstoke Park Farm in Hampshire from 28th to 30th August), the two-venue, fun-filled, family weekends promise "a feast of fabulous cars ready to smoke some tyres in the name of charity" - namely BBC Children in Need. In fact, this year is the 4th year of CarFest, and it has already raised more than £3.5 million for the charity.
Many of the cars on show are not only desirable and rare, but often of extreme value - and this year they all fall under the banner of an amazing countdown.
The Dirty Dozen features 12 eye-catching motors taken from Chris Evans' own car collection, and will include some simply beautiful Ferraris, Astons, Mercs and Jags. And from then on we countdown all the way to Formula One via the Sporting Bear Eleven, the Race Car Ten, Iconic Nine, Hot Rod Eight, Supercar Seven, Rally Six, Furious Five, Fun Four, Dragster Three and Dynamic Duo. All will be revealed at CarFest.
The Cars: From The Sublime To The Ridiculous
There will be lots of attractions there, but in all honesty, it's all about the cars.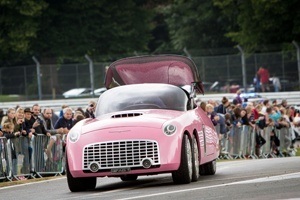 Here are just some of the attractions promised:
The Ferrari 250 SWB in the Dirty Dozen
Aston Martin GT12 in the Supercars Seven
Paul Newman's Nissan 300ZX racer (In the Race Car Ten)
The Flux Capacitor (in the Fun Four); a customised Enfield Electric car built by TV's Jonny Smith with a 500hp electric motor in place of the original 8hp one
Formula One cars from Lotus, McLaren, Toleman, Arrows, Ferrari and Benetton
An Austin A60 pick-up dragster
Colin McRae's Subaru Impreza rally car
La Ferrari supercar
A 1932 Ford Deuce Coupe
A fearsome 1903 Itala race car
A 1968 VW Split Screen camper.
You can also add in a host of car clubs and special celebrations to mark 60 years of the Citroen DS, 50 years of the Ford Transit and Alfa Romeo's 105th birthday; passenger rides in a variety of classic and supercars courtesy of The Sporting Bears charity; a Classic Car Auction; a strongman display; displays and record breaking attempts in the main arena; as well as a kids driving school, air displays, stunts, a vintage village and even a beach complete with deck chairs and acres of sand.
The Music
As befits a festival organised by a radio DJ, music also plays a part in the car festival with performances from the likes of the Boomtown Rats, Take That, Seasick Steve, Will Young, Texas, Jools Holland, Level 42, Bellowhead, Paloma Faith, and The Feeling.
In fact headlining at CarFest North will be Primal Scream (Friday 31 July), Joss Stone plus Paul Heaton & Jacqui Abbott of Beautiful South fame (Saturday, 1 August) and Will Young (Sunday, 2 August) while topping the bill at CarFest South will be Jools Holland (Friday, 28 August), Paloma Faith (Saturday, 29 August) and Take That (Sunday 30 August).
And it goes without saying that there will be a fine array of food on offer too for all visitors.
In fact, at CarFest North, Great British Bake Off presenter (and chef) Paul Hollywood will be combining his two loves of great food and magnificent motor cars by judging at the CarFest North Sausage Rolls vs Scotch Eggs Bake Off. "[CarFest North has] become one of the highlights of my year," admitted Hollywood who has recently qualified as a racing driver and has set his sights on competing in the famous Le Mans 24 Hours. "CarFest is a proper family festival and does such a great job raising so much money for BBC Children in Need."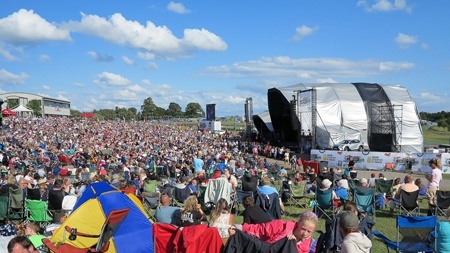 "CarFest is now entering its fourth season and every year the track show just gets better and better," says Bas Bungish, Event Director of organisers Brand Events. "Thanks to the huge generosity of some famous car collectors and the enthusiasm of car loving public, we continue to bring together a truly wonderful collection of eye-catching machines ranging from the bizarrely whacky to priceless icons. The glorious gathering never ceases to amaze."
Admittedly, there may not be that many cars that you can lease from Nationwide Vehicle Contracts on show at CarFest, but then again, the CarFest festival is all about escapism, dreams and aspirations.
If you haven't got a ticket, you may be out of luck as there are reports of complete sellouts on most days, but if you can get hold of a ticket, it would be well worth it!